Blackfoot Confederacy community members, University of Lethbridge stakeholders and the Mastercard Foundation came together for the inaugural EleV Revision Gathering at Iniskim, University of Lethbridge to share experiences and opportunities to support Indigenous youth. The theme was "Strengthening Connections and Building Pathways in a Good Way."
More than 120 individuals attended the two-day conference from April 26-27, 2023, which brought together stakeholders from ULethbridge, education and employment industries, Elders and community partners from Kainai, Piikani and Siksika within the Blackfoot Confederacy.
EleV is an innovative partnership established in 2019 between the Blackfoot Confederacy, ULethbridge and the Mastercard Foundation. However, the COVID-19 pandemic delayed the rollout of some of the planned initiatives. Director of Strategic Indigenous Learning Initiatives Naamoipiiksii (Hummingbird), Shanda Webber (BA '05), says it was incredibly important to bring everyone together to reflect on the work that has been done to date and how to revise, refocus and prioritize ways to work together going forward. "Now, with a year under our belt in having a cohesive Navigator team with solid training and a unified vision, we wanted the EleV Revisioning Gathering to be the foundation to revise and empower community partnerships, to look at best practices, think about innovations and look ahead," says Shanda.
It's also about how we will continue to connect and ensure we have conversations that align our priorities and put action behind our words to ensure that Indigenous youth are well resourced by systems that are designed to support them to be successful and achieve a good life.
The first day of the conference was devoted to employment opportunities and included guests from Community Futures Treaty 7, SAAMIS Aboriginal Employment and Training Association, Influence Mentoring and Blackfoot Confederacy employment agencies and departments. "The focus of this session was to understand how we can collaborate more and open communication in regard to the transition for current students to employment opportunities not only for summer, but through work-integrated learning, applied studies or co-ops," says Shanda. The second day of the conference focused on education, and how to support students transitioning into post-secondary whether their next step is at ULethbridge or any other educational institution. "We're wanting to develop pathways for all Indigenous, and specifically Blackfoot youth, to have a positive and rewarding post-secondary experience," says Shanda. This session also included representation from high schools, Boards of Education, chief and council and trustees.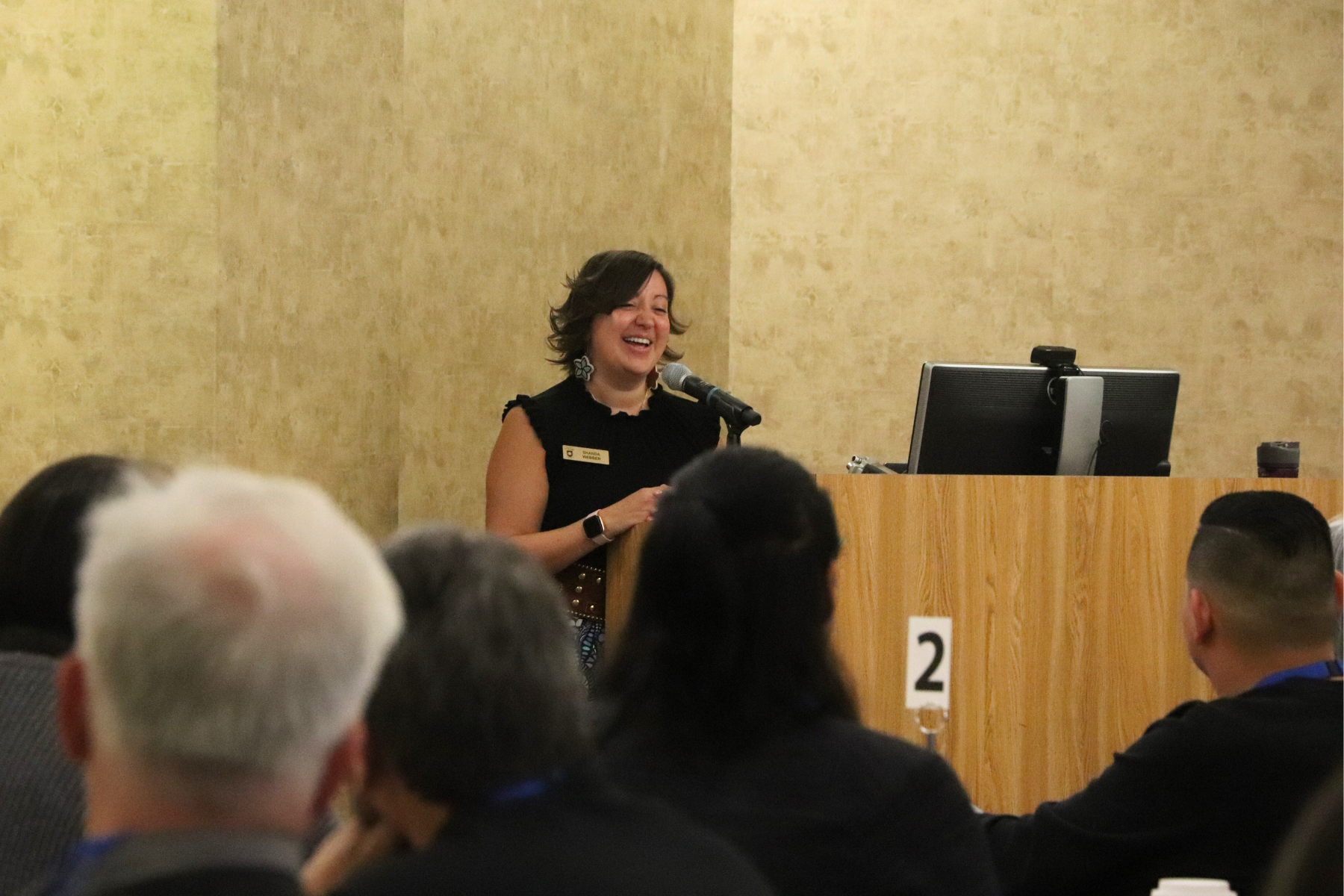 During the sessions, participants were grouped into teams to reflect on the work that has been done and to generate fresh ideas for new possibilities. There were many lively discussions and innovative ideas brought to the table. "We felt the energy in the room," says Shanda. "We saw that everybody was working towards a common goal. Now we must ensure that we keep that momentum moving forward."
The ULethbridge Iksisstowaapi Kanakkaatsi (Going All Out Society), EleV team will review the information gathered to determine how it aligns with their over-arching objectives. From that analysis, they will determine short and long-term goals. A report will be provided to all stakeholders who were present at the conference, as well as made publicly available. Shanda says the early results are inspiring and follow-up meetings are already being arranged. "We don't want to lose that momentum," she says. "That's why we are wanting to develop these strategies so we can solidify and demonstrate the impact we can have."
During the first day of the conference, the ULethbridge EleV Team presented Mastercard Foundation president and CEO Reeta Roy with a shawl made by local artist and member of the Kainai Nation, Geraldine Thunder Chief. Elder Staah'tsi'naims'skaa'ki (Thunder Pipe Woman Under the Sky), Cathy Hunt sang Reeta a praise song to honour and thank her for her commitment to the ULethbridge EleV Program in supporting Blackfoot youth in their education and economic journeys. Reeta also presented ULethbridge president and vice-chancellor Iipisowaahsiiyi (Morning Star), Dr. Mike Mahon with a special gift.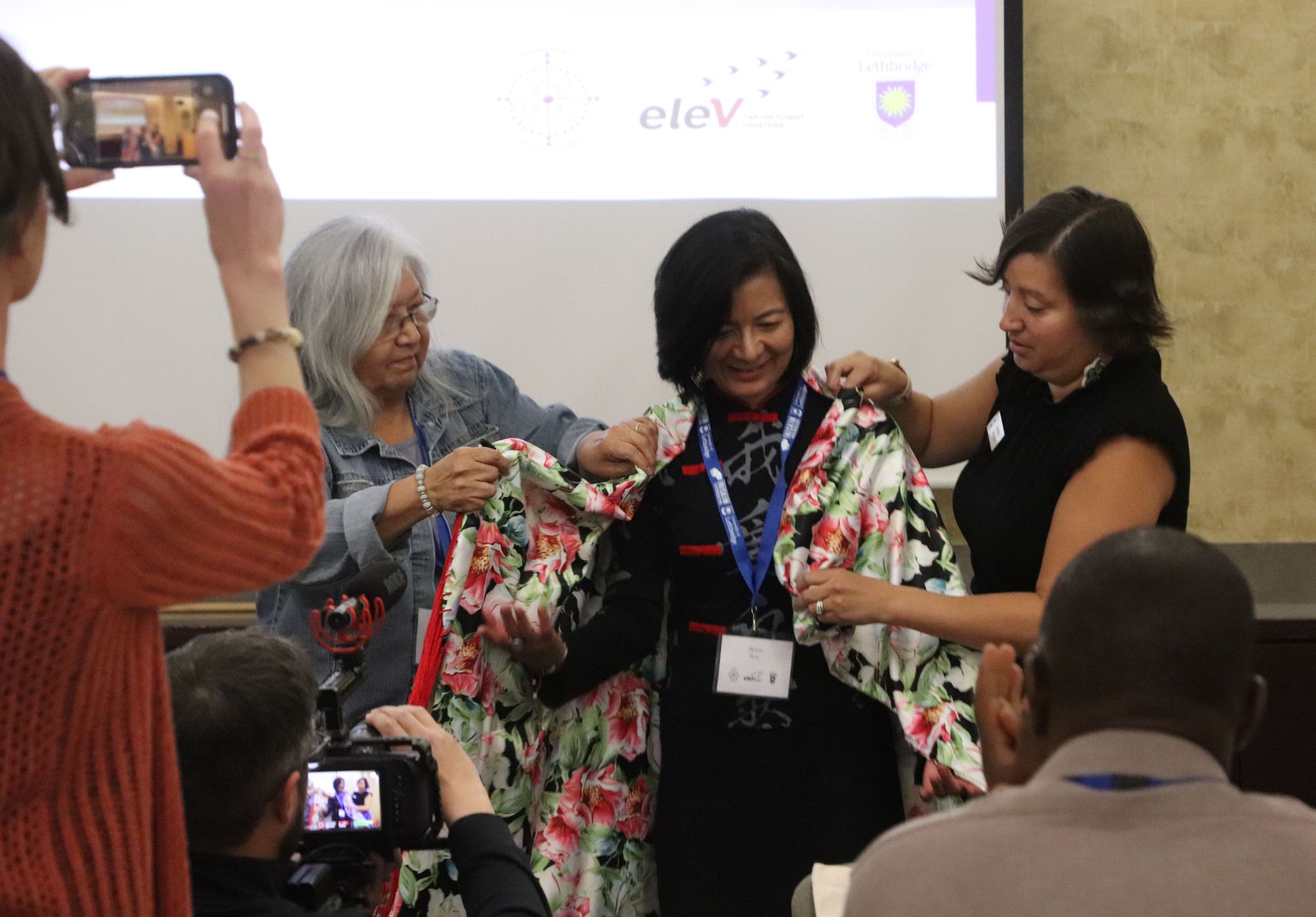 Indigenous youth are not only our leaders but our caregivers of tomorrow. If you're looking at analogies or storytelling, it takes a community to raise a child, so in the same sense I think it takes a community to make sure we're setting up pathways for Indigenous youth and, specifically, Blackfoot youth, to be successful.
"We need to be working together to break down silos and look at how westernized institutions could integrate and welcome Indigenous Ways of Knowing, and how can we form true partnerships with the Blackfoot Confederacy," says Shanda. "We can learn better what is needed and how it can be implemented to allow Indigenous youth to be successful in post-secondary and afterwards for employment opportunities and economic prosperity — not only as individuals, but for the communities and Nations themselves."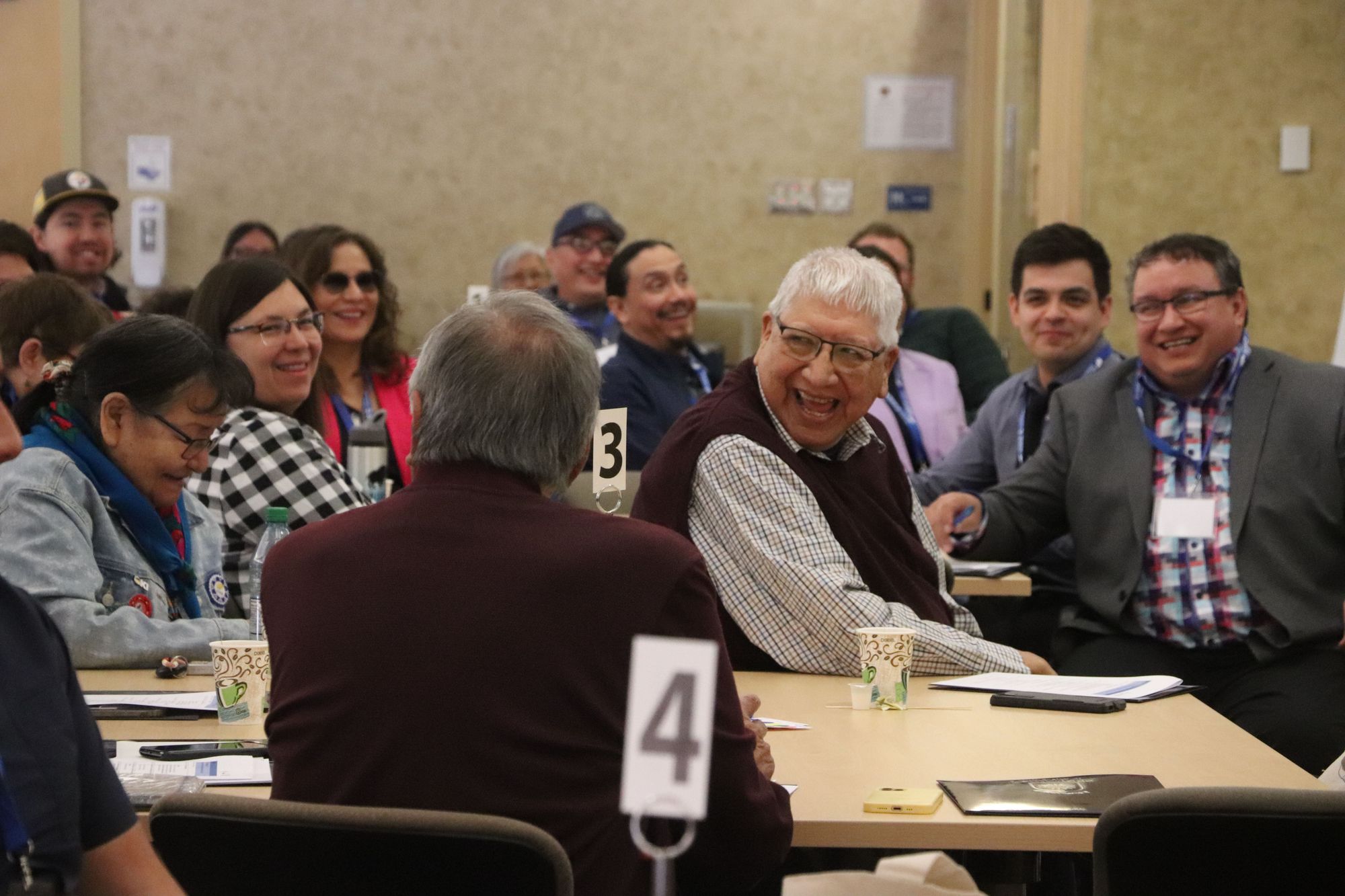 Thank you to everyone who took part in the 2023 EleV Revision Gathering — your participation and engagement is very much appreciated!