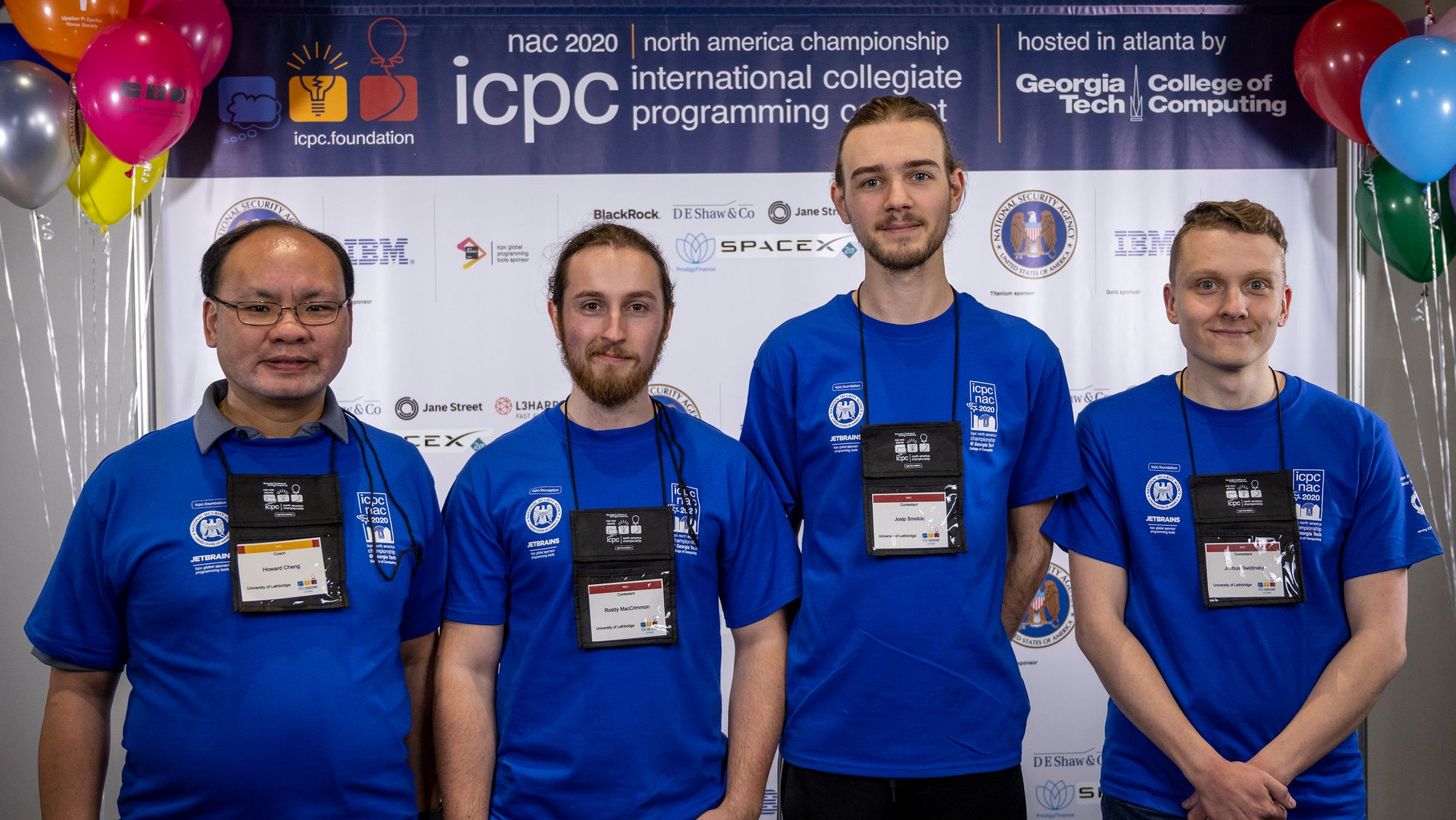 Fourth-year students, Roddy MacCrimmon (computer science), Josip Smolcic (mathematics) and Joshua Swidinsky (computer science) recently participated in the 2020 ICPC North America Championship, the first competition of its kind in North America. The students were coached by mathematics and computer science professor, Dr. Howard Cheng.
"Usually, this kind of event is reserved for the world finals or some larger European regions, but I think due to the fact that ICPC is gaining more traction in America these days people decided to arrange a larger event for the teams here and I'm of course really glad they did so I could participate," said Smolcic. "The experience was unique and exciting, and I'm very grateful to the organizers!" remarked Smolcic, when asked about his experience at the championship. "It was really cool to meet students from the other schools in Alberta, specifically U of Calgary and U of Alberta's team."
The 2020 ICPC North America Championship took place on February 22, 2020, with the University of Lethbridge competing as one of 59 teams from the United States and Canada.
"The International Collegiate Programming Contest is an algorithmic programming contest for college students. Teams of three, representing their university, work to solve the most real-world problems, fostering collaboration, creativity, innovation, and the ability to perform under pressure. Through training and competition, teams challenge each other to raise the bar on the possible. Quite simply, it is the oldest, largest, and most prestigious programming contest in the world." (icpc.baylor.edu/)
Final standings for the competition can be found: nac.icpc.global/scoreboard/.
"Overall, we had a reasonable showing," Cheng, who mentored the team. "It was a very good experience for all the students. They spent a lot of time to prepare for this competition, spending easily 15-20 hours (or more) each week as well as weekends practicing for this competition and have improved tremendously in the last few months. They did well in their first "big international event."
Organized by Georgia Tech in Atlanta, ICPC included activities that spanned 5 days. There were several sponsored presentations, dinners and events leading up to the contest day, which left plenty of time in between for networking with people who are far away (putting faces to names). This was the first time an event like this has been held at the North America level.
"The trip was a ton of fun, and while we didn't do as well as we had hoped, it was really cool to be a part of such a high-level competition and compete against some of the best teams in the world. There really seems to be a strong push to grow the competition in North America, and hopefully, Lethbridge and the rest of Alberta will get stronger and do even better," remarked MacCrimmon. "We also got to chat with reps from very high profile companies that sponsored the competition like SpaceX and IBM which was pretty cool."
To learn more about the event, visit: icpc.baylor.edu/