In order to share her passion for history, Vena Van Mil decided to pursue a degree in education at the University of Lethbridge. Having practically grown up on the ULethbridge campus, participating in summer camps and school trips throughout her childhood, she was very familiar with the University of Lethbridge. When Vena learned about the outstanding reputation of the education degree at ULethbridge, she knew she had made the right choice.
ULethbridge was a no-brainer for me. I grew up only 30 minutes away, and it always made the most sense to pursue a quality liberal education close to home.
Meet Vena | Tenacious. Compassionate. Curious.
Program: Pre BA/BEd | Major: History / Social Studies Education
Why did you choose ULethbridge?
It was a no-brainer for me. I grew up only 30 minutes away, and it always made the most sense to pursue a quality liberal education close to home. I also took part in summer camps and school trips at the University when I was a kid, and I fell in love with the campus and all it had to offer. In addition, I was drawn to the idea of small class sizes, faculty members who were accomplished experts in their field, and the opportunity to grow as both a student and an individual. I knew I had made the right choice when I heard about the incredible reputation of the education degree at the University of Lethbridge.
Did you know what you wanted to study before you came to ULethbridge?
Yes. I've always been interested in history and have wanted to be a teacher for longer than I can remember. While my academic plans haven't changed much since I began my studies, the University has broadened my horizons in more ways than I could have imagined. I've been introduced to academic fields that I had never even heard of before, all while being educated in my favourite subjects.
What is your most memorable ULethbridge experience so far?
To celebrate the end of a challenging Spring semester, my Anthropology 1000 professor, Dr. James MacKenzie, left the fate of his beard up to the students. On the last day of classes, he revealed his Captain Jack Sparrow-styled cut, complete with pieces of his beard superglued onto his face for true authenticity. I had known before, but this convinced me that we had the best professors who deeply care about their students.
How have your professors impacted your education?
Every professor I've had the pleasure of taking a class with has profoundly impacted my education experience at the University so far. They answer all my questions with patience and wisdom, share my interests, give guidance, and listen to my concerns throughout each semester. The relationships I form with my professors will be one of the greatest things I will remember from my University experience.
Dr. David Hay's The Western World 1000 class was the first University class I ever stepped foot into. An hour later, I knew that I had made the right decision to pursue a history degree. It was an incredible privilege to be taught by an expert in his field who had an infectious excitement for teaching and talking about history. It is probably my favourite class that I have taken.
Dr. James MacKenzie introduced me to anthropology, which I really took an interest in. Learning about anthropology was incredible, but beyond the books and lesson plans, it was amazing to see how much he cares about students' mental health and well-being. It truly meant the world to me that he talked with us during a difficult Spring semester and ensured that we prioritized our mental health. This simple act helped to alleviate my anxieties and made me believe I could finish the semester.
Dr. John von Heyking is an expert in the field of political science, with a wealth of knowledge that he brings to every class. He teaches tough concepts in a clear and concise way and pushes me past the boundaries of what I thought I could do. I remember thinking that there was no way that we could get through 'The Analects' by Confucious after the strike, but we did it, and I was better off for it.
Ms. Van Mil brings a delightful curiosity to her studies, and she is always armed with insightful questions that illuminate class discussion and move the conversation forward. – Dr. John von Heyking, Department of Political Science, nominated Vena as a Shining Student.
Is there someone else who had an important influence on your ULethbridge experience?
My friends and family listen to my frustrations, counsel me, and ultimately make me a better student and person. My deepest thanks go out to all of you.
What is the most important lesson you learned during your time at ULethbridge?
You're navigating an exciting and stressful time of your life, but many people out there want you to succeed both as a student and as an individual. Even when the struggles seem insurmountable, you're never alone, and it's a lot easier to face them with someone else. There will never be an issue you go through as a student that someone else hasn't experienced before. Build quality support systems, and ask for help when you need it.
What are your hopes/plans for the future?
I plan to finish my degree and teach high school history and social studies. Plans and interests change, though, and since coming to the University, I've become interested in academia, and I wouldn't be against pursuing a graduate degree.
What advice would you like to give those who are about to begin their journey at ULethbridge?
Ask your questions. I've asked my fair share of 'embarrassing' questions, fearing that I would look ignorant, but those questions helped to further my understanding of the material. It's absolutely okay if you don't understand something immediately — your professors are there to teach and support you. Besides, chances are that if you have a question, someone else in the class has a similar question, and it just needs to be asked. On a side note, class participation will never hurt you.
I've also learned to do my best. Sometimes your best will be drastically different on one day than on another, but as long you keep trying, you won't ever fail. So use your many gifts and talents, and rock the school year!
Quick Answers
Top things to do in or around Lethbridge:
Exploring downtown. I love to spend an afternoon walking downtown — windowshopping, taking photos and checking out local businesses and food places I have to return to.
I love books, so stopping at a bookstore is always a must. We have some great bookstores here in Lethbridge.
Making use of the numerous recreational facilities. I like playing sports and staying active, so finding a new spot is always a treat. My favourite place at the moment is the University's very own climbing wall and bouldering cave.
Favourite class: The Western World
Favourite social activity at ULethbridge: Wall climbing
Favourite place to study: 9th level of the library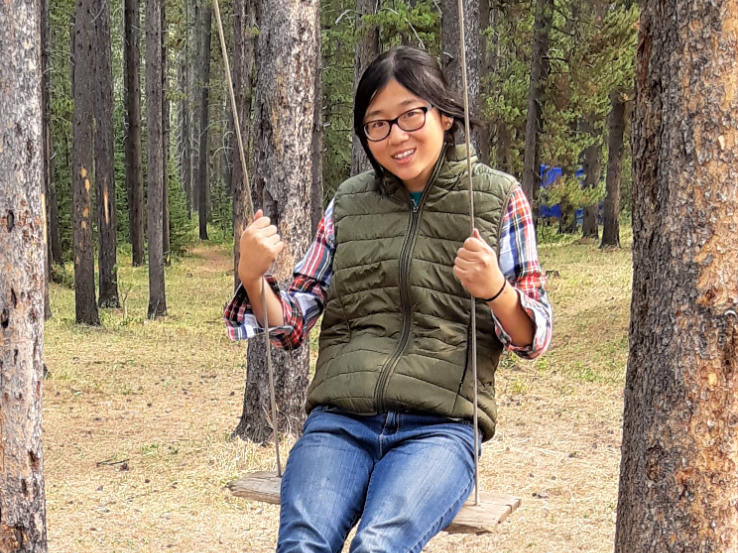 About Shining Students
Shining Students engage inside and outside of the classroom. What makes a student shine may differ from person to person, but they all share a passion for learning. They may be top students, involved in an innovative project, participating in ground-breaking research, playing Pronghorn athletics, fighting for social issues or all of the above! When students find something they enjoy and combine it with what they are good at, they shine.
Each year, the Faculty of Arts & Science's faculty and staff nominate students who exemplify the ULethbridge student spirit. Congratulations Vena!