After being at the University of Lethbridge for a semester, Myla Sept switched majors from neuroscience to psychology, and she couldn't be happier as it is a much better fit. She is looking forward to a future that includes grad school and becoming a couples counsellor one day.
The relationships I have built with my professors have greatly impacted my University experience and have helped me prepare for my graduate school applications.
Meet Myla | Outgoing. Motivated. Empathetic.
Program: Bachelor of Arts | Major: Psychology
Please tell us a bit about your experiential or work-integrated learning at ULethbridge.
I did an applied study in the fall of 2022 in Dr. Jennifer Mather's community psychology class in conjunction with my work as an Addiction Support Worker at Alpha House. I've been working there since December 2021, and I got to incorporate that work into my academic life.
I'm currently doing an independent study with Dr. Mather and the Food for Thought committee. In this work, I ran a research study regarding student food insecurity and the food initiatives we have on campus to address our level of need. Major findings of the study are that 1/10 students on campus are severely food insecure, that is roughly 820 students.
What is your most memorable ULethbridge experience so far?
My most memorable experience at the University of Lethbridge has been ratifying the Psychology Club for the 2022/2023 academic year.
How have your professors impacted your education?
The relationships I have built with my professors have greatly impacted my University experience and have helped me prepare for my graduate school applications. Dr. Jennifer Mather has supported me immensely in the last year and allowed me to be the principal investigator on a research paper.
Myla is tirelessly working for others. – Dr. Jennifer Mather, Department of Psychology, nominated Myla as a Shining Student.
Is there someone else who had an important influence on your ULethbridge experience?
So many people have helped me on my academic journey! Brittany Lewis in career counselling has helped me with my applications to graduate school to continue my path to the future I want. My psychology executive team has been incredible. Finally, my friends and family have helped me stay confident and accountable throughout the last three years.
Have you received any scholarships and awards? If so, please tell us a bit about how they helped you throughout your studies.
I have received the University of Lethbridge Scholarship for the past two years for academic achievement, and it has helped me acknowledge my hard work.
What is the most important lesson you have learned so far at ULethbridge?
The most important lesson I have learned at the University of Lethbridge has been the importance of reaching out to professors for support.
What are your hopes/plans for the future?
I hope to continue my education, pursue a master's in counselling, and register as a psychologist. I hope to be a couples counsellor after all of this is complete.
What advice would you like to give those who are about to begin their journey at ULethbridge?
Get involved with clubs and interact with your professors; they aren't as scary as you think.
Quick Answers
Favourite class: Schizophrenia
Favourite place to study: My lab and the study rooms in SA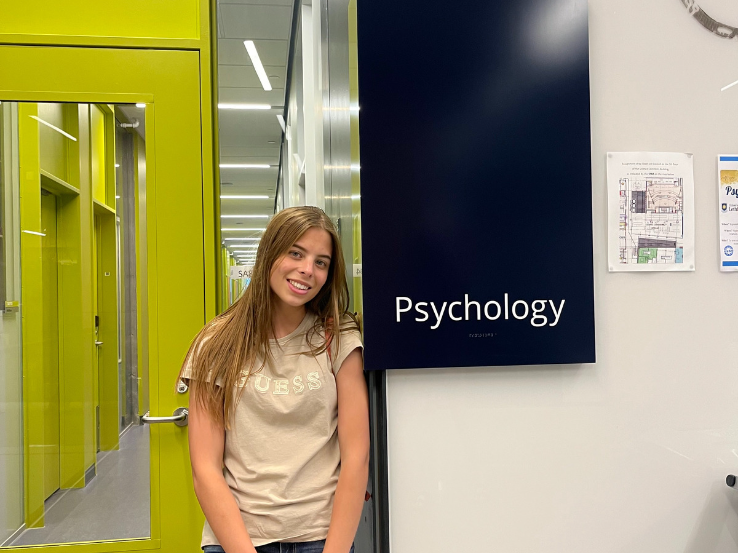 About Shining Students
Shining Students engage inside and outside of the classroom. What makes a student shine may differ from person to person, but they all share a passion for learning. They may be top students, involved in an innovative project, participating in ground-breaking research, playing Pronghorn athletics, fighting for social issues or all of the above! When students find something they enjoy and combine it with what they are good at, they shine.
Each year, the Faculty of Arts & Science's faculty and staff nominate students who exemplify the ULethbridge student spirit. Congratulations Myla!