ULethbridge is the university of choice for Matthew Cameron's family, as his mom works here and his father, aunt, and brother are all alums. When choosing where to pursue a degree in biochemistry, the University of Lethbridge was an obvious choice because of his familiarity with the campus and the liberal education foundation that lets students develop knowledge in various disciplines.
It's okay to be unsure of what you want to study or even what you want to do once you graduate. … university is the place to figure these things out, and it's okay if you change your mind along the way.
Meet Matthew | Thoughtful. Loyal. Positive.
Program: Bachelor of Science | Major: Biochemistry
Why did you choose ULethbridge?
The University of Lethbridge is a liberal arts university supporting knowledge development in various disciplines as part of the bachelor's degree. It allowed me to stay in Lethbridge, where I grew up, which is more affordable. The University of Lethbridge was also the university of choice for many family members and the place of work for my mother. My father, aunt and brother all went here, so the University of Lethbridge has played a large part in my family.
What is your most memorable ULethbridge experience so far?
The Chemistry 2740 lab. This lab had many memorable experiments using multiple apparatus that I had never used before or had little experience with. The one that stood out the most to me was Inductively Coupled Plasma Emission Spectrophotometry. When I heard that my group's samples would get vaporized, my interest was really piqued.
Matthew did fantastically well in both the lecture AND lab parts of Analytical Chemistry I, which is a tremendously rare feat in that course. – Wayne Lippa, Department of Chemistry & Biochemistry, nominated Matthew as a Shining Student.
Is there someone else who had an important influence on your ULethbridge experience?
My Father. He has been a constant pillar of support throughout my life and continues to be one to this very day. Whenever I have troubles in my education or personal life, he is always there to listen and offer advice if he is able. I probably wouldn't have made it this far without him.
Have you received any scholarships and awards? If so, please tell us a bit about how they helped you throughout your studies. Do you have any words of thanks we can share with donors?
Yes. Scholarships are helping me pay for my schooling. I want to thank the donors, as the scholarships have helped ease my stress in paying for tuition and textbooks. Scholarships represent an acknowledgment of hard work.
What is the most important lesson you have learned so far at ULethbridge?
That you have to be adaptable! I have had quite a journey throughout my university experience. Going through things like the pandemic has taught me how important it is to be able to adapt to whatever life throws at you.
What are your hopes/plans for the future?
I hope to get a co-op job in the immediate future. I hope co-op will help me find out what kind of jobs I'm interested in. Once I graduate, I'm hoping to get into medical school.
What advice would you like to give those who are about to begin their journey at ULethbridge?
It's okay to be unsure of what you want to study or even what you want to do once you graduate. I used to think everyone around me was sure of what they would do once they finished university. I constantly worried about what I would do once I was done or even if I was in the right program. But university is the place to figure these things out, and it's okay if you change your mind along the way.
Quick Answers
Top things to do in or around Lethbridge:
Going out to movies with my family and friends, doing escape rooms with my friends, and hanging out with my friends. I have many fond memories of just talking with them while playing video games with each other.
Favourite class: Organic Chemistry
Favourite social activity at ULethbridge: Talking with friends
Favourite place to study: At home on my couch.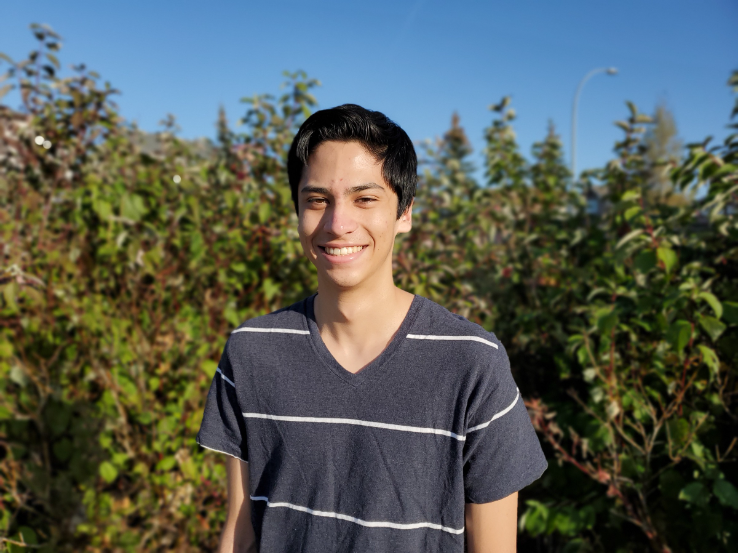 About Shining Students
Shining Students engage inside and outside of the classroom. What makes a student shine may differ from person to person, but they all share a passion for learning. They may be top students, involved in an innovative project, participating in ground-breaking research, playing Pronghorn athletics, fighting for social issues or all of the above! When students find something they enjoy and combine it with what they are good at, they shine.
Each year, the Faculty of Arts & Science's faculty and staff nominate students who exemplify the ULethbridge student spirit. Congratulations Matthew!