Short film "A Wink or a Smile", written and directed by Blake Evernden (MFA '15; BFA - New Media '09), had its first screening and was awarded "Short best comedy" by the Alternative Film Festival, and has been accepted to the International Shorts Film Festival December 2-8, 2019.
"A Wink or a Smile" stars Samuel Jurisic (BFA – Dramatic Arts '19) and Connor Fedoroshyn (BFA – Dramatic Arts '19), was produced by Charlie Christensen, photographed by Brad Goruk (BFA – New Media '12), assisted by JP Marchant. Nick Bohle (BFA – Dramatic Arts '17) handled the sound recording and design, and Katt Panic was on makeup.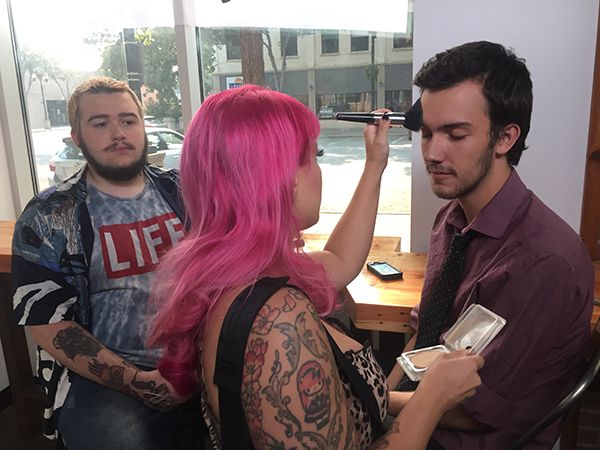 Alex Ivan (New Media student) and Steven Keith (BFA – New Media '18) handled additional photography and on set photography was by Andres Banda. It was photographed at the Stoketown Cafe and the University loaned us grip gear for the production.
Shot last August, "A Wink or a Wmile" is a human comedy that satirizes our strange and detached method of 21st century communication. The story is: "In a mid-town coffee shop, Heath Pollard and Ned Theodore debate the intricacies of texting protocol when Ned is stumped trying to finish an impromptu message to the newly single girl that he's crushed on for months."
On the festival circuit for a month now, the AFF and ISFF are the first nods to the films success. Continue following along while it continues on the festival circuit over the next ten months:
On Facebook: https://www.facebook.com/winkorasmile/