The path to a dream job was paved by challenging and rewarding opportunities for Monica Lockett (BA '22). As a mature student, Monica was determined to make the most out of her education, but she hit a bit of a wall in her first year. She spent her first two semesters rushing through her courses, which led to stress and fatigue. It wasn't until she realized that there was no right or wrong way to complete a university degree that she started exploring the wonderful experiences ULethbridge has to offer. These experiences taught her to set boundaries, slow down and not overburden herself, resulting in success both in and out of the classroom.
While it may seem that you are on a deadline when you start university, it is important to remember that there is no "right path" that you need to take—the right path for you is the best path, one that prioritizes your time, your mental health and wellness, and your interests.
Newfound self-confidence and understanding allowed Monica to take advantage of every opportunity to learn, engage, and grow. She found career and academic development opportunities by approaching professors and connecting with other students, which significantly shaped her time as a student. Monica is thankful for the opportunities she has had at ULethbridge to participate in independent studies, research projects, and work-integrated learning projects and values the relationships she has formed as a result.
I am proud of how I built up my network while in university, as I was able to create lasting connections and relationships that I will carry with me as I begin the next stage of my journey!
Monica's interests outside the classroom, saw her investigate the political responsibilities of journalists when covering protests and injustices as part of an independent study with philosophy professor Dr. Katharina Stevens. She had this work published in a journal and presented her findings at several academic conferences. She also spent two years as the Editor-in-Chief of The Meliorist, a student publication, where she honed her writing and editing skills. She took a summer job with the Office of Research and Innovation to further her research, writing, and communications interests. This summer job lasted nearly five years, and she contributed to numerous significant initiatives during that time. But, above all, Monica considers her honours thesis to be her most rewarding experience.
Working on my honours thesis has been the most challenging and rewarding experience during my time at ULethbridge. I began thinking about my honours thesis in my second year, and I am so happy that I could complete this project as an undergraduate student. My project makes a valuable scholarly contribution to research into rural journalism, and I am very much looking forward to continuing my research in the future!
What is Monica's next step? Her long-term goals include attending graduate school to continue her education and research. For the time being, she is overjoyed to land her dream job before she graduated! She is a member of ULethbridge's central communications team, where she uses her skills as a writer and communicator to share important and impactful stories about the University.
I would love to go to graduate school and further my education and research in the future. I am not sure if I want to continue in sociology or perhaps look at another discipline such as communications. I plan to take a few years off before deciding.
Those who are considering a university education should keep Monica's words in mind:
Don't rush! If it takes you four years to finish your degree, great! If it takes you five, six, seven, or more, great! All that matters is that you take your time, stop and smell the roses, and enjoy where you are in the present.
This spring, Monica graduates with a Bachelor of Arts in Sociology. We wish her the very best and are thrilled that she is staying on with ULethbridge.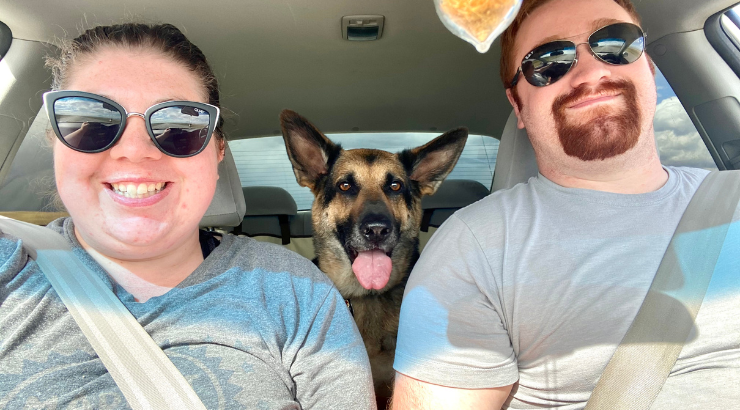 Congratulations, Monica!
---
☎️
Welcome to the ULethbridge Alumni Family... Don't forget to call!
Stay connected with classmates, share your successes, mentor future ULethbridge students and enjoy Alumni perks and benefits!
Update your contact information with
Alumni Relations
.
Find us on
Facebook
,
Instagram
or
LinkedIn
Read more
about your fellow alumni