Carpe Diem. Take advantage of every opportunity. Express your ideas and learn from others' ideas.
Zoie Hansen (BSc Co-op '22) graduates with Distinction this spring with a Bachelor of Science in psychology, and the Co-operative Education (co-op) designation. Her dedication to the pursuit of experiential education took her out of the classroom to Denmark and Hungary and helped shape her understanding of the world and the opportunities that lie ahead.
Please tell us a bit about your experiential or work-integrated learning. What were your three biggest takeaways from participating?
I participated in the co-op program in which I worked in a social village as a pedagogical intern for one year in Helsingor, Denmark. I have also completed a student exchange program where I spent a semester in Budapest, Hungary. Additionally, I participated in other independent studies and research projects with other students, professors and academics. These experiences have shaped me into the person I am today. I began to really listen to other people and learn from their experiences. Throughout these parts of my undergraduate degree, I learned that the world is brimming with opportunity, and I look forward to future opportunities that come my way.
What is your most memorable ULethbridge experience?
Studying in the swimming pool, late nights in the library and ordering pizza, sneaking into quiet rooms and walking up the stairs in the fine arts building every day.
What is the most important lesson you learned during your time at ULethbridge?
Carpe Diem. Take advantage of every opportunity. Express your ideas and learn from others' ideas.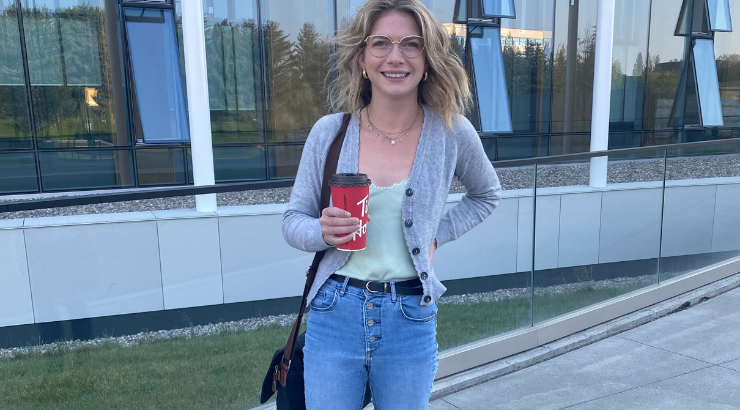 Is there someone specific who had an important influence on your ULethbridge experience?
Drs. Fangfang Li and Jennifer Mather are amazing mentors and huge inspirations for me, now and throughout my ULethbridge experience.
What are your hopes/plans for the future?
I hope to become an occupational therapist. I plan to continue as an academic, and eventually, I would like to open my own respite cafe and occupational therapy practice.
What advice would you give to those who are about to begin their journey at ULethbridge?
Carpe Diem!
Congratulations, Zoie!
---
☎️
Welcome to the ULethbridge Alumni Family... Don't forget to call!
Stay connected with classmates, share your successes, mentor future ULethbridge students and enjoy Alumni perks and benefits!
Update your contact information with
Alumni Relations
.
Find us on
Facebook
,
Instagram
or
LinkedIn
Read more
about your fellow alumni