Iinaatsii'swaawaakaasaakii (Pretty Spider Woman), Taylor Little Mustache (BA/BEd '19, MEd '23) has found comfort and community as a lifelong learner and graduate at the University of Lethbridge. Blazing her own path, while following in the footsteps of her mother and sister, Taylor crafted an ability to navigate conscientiously and gracefully in both the Siksikai tsiitaapiisin (Blackfoot world) and the Western world. She hopes other students will navigate through their learning and make it meaningful while preserving their identity and connection to their culture.
The people that you make a connection with are undoubtedly special. The genuine mutual trust/respect relationships created among professors, consultants, mentors and fellow cohorts is a treasurable memory. For these many reasons, ULethbridge takes learning to a whole new level. On a day-to-day basis, professors apply the quality standards on which they teach. My journey of learning has undoubtedly been a safe, caring and welcoming experience.
Meet Taylor: Resilient. Humble. Lifelong learner.
Hometown: Piikani Nation, part of the Blackfoot Confederacy, Alberta
Program: Master of Education (Educational Leadership)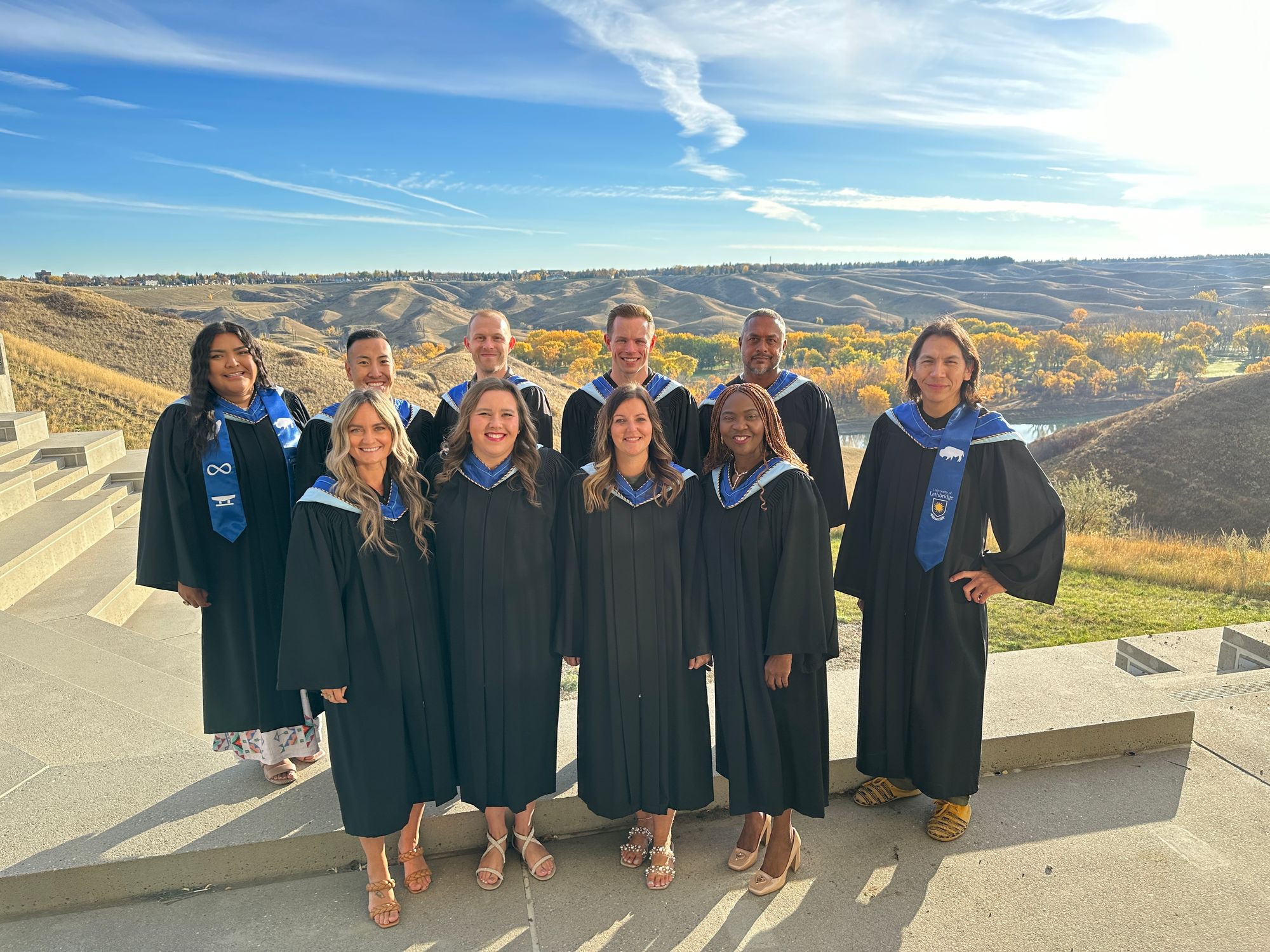 Why did you choose to pursue graduate studies at ULethbridge?
There are many reasons I have chosen ULethbridge. First and foremost, ULethbridge was my second home. My mother and sister are alumnae who attended the "Big School." They both received their BA/BEd and MEd from here. I spent many hours in the library, cafeteria and exploring the hallways while they were doing their assignments. Observing the knowledge, skills and characteristics they obtained and carried with them from school to work influenced me to pursue education.
Secondly, I had the privilege to see them apply the theory and practical experiences in a school setting which began to shape my desire for improvement. I knew that in witnessing this quality of education that prepared students to reach their full academic, professional and personal potential was something I had to experience for myself.
What does your creative achievement focus on? What do you hope your creative achievement will accomplish?
My creative achievement focused on finding balance in life. For myself, it was essential that I focused on crafting an ability to navigate conscientiously and gracefully in both the Siksikai tsiitaapiisin (Blackfoot world) and the Western world. It truly is a blessing having the ability to learn about Western ideologies and then reflect back to Blackfoot oral stories of traditional practices I grew up listening to. This not only strengthened my identity as a Niitisitapii (Blackfoot person), but it also allowed me to cultivate an understanding and come to the notion of my purpose when applying meaning to my learning.
The depth of richness, that oral stories carry, is that of the textbooks we are provided. The teachings that come from both oral stories and textbooks connect me to the universe. Reflection on both listening and reading fastens and reinforces my place within the universe, and the relationships I have with all its beings. Listening to oral stories and reading textbooks allows one to find creativity in language, culture, customs, and relationships—this is the way of life as I have come to learn, love and live.
The formal and informal curriculum of education encourages me to be resilient, to strive and to rise to make a difference in the lives of others, thus influencing the learning culture to become a way of being. My hope is for other students to have the ability to navigate through their learning and make it meaningful while preserving their identity and connection to their culture.
What is your most memorable ULethbridge experience?
Developing relationships with members of my cohort.
What is the most important lesson you learned during your time as a graduate student at ULethbridge?
Always believe in yourself and ask for help when needed.
Is there someone specific who had an important influence on your ULethbridge experience?
There are many important influences that I had during my time at ULethbridge. One of the most cherished influences came at a time of need during my second semester in the Educational Leadership program. I lost one of my cheerleaders, role models, mentors and a go-to listening ear - my sister, Aapiiksistaakii (Morgan). She was one of my main pillars of support. The people who sympathized, supported and guided me through this life-altering time were my professors Dr. Kevin Wood (BEd '99, MEd '06, PhD '20), Dr. Pamela Adams (BEd '81, MEd '99), and my mentor Annette Bruised Head (BSc '00, BEd '02, MEd '10).
These individuals put their relationship theory to practice in a personalized professional sense. They went above and beyond in their support and guidance which makes them truly superheroes as school leaders. Their commitment, dedication and patience made me feel a sense of comfort and built my confidence in completing my studies successfully. Their intent, spirit and integrity to the profession is remarkable and which I will be forever grateful for.
What are your hopes and plans for the future?
I hope to obtain a leadership role in one of the local school districts and share the wealth of knowledge, skills and attributes I have obtained through being an active participant and learner of Piikanissinii and ULethbridge. My long-range plans are to continue my commitment and passion for being a lifelong learner and obtain a PhD in Educational Leadership alongside my mother and sister.
What advice would you like to give those who are about to begin their journey at ULethbridge?
Learn to embrace your challenges and seek Isspoomaakiit (help) when needed. Seeking help goes a long way. It may involve putting on a badge of bravery in class and asking those important questions for clarification and understanding or calling a family member and asking for help. Throughout my time at ULethbridge, I often found myself calling family or friends for help. My partner in life Awakiassis sikikanum (Tico), my dad Kaakaatoosii, my mom A'dunnskaan, sister Niinaam 'skaa sissoyakii, aunties, uncles, cousins, knowledge keepers, ceremonialists and friends were other pillars of support that played a vital role in the success of my studies.
After one prays, we take those prayers with our hand and bring them to our heart. With this, I leave you my hand to my heart…..forever grateful.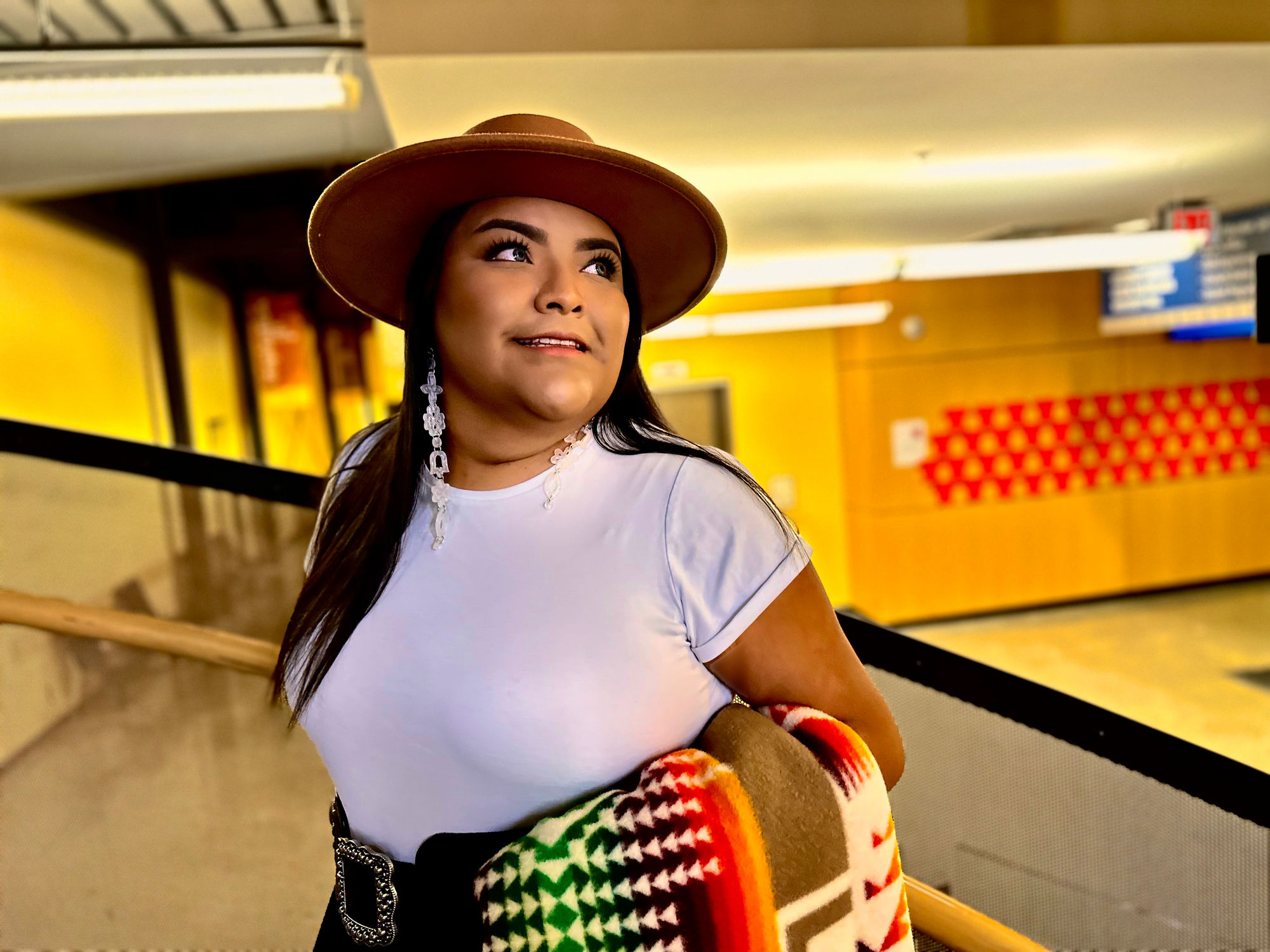 ☎️
Welcome to the ULethbridge Alumni Family! Remember to stay in touch.
Stay connected with classmates, share your successes, mentor future ULethbridge students and enjoy Alumni perks and benefits!
Update your contact information with
Alumni Relations
.
Find us on
Facebook
,
Instagram
or
LinkedIn
Read more
about your fellow alumni.