For Indigenous Awareness Week, the University of Lethbridge Iikaisskini Indigenous Student Centre has been collecting photos and stories about moccasins from students, staff and faculty!
Elder in Residence Misamiiniskim (Long-time/Ancient Buffalo Stone), Shirlee Crow Shoe, shares her knowledge of the significance and meaning of moccasins in Indigenous culture.
Niitsistikinitsi (knee-tset-tsee-kin-etse) means "original/real footwear" in Blackfoot, while the word moccasin itself is derived from the Algonquin word, "makasin". Moccasins are an essential part of traditional Indigenous lifestyles. In Blackfoot stories, Elder Misamiiniskim says moccasins were made for individuals who traveled far.
"A part of the story of "Butcher's Last Battle", a group had gone to raid the Assiniboine. Only two survived, the scout who was on lookout made it back home and told everyone that they all perished. Butcher survived in a trench he dug out. When it was safe, he took care of his comrades and proceeded back home."
"His moccasins soon wore out and he tried to wrap his feet with what he can salvage from his clothing. His feet became swollen and infected by trying to walk on them with little to no material to protect his feet. He then crawled, but soon his knees were unable to last. He was rescued by a Métis couple travelling by and he rode in their big wheeled cart. They nursed his feet and soon he was able to walk, proceeding on home after his rescue."
There are several traditional styles of moccasins and beading designs, as detailed by the image shared by Elder Misamiiniskim.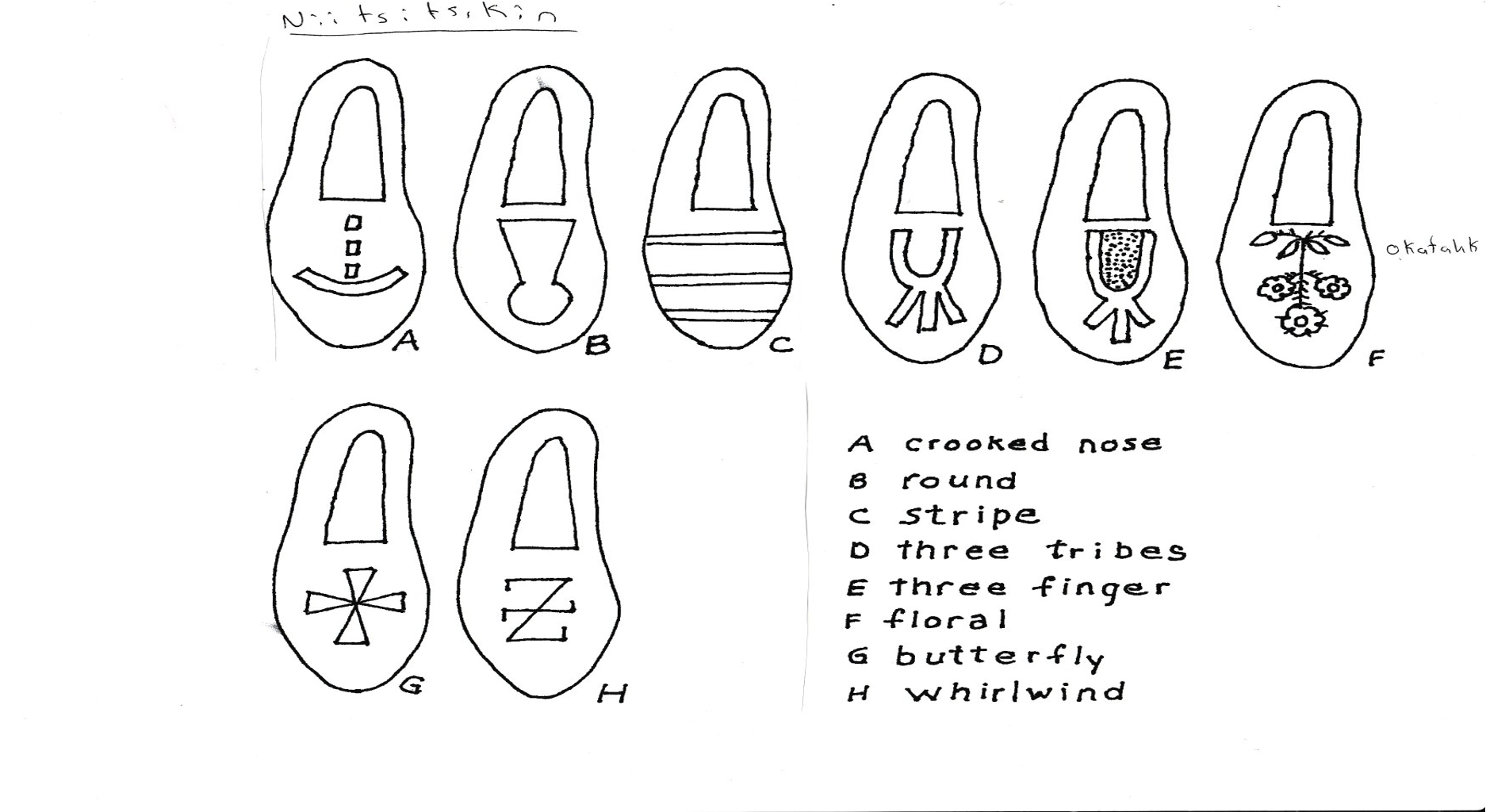 Moccasins are made using brain tanned hides or buckskin. Elder Misamiiniskim says brain tanned hides are the best to use as they have natural products and are smoked to ensure the leather is breathable and soft. Commercial leather is similar to brain tanned leather, making it a good substitute. The moccasins are held together with sinew, real or artificial, and are sewn typically with a whip stitch.
Encouraging staff, students and faculty to "rock your mocs", we are delighted to share some of the stories about the meaning of moccasins to several wearers across the campus community.
Mastercard EleV Team
EleV is an innovative partnership between the Blackfoot Confederacy, the University of Lethbridge and the Mastercard Foundation that was established in 2019 to create educational opportunities for Indigenous youth and bolster supports to ensure their success. Learn more about the team here.
"Our moccasins tell our story. We proudly wore our moccasins on this day as alumni, employees of the University of Lethbridge, and members of our communities to come together as Education and Employment Navigators to empower, engage and inspire our amazing Blackfoot youth as they begin their own journey in the academic and employment world."
Representatives of the EleV Team shared their moccasins during a teambuilding day in Fall 2021. From left to right: Jill Chief Calf, Aakohpoisskiiaakii (Face Painted Many Times Woman) – Kainai Education Navigator; Ek-kanakii Mekaisto, Natoykanasoyakii (Sacred Lightning Woman) – Siksika Employment Navigator; Des Yellow Horn, Akikinakii – Piikani Employment Navigator; Verona White Cow – Piikani Employment Navigator; Shanda Webber, Naamoipiiksii (Hummingbird) – Manager of Strategic Indigenous Learning Initiatives.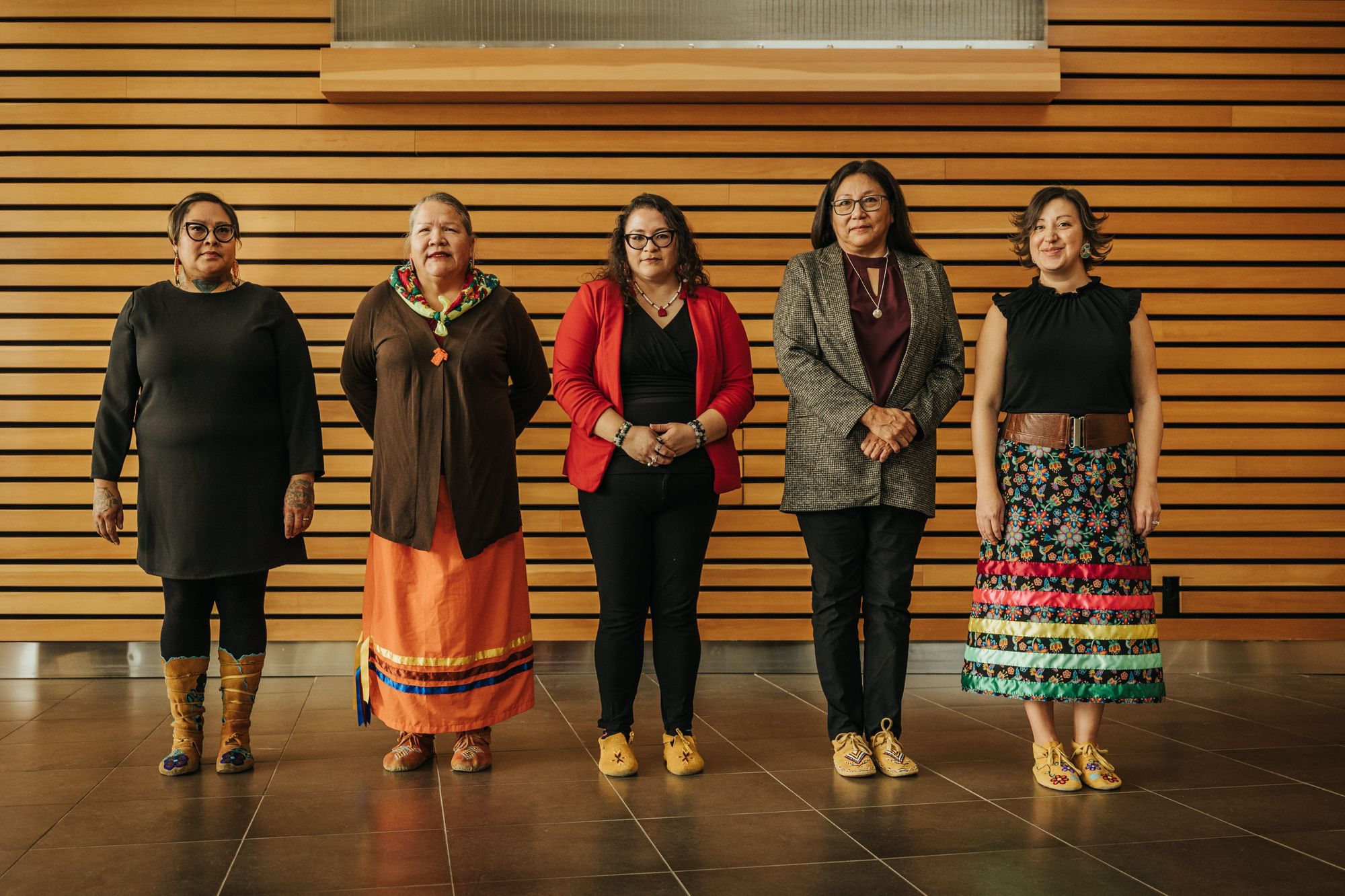 ---
Ponokohkyiaao (Elk Bear), Nathan Crow
Ponokohkyiaao, Nathan Crow, is a Shining Student and is the Indigenous Student Representative for the University of Lethbridge Students' Union.
He is currently a student in the Dhillon School of Business, studying Indigenous governance and business management (IGBM). Nathan is a proud member of the Kainai Nation (Blackfoot); his parents are also ULethbridge graduates.
"I am very proud of my moccasins because they are a representation of my Blackfoot culture and heritage, and my experience of walking in two worlds."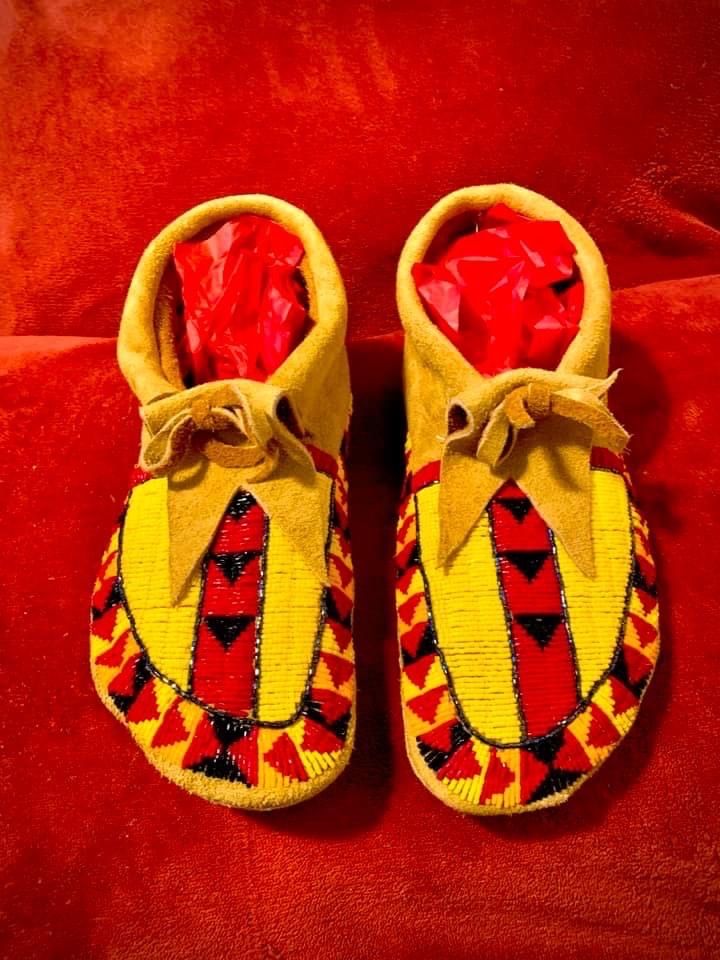 ---
Tess Knife
Tess is working towards her second degree, a Bachelor of Health Sciences in Public Health at the University of Lethbridge. She also holds a degree in Sociology.
"I have not had the privilege of being raised with my Indigenous culture. My parents and grandparents were Residential school survivors. I began my journey of reconnecting before starting my university degree. Being a single mom in school, working two part-time jobs and surviving limited my learning. I graduated in 2015 with my first bachelor degree."
"Recently, I have been taking part time online courses to get my second degree in Public Health. Currently, I reside & work as a full time assistant manager in Calgary. I have been on a healing journey with my 15 year old. We have been taking programs with Iksook and the people have been bridging us back to our cultural ways."
"These moccasins were made by my child and me in one of our healing classes. We are still in the process of completing the second half of the pair. I absolutely love growing and learning more about who we are and the pride my child and I are inheriting from these programs. These baby moccasins represent a reconnection to our Indigenous ancestors and are restoring our love in who were are as Niitsitapi. I hope to work in this kind of atmosphere someday to help with other Indigenous people heal and connect to their ancestors."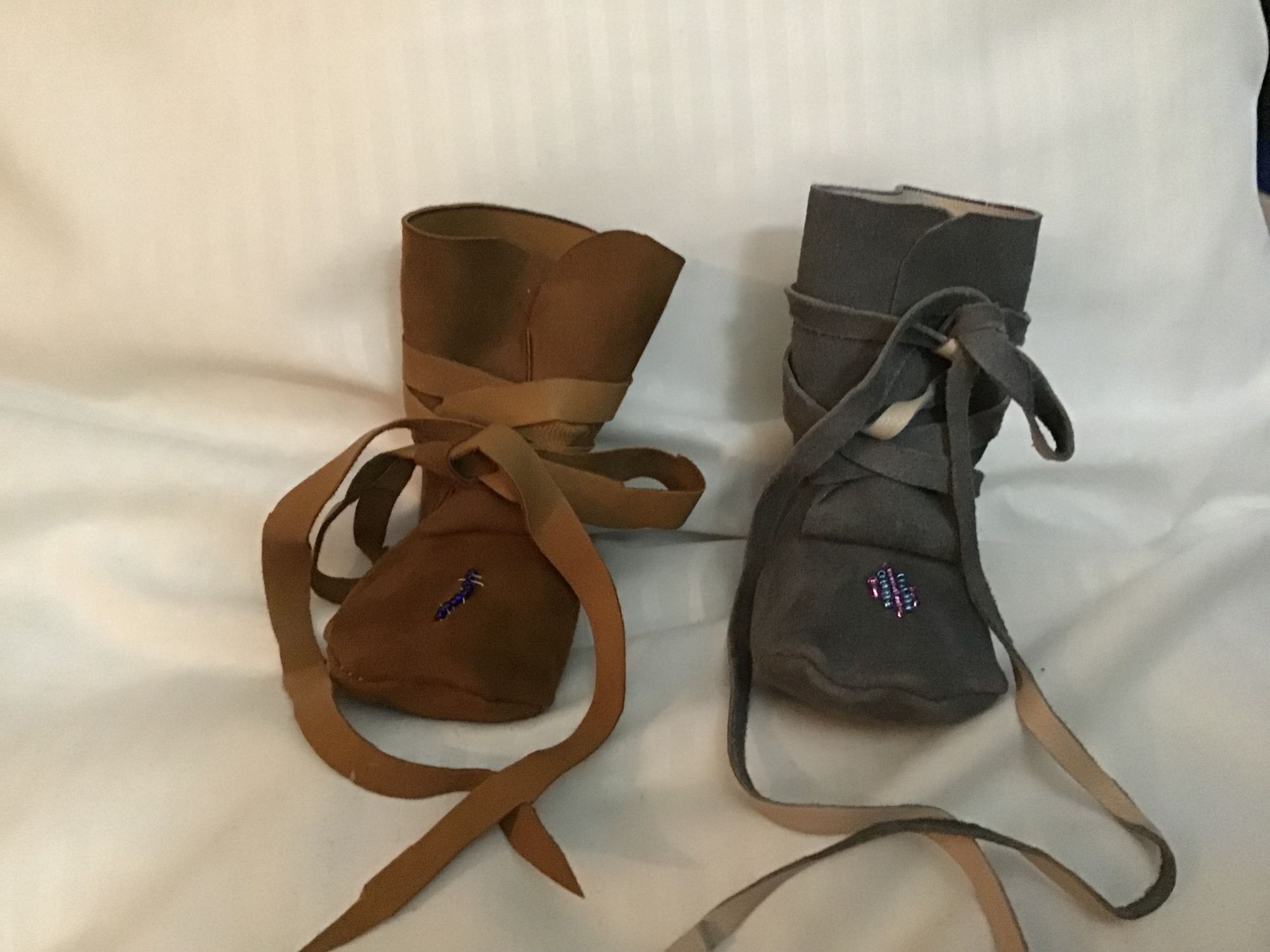 ---
Pohkakii, Jayne Scout
Pohkakii (Jayne) is a student in the Dhillon School of Business studying Indigenous Governance and Business Management.
"Oki, my Blackfoot name is Pohkakii and I am from the Kainai Nation. My moccasins have the colours of my mother's family on the side and were gifted to me when I graduated from Red Crow College in 2019."
"These moccasins are very special to me because they were made by my cousin and friend Gary (Twister) Tailfeathers, who lost his battle with cancer in early 2021. He was a kind and generous man. My cousin Twister (Gary) was a traditional dancer and loved powwows. He had a gift for making beautiful Blackfoot regalia and moccasins. Twister (Gary) Tailfeathers was a big supporter of mine and when I wear the moccasins he made, I carry his memory."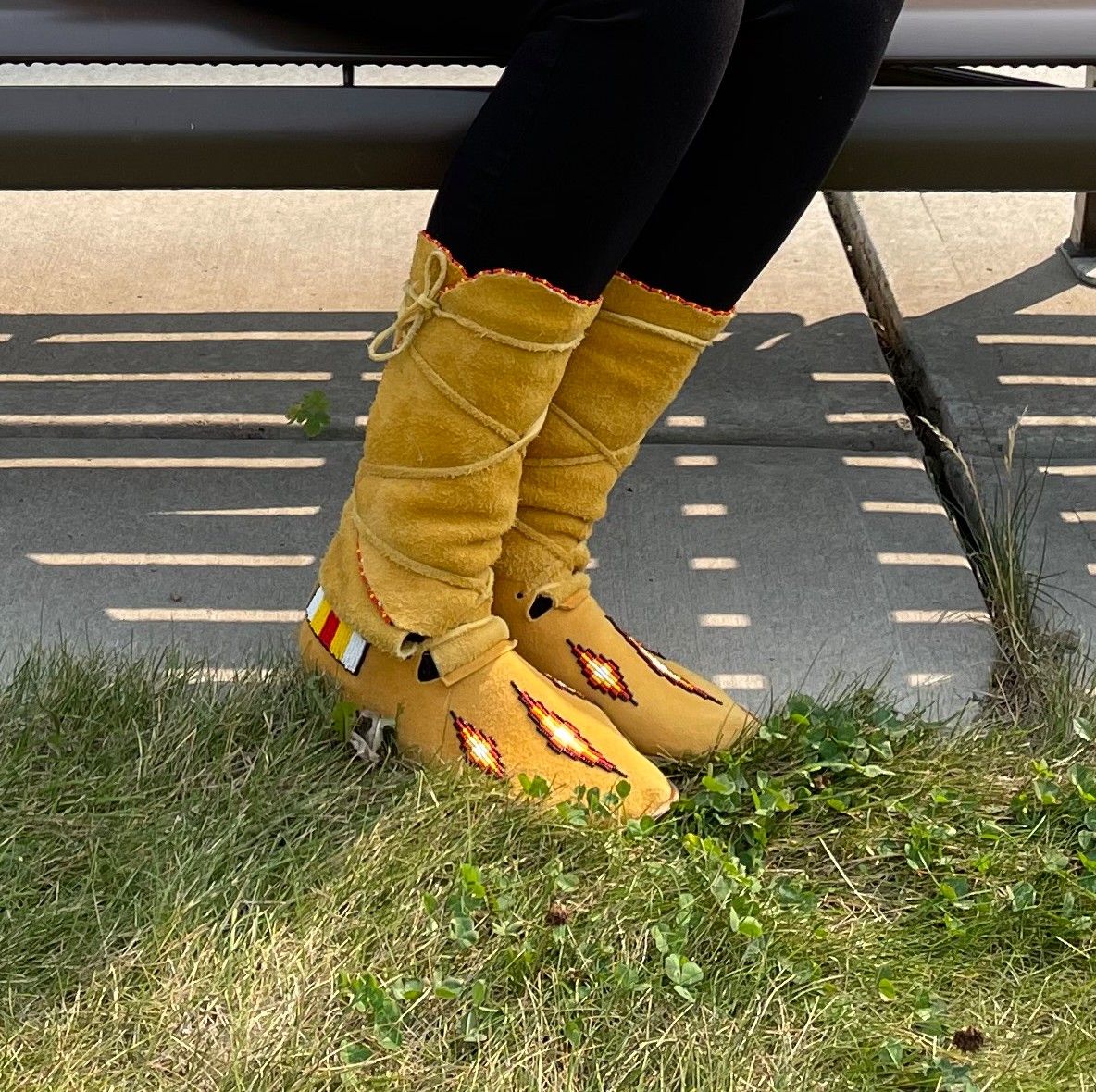 ---
Natoykanasoyakii (Sacred Lightning Woman), Ek-Kanakii Mekaisto
Ek-Kanakii is an Employment Navigator focusing on the Siksika Nation with the University of Lethbridge. Ek-Kanakii is a member of Siksika Nation and graduated from Red Crow Community College and the University of Calgary. She is a Registered Social Worker and she also completed Bachelor of Education degree in 2015 from Lakehead University.
Throughout her career, she has assisted Siksikawa through social work, education, and life skills coaching. Ek-Kanakii is deeply rooted in Niitsitapiisini and has woven cultural teachings into supporting youth in learning more about Blackfoot ceremonies and culture. She enjoys spending time with her grandchildren and family and taking part in cultural ceremonies.
"I am thankful for my moccasins, they were a blessing at one of the all-night smoke ceremonies. I make sure when I get painted, I have my moccasins painted too, so I can walk a good path with my ancestors."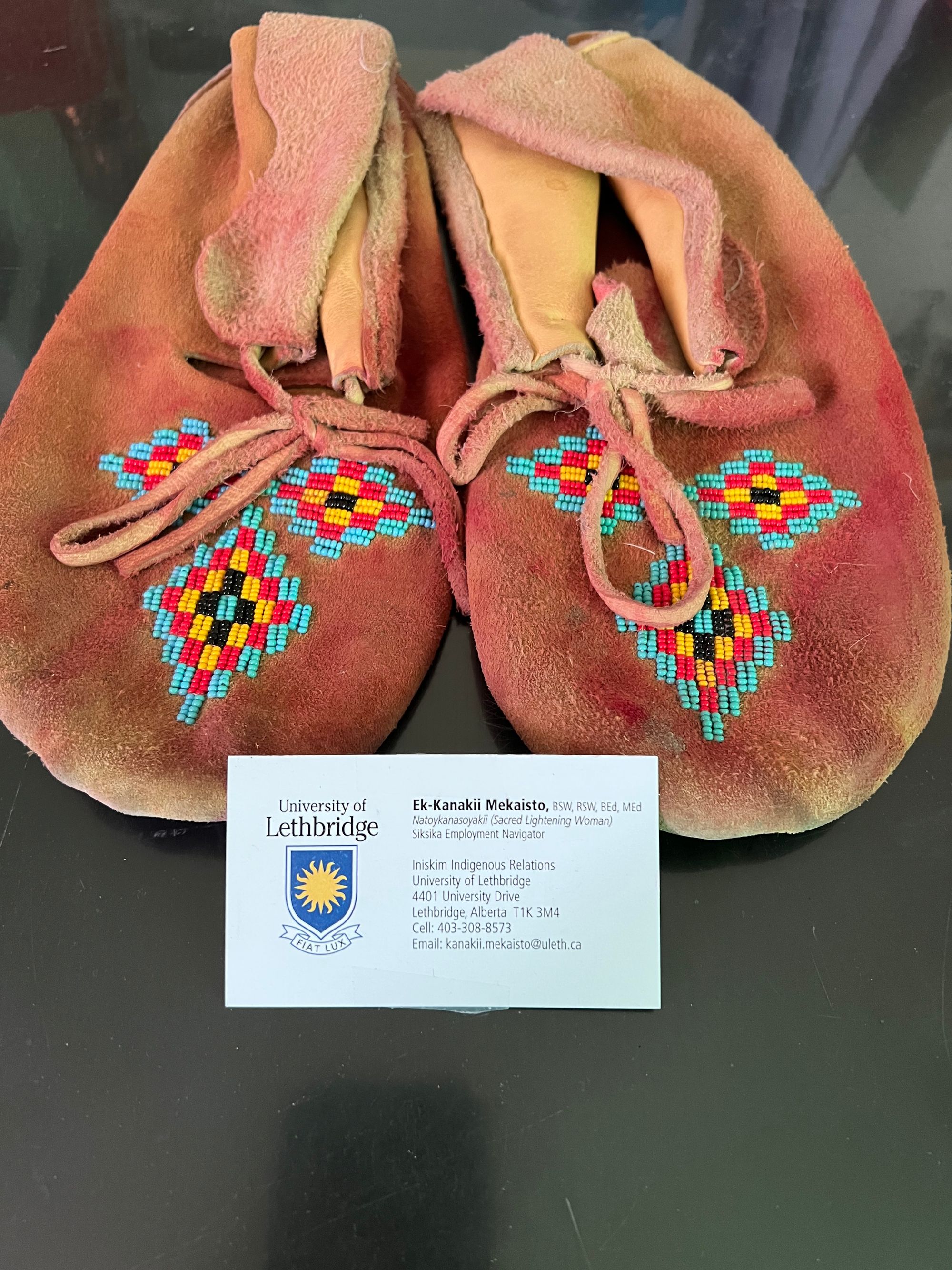 ---
Dr. Inge Genee
Inge is a Professor of Linguistics in the Department of Modern Languages and Linguistics. She is also the Chair of the Department of Indigenous Studies. Inge conducts research in Blackfoot language documentation and revitalization, working with many students and community partners related to Niitsi'powahsin, the Blackfoot language. Inge is the Director of the Blackfoot Language Resources website, which is one of her most significant projects. The website has an online dictionary, a story archive, resource and grammar pages and oral conversations.
"These are the moccasins made for me by a woman from the Piikani Nation that I wore at my citizenship ceremony in 2018."