As the student athletes on campus have wound down and finished their seasons on the court, ice and track, there are two teams who have been ramping up their training in preparation for their biggest competition yet.
Local dragon boat rowing teams, the Coulee Classic Dragons and Canucks Cruizers, are pushing themselves through last-minute training in Auckland, New Zealand, as they prepare to launch their boats at the World Masters Games. These two teams are made up of a large number of U of L staff, faculty, alumni and retirees, who will be paddling hard against teams from all around the world.
Linda Gilbert, executive assistant to the Provost & VP (Academic), says while it's not the Olympics, it certainly feels like that to those team members who have been training hard in the lead-up to the international competition.
"The U of L has provided me with many opportunities of various health-related classes and activities over the years and, in 2009, it opened up the door to competitive Dragon Boat racing," says Linda. "Since then, I have paddled with the U of L Fiat Dux team and various women's teams. It is not only about training and racing, but more importantly, the team work and camaraderie it creates."
Also on board will be Becky Lore, manager of Scholarships and Student Finance. Becky says getting to compete at the World Master's Games combines two of her favourite things, travel and paddling.
"I never thought I'd like the sport as much as I do. There is something about being on the water that gives me a sense of rejuvenation," says Becky. "I've never had that feeling in a motorized boat, but paddling makes any day a nice day!"
Both teams have been putting in long practice hours in the Max Bell Regional Aquatic Centre during the winter months. This is a stark comparison to many of the teams they'll be facing off against who have just wrapped up their season in the sun in the southern hemisphere.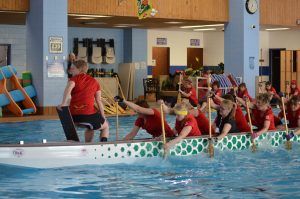 Between the two teams, there are 13 U of L connected paddlers who are competing at the games. Including Linda and Becky, the U of L is represented by Lynn Ambedian, former Director of Academic scheduling and student records in Arts & Science, Carol Block (BN '99), Jo-Anne Damen (Carey) (BN '87), Connie Gross (BA '80, BEd '84, MEd '96), Suzanne Harris (BA '00, MSc '09), former Health Sciences faculty member, Jean Harrowing (BASc '78), associate professor in Health Sciences, Shirley Hill (BN '82), Karen Johnson (BMgt '86) and University Senator, Chris Lowings (BA '83), Doddi Matz (BEd '80) and Barb Tate (BEd '85).