On March 14, 2018, Dr. Navjeet (Bob) Dhillon, founder, president and CEO of Mainstreet Equity Corporation, pledged a $10-million gift to the University of Lethbridge, the largest donation announcement in the institution's history at that time. In recognition of Dhillon's generous contribution, the University renamed the Faculty of Management to the Dhillon School of Business.
The story behind Dr. Dhillon's entrepreneurial journey that allowed him to give back to the world of business through education started while he was still a teenager. As a first-generation Sikh immigrant to Canada, Dr. Dhillon launched his career in real estate by buying a pair of houses in Calgary, renovating them and selling them for a profit. He then founded Mainstreet Equity Corporation and soon moved into developing larger residential buildings. As he built a private property portfolio from the ground up, Dr. Dhillon perfected a model of acquiring under-valued properties and renewing them to a higher quality market standard. Mainstreet Equity, under Dr. Dhillon's leadership, currently owns and manages over 14,000 units in 17 cities across Canada with $2.5 billion in assets.
While growing up, Dr. Dhillon recalls how lucky he was to have the importance of education drilled into him by family and others around him. That importance of education stuck with Dr. Dhillon, inspiring his decision to donate to the University of Lethbridge. "I wouldn't have achieved the success I've had if it wasn't for education," says Dr. Dhillon. "This is my way of giving back to Canada. Supporting innovative education is key to launching Canadian talent in today's connected world."
Above and beyond his $10- million pledge, Dr. Dhillon continues to facilitate philanthropic donations to the Dhillon International Bursary fund, a scholarship that benefits international students, through his business partnerships.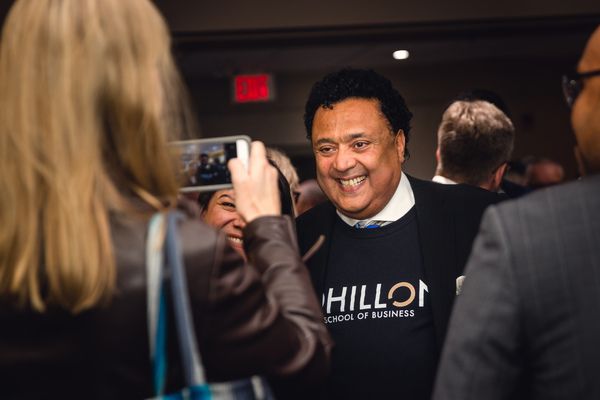 ---
SHINE: The Campaign for the University of Lethbridge launched in 2018 with two main goals: to significantly increase engagement opportunities for alumni and community members and to raise $100 million to propel the entire region forward. Thanks to your support, we have surpassed these goals. More than 20,000 alumni are now actively engaged with the University and, thanks to the incredible generosity of 11,000 donors who made 33,000 gifts, we have raised more than $103 million.
Thank you for joining us to take bold steps toward a brighter future together.