Art History and Museum Studies student Jason Ranaghan is spending his time at the University of Lethbridge exploring all the Faculty of Fine Arts has to offer. As he nears the end of his degree, Jason is leaving with significant work experience and a newfound passion for his chosen field.
Jason recently completed not one, but two internships at the Galt Museum & Archives, where he worked with the prestigious Donald Buchanan art collection and researched and curated his own exhibition at the museum. These experiences allowed him to add value to his degree and develop professional connections before he starts his career.
However, the path to Jason's success is not linear. When he first started his degree, Jason chose to study new media. He then switched to art studio, but fell in love with art history after exploring new classes.
"Never in a million years would I have thought I would have gone to art history. I didn't really care about art that much until I started taking art classes, and I just ended up falling in love."
This love for art and art history changed the way Jason approached his education—as he became more interested and engaged in his classes, his grades rose and his ambition to add value to his degree grew.
Jason says he wants to have internships under his belt and develop professional connections before he graduates, something he has accomplished and more through the art history/museum studies program.
"I did not realize how fantastic this program was. Getting your foot in the door, saying that I'm leaving University having curated two exhibitions, done two internships, worked as a research assistant and helped plan a conference is amazing. I've had incredible instruction, which makes me feel a lot more confident that when I graduate, I can step out into the world and get a job."
Jason is spending his summer completing the Donald Buchanan Internship, a cooperative program between ULethbridge, Lethbridge College and the City of Lethbridge that provides funding for ULethbridge students to help further the care, research and exhibition of the Buchanan art collection, which was donated to the city after Buchanan's death in 1966.
For the internship, Jason is working at the Galt Museum & Archives. He says his goal is to have a fully formed database on the collection at the end of his internship, along with exhibition ideas for future interns.
"We have this fantastic art collection and my work is trying to figure out how we can put that to work in and around Lethbridge," Jason says. "A lot of my work is more database and research-based, where I'm trying to figure out what we have in the collection and developing ideas for what we could do in the future. I'm doing a lot of original research on this art that we learned about in school, which is really unique, because you usually research on stuff that's already been established."
This is not Jason's first time working with the Galt. Prior to his work with the Donald Buchanan internship, Jason was doing his program-required internship with the Galt during the 2023 spring semester, where he began working on researching and developing his own exhibit on Theatre Outré, Lethbridge's queer theatre company.
"Theatre Outré is celebrating their ten-year anniversary. I've been doing a retrospective—I've gone through all of this amazing original research, I got to conduct oral history interviews with them and I worked a lot outside of the archives, because there was no existing information."
"The Donald Buchanan internship enabled me to finish that project to completion. It's just been so cool, this work has been a huge passion project for me and it has been a dream project to do," Jason adds.
Jason is the guest curator for the exhibition, titled Acting Out: Celebrating a Decade of Theatre Outré, which will be shown at the Galt until February 11, 2024.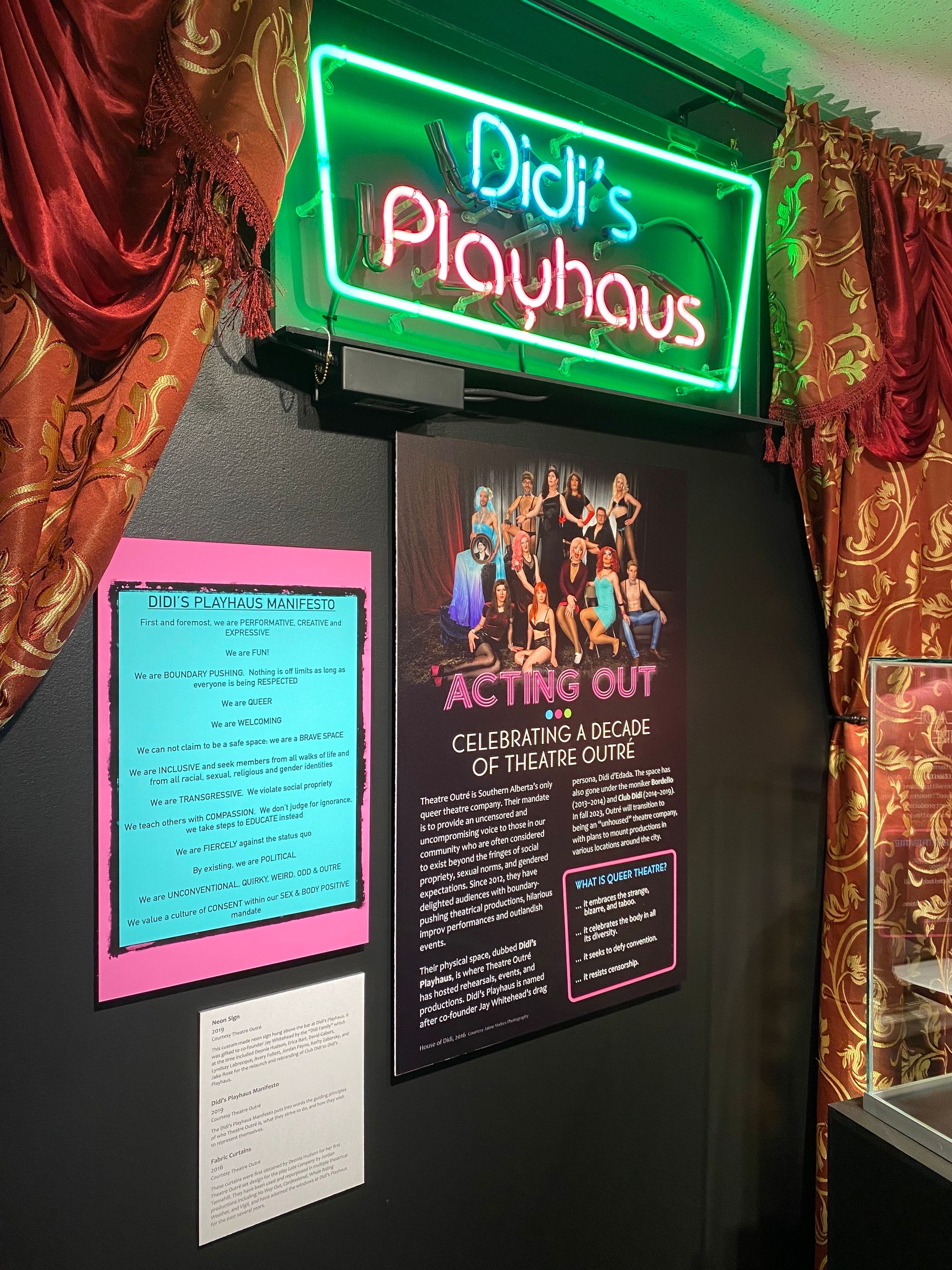 As he finishes his time at the Galt, he reflects on the lessons he's learned through his degree and his work.
"One of the turning points for me during my degree was reaching out to my professor for help when I changed programs, and getting resources for careers after graduation. Sitting down with my professor and her telling me her honest opinions helped develop that relationship, and from there, it's become one of the most helpful things ever."
"A lot of it is being bold and reaching out to people. I like to talk to my professors as if they're human too," Jason concludes. "They're there to help you, they want you to succeed and they have been doing this for a long time. Use every single resource that the University has to offer to your advantage—Career Bridge, the Library, professors and internships—try to use all of it."
🎨
Experience more with the Faculty of Fine Arts
:
• Awards, scholarships & student supports
• Productions, exhibitions, concerts & more
• Applied studies, internships & a range of work experience
• Enhanced education opportunities locally, nationally and abroad
Get involved!