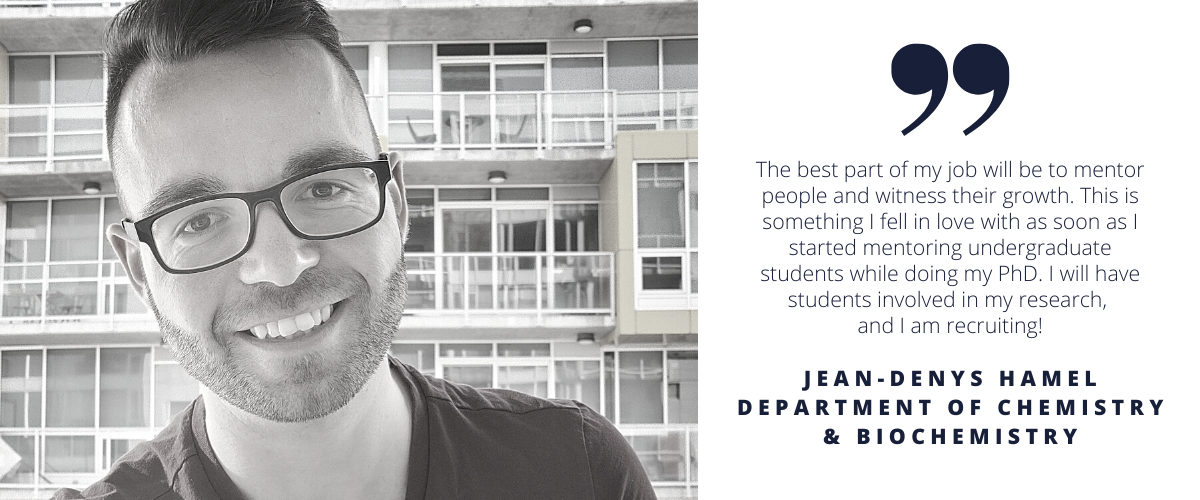 Where are you from? What is your background?
Raised in the suburbs of Quebec City, this is where I completed most of my education, up to the PhD; back then, I was too afraid to commit to the "big move" to another city. But hey, looking back at it, I have no regrets! Life is full of surprises and is often hard to predict, but I am so happy with what has unfolded so far.
I did my BSc in Chemistry at the Université Laval (graduation in 2013). As an undergraduate student, I did Summer internships with professors Jean-François Paquin (U. Laval, 2011) and Laurel L. Schafer (UBC, 2012; also the first time I left Quebec for months!). As for graduate studies, I began my MSc (Chemistry) with Prof. Jean-François Paquin (U. Laval), but I later transferred to the PhD program, graduating in 2018. I held a prestigious Vanier Canada Graduate Scholarship from 2015 to 2018. I then moved on to a postdoctoral position at the University of California - Berkeley (United States) with Prof. John F. Hartwig (2018-2020).
Now, I am excited to start as an Assistant Professor in the Department of Chemistry & Biochemistry in January 2021. This is a fantastic challenge that I am thrilled to undertake!
Are there any challenges or barriers to success that you've had to overcome to get where you are in your career?
Looking back at it, high school was hard, college was a real awakening, but university is where I can say that I thrived. I am no stranger to self-doubt, but luckily, I have always had a strong support system that I could rely on to help me push through. Confidence simply isn't something I was born with; it is something I have worked on and built over time and that I am now really proud of. I am genuinely thankful to family, friends, colleagues, and mentors for being so supportive over the years!
Further, coming to terms with failure and rejection was an important lesson for me; otherwise, the road to academia would have been a lot more difficult. You can't get every scholarship that you apply to. You can't always publish manuscripts where you would like. You can't always be selected to give a presentation at a conference. As a chemist, you can't make every reaction work (oh, would I like it to be otherwise!). Most importantly, you must not take those personally and see them as a metric of your value and your potential. When everything works your way is certainly gratifying, but whether you are successful or not, the efforts that you put in are certainly what you should praise yourself for. I am glad I now understand that.
Why did you choose the U of L? Was there something in particular that drew you to the university or the community? Was there a particular person or project that influenced your decision to pursue a career here?
The Department of Chemistry & Biochemistry at the U of L is a very close-knit community, and everybody is willing to help one another. I immediately sensed this when I interviewed. Also, there is a lot of collaborations going on in the Department. Moreover, the state-of-the-art facilities in the Science Commons are incredible! The opportunity to establish my research group in a brand new lab space was an excellent incentive.
Further, within the Department, a collective called C-CRAFT (Canadian Centre for Research in Advanced Fluorine Technologies) intends to make the U of L a hub for fluorine chemistry research. The challenge of being the organic chemistry specialist within the C-CRAFT certainly appealed to me. Truth is, I intended to wait one more year before starting to apply for faculty positions, but I simply could not resist when I saw the job posting (I mean… I did a whole PhD in organofluorine chemistry, right?), and I am so glad I trusted my gut.
Please tell us about any research or publications. Do you have students involved in your research?
Let's start with a brief summary of my background. As an undergraduate student, summer research internships in the groups of Profs. Jean-François Paquin and Laurel L. Schafer had me realize that I have a passion for transition metal catalysis, that is, the use of small amounts of metallic species to accelerate the preparation of organic molecules; drugs, for example. Later, as a graduate student with Prof. Paquin, I specialized in organofluorine chemistry, and as a postdoctoral fellow, I studied C-H functionalization reactions catalyzed by iridium species.
I will build on past experiences to develop a research program deeply rooted in the study of fluorinated organic compounds. Our mission will be to leverage catalysis as a strategic tool for the preparation and derivatization of fluorinated molecules, leading to greener and overall better processes to access and utilize them. Fluorine can dramatically change the properties of organic compounds; a 10-fold increase in the activity of a drug by incorporation of a single fluorine atom isn't unheard of! You may understand the massive appeal of being able to install fluorine wherever we want on a molecule!
I don't have anything coming out of my lab now as I have not started yet, but I have plenty of ideas that I can't wait to explore. Of course, I will have students involved in my research, and I am recruiting! If you want to get involved, feel free to reach out!
What do you value most about the U of L? What is the best part of your job?
The best part of my job will be to mentor students and witness their growth. This is something I fell in love with as soon as I started mentoring undergraduate students while doing my PhD.
As for what I value most about the U of L, I would say the fact that it is a smaller institution, for sure! To me, that is a big, big plus. You can dedicate more time to each student when you have smaller classes and research groups. I have people's success at heart, and I believe that smaller settings will allow me to be a better teacher and mentor. Oh, and can we talk about the campus itself for a minute? With the trees, the lake, the coulees nearby, it is simply gorgeous!
Are you involved in any community activities or groups outside of the university? Is there anything else about you that we should be aware of?
Back when I was in Quebec, I was involved in a few activities outside the research lab.
1) I have been a judge in science fairs and, every single time, I left out amazed by what I had seen and heard and the passion I could sense emanating from the people there.
2) I have done scientific animation in quite a few instances. Here is one that comes to mind: I once animated scientific demonstrations at the Musée de l'Amérique Francophone (Quebec City), using artifacts from the private collection of the Seminary of Quebec. The demos were incorporated within the loose script of 30-minute-long sketches, where the ability to improvise and interact with the public was paramount. The sketches were performed in teams of two comprised of a scientist and a professional actor. This was way out of my comfort zone, but it was so cool!
3) I have been involved with Volunteer Eco Students Abroad (VESA) during my graduate studies, and I volunteered for programs in Fidji (2014; education, reforestation, and coral reef conservation) and Laos (2016; elephant conservation).
Also: I am passionate about tennis. I cannot pretend that I am good, though! For me, tennis really is a passion, not a talent!
How has your job changed since the COVID-19 pandemic began earlier this year? How have you adapted to the unique challenges?
So far, it hasn't, since I have not started my position yet. In a way, I feel fortunate as I can see what other people have done before choosing my strategy! The unprecedented circumstances brought by the pandemic will certainly make setting up my research lab and recruiting much different from what I ever expected. Honestly, instead of panicking (trust me, I thought about it!), I will go with the flow and have fun along the way, and I believe things will fall into place.
If you were speaking to a prospective undergraduate or graduate student, why would you tell him/her to attend the U of L?
I haven't been around for long enough to comment on what exactly makes undergraduate studies at the U of L so great, so I will have to get back to you on that, but if the Department of Chemistry & Biochemistry reflects in any way what is found across the U of L, you can expect passionate and dedicated educators. As for graduate students (in sciences), the opportunity to pursue their program in the Science Commons building is a real bonus, as they get access to state-of-the-art facilities, equipment and instruments. I would have dreamed to pursue graduate studies in such a fantastic environment!
My research group will occupy the south end of the mega lab on the 8thfloor of the Science Commons. Come see what we are up to by peeking through the glass wall, say hi, and engage in conversations with us… well, that is, once we are all allowed back on campus!