By supporting spaces, programming and student funding, you help inspire the next generation of change-makers, difference seekers and champions for environmental sustainability, reconciliation and innovation.
Galt School of Nursing Alumnae Scholarship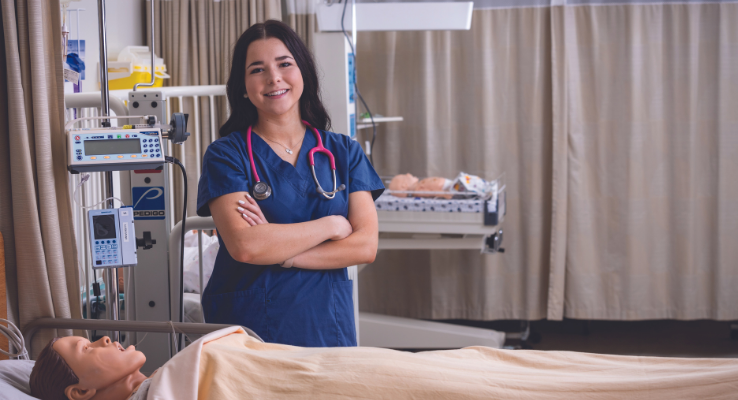 When the Galt School of Nursing Alumni gifted close to $150,000 in scholarship money to the University of Lethbridge nursing program, it was a case of the past meeting the present to benefit the future.
For nearly 70 years (1910 to 1979), the Galt School of Nursing trained more than 1,100 nurses who played a key role in providing quality health care to the residents of southern Alberta. The Galt family first established a fund in 1910 that supported nursing students and helped to purchase equipment for the school of nursing.
"It is remarkable that this fund has carried over for more than 100 years, from the pioneering Galt family to the present day," says Donna Karl, RN, and a 1963 graduate of the Galt School of Nursing.
Since its establishment, the scholarship has been awarded to 133 students, including Morgan Wylie, a third-year Bachelor of Nursing student.
"During the COVID-19 pandemic, nursing students and students across the world struggled with many things," says Morgan. "Some struggles included connections with other students, schooling issues, or even financial hardships. I definitely have struggled during the pandemic. I worked as a barista at a local coffee shop, but lost my job due to the pandemic. However, your donation can now be applied to help me buy textbooks and other supplies for my upcoming school year. Thank you so much for your support."
Science Commons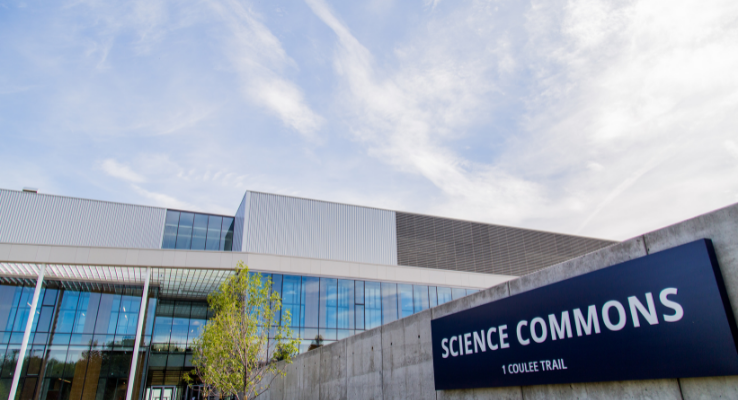 In 2019, the University of Lethbridge opened Science Commons – the most advanced facility for science education and research in Canada. The spectacular facility, which brings together the departments of Chemistry & Biochemistry, Biological Sciences, Neuroscience, Physics & Astronomy and Psychology, is designed to foster transdisciplinary research by providing exceptional opportunities for collaboration and discovery. The facility puts science on display and is a science centre for all of southern Alberta.
At 38,500 sq. metres, it is the largest development on the U of L campus since the original construction of University Hall began in 1969. The impact of donor funding can be seen in many spaces throughout the facility.
Periodic Table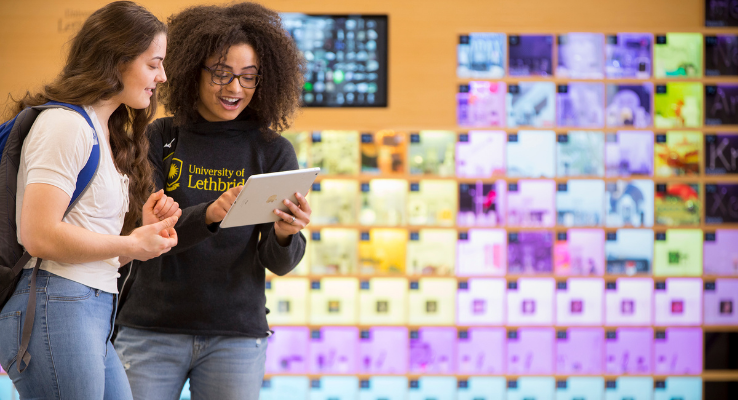 Science Commons is home to a life-sized periodic table display that brings the elements to life and sparks the curiosities of observers of all ages. The periodic table houses actual samples of many of the individual elements and is fully interactive with a video screen that can display information on each of the elements. This display is made possible thanks to generous donations from faculty, staff, retirees and community members.
Orcutt Family Lounge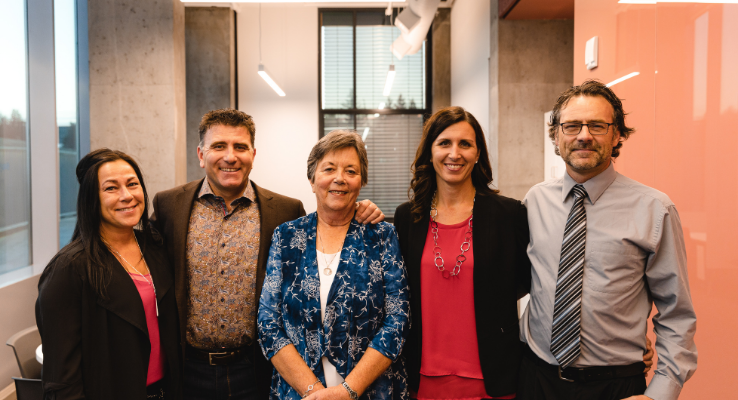 When Russel Orcutt (BSc '94), a 2019 inductee to the Alumni Honour Society, learned about the new Science Commons at the University of Lethbridge, he saw a meaningful way to contribute to the institution that helped set him — and others — up for success.
"My wife Lisa and I decided it would be pretty cool to give back to the people and the institution that helped me create a foundation from which to develop my future on," he says. "Canada has outstanding scientists and the new Science Commons will help train the next generation. I want to see more U of L graduates and professors on the world stage because we're some of the best."
Orcutt made a gift to create the Orcutt Family Lounge within the Department of Chemistry & Biochemistry. The lounge has provided a valuable gathering space for students and faculty to socialize and enhance ideas.
BMO Auditorium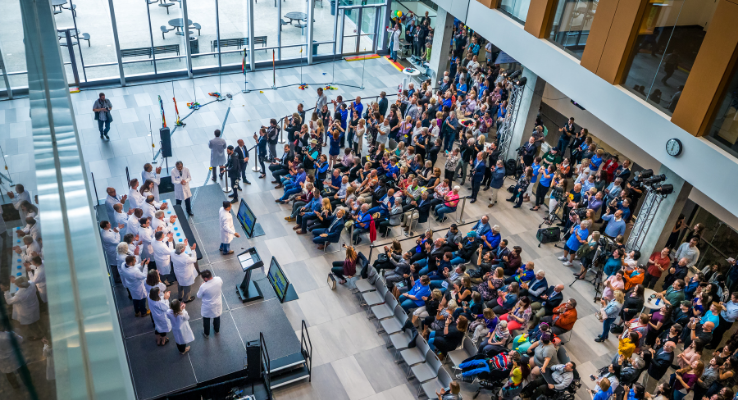 Located just off the main atrium in Science Commons, the BMO Auditorium recognizes a leadership gift from BMO.
The auditorium is a key space for community outreach programming. With 250 seats, including wheelchair accessible seating on three different tiers, the BMO Auditorium is the largest class room in Science Commons and the second largest on campus.
Early supporters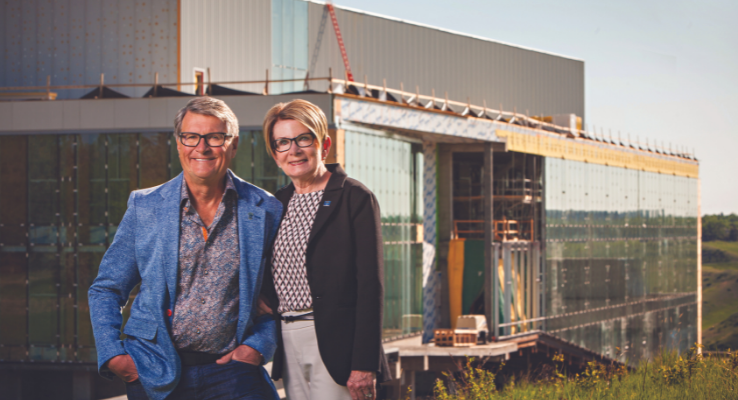 Early in the construction process, Janice and Glenn Vazari stepped forward with a significant gift towards the Science and Academic Building. Janice was the U of L's 13th chancellor, a long-time Senate and Board of Governors member and a proud alumna.
"We feel it's important to make a donation to this phase of the Destination Project because we want to contribute as best as we can to the generations who follow us," says Janice Varzari (BN '90, MEd '02, LLD '21). "Education is our future. We are investing in the U of L because it is an institution that invests in others."
Agility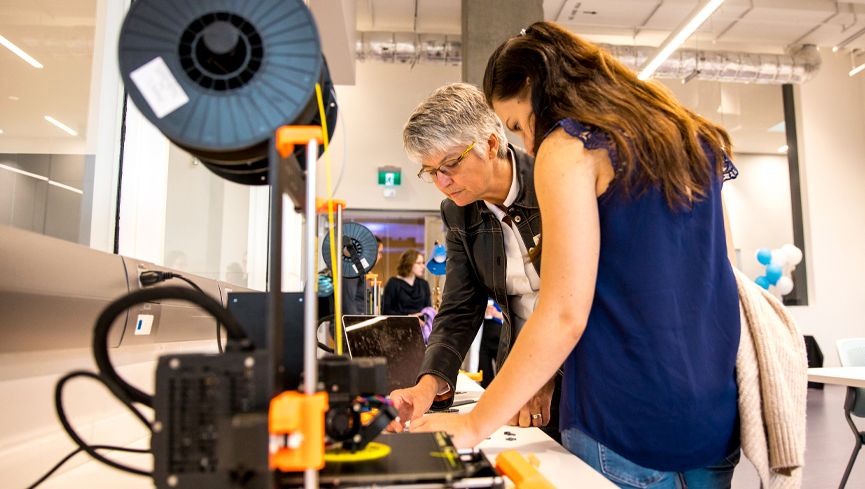 Agility was launched in 2015 to nurture and support innovation and entrepreneurship among U of L students, thereby giving them a head start in establishing their careers before they enter the workforce. The program is completely funded by donors, including Bruce McKillop (BASc '70), Anil Pereira (BMgt '87), Cor Van Raay (LLD '15) and RBC, who believe in creating innovative learning experiences, and spaces like the Idea Shop, for uLethbridge students.
With the opening of the Agility Innovation Zone in Science Commons in 2019, participation in Agility's programming has ballooned. It offers space to collaborate, free training, support, high-end computers and prototyping tools like 3D printers, vinyl cutters, button makers, sewing machines and more. Along with spurring members of the uLethbridge campus community to bring their innovative ideas to life, Agility has also been generating buzz in the community about the potential for collaboration between U of L students and local organizations.
One such collaboration saw three U of L new media students, working through the Agility program, and assistant new media professor Christine Clark (BFA '10, MFA '14) contribute to the City of Lethbridge's Reconciliation Week efforts. The group designed desktop gifts depicting the traditional Blackfoot greeting, Oki, and brought them to life using Agility's 3D printers.
Agility worked with a small group of students to form a new Enactus student club. Members of this worldwide club are passionate about advancing the economic, social and environmental health of the country and the U of L group's goal is to teach programming skills to youth in rural and Indigenous communities.
Agility hosted its first annual student pitch competition in 2019. More than 30 student teams participated in the competition for a chance to receive seed funding, made possible with funding from Alberta Innovates and a donation from Howard and Suzanne Heil.
The Campus Ecology Project, started as an applied study in 2018, aims to connect local Indigenous leaders and expert faculty members with dedicated students to create a sustainable campus through applied research. The research, along with practical components, is designed to help reintroduce native plant species and increase environmental health on campus.
Agility has continually added new programs to its roster of offerings. In 2020, Agility, along with seven other post-secondary institutions in Alberta, hosted a Women in Entrepreneurship week. It also introduced the Agility Trailblazing program, which launched with 10 student entrepreneurs, thanks to funding from Alberta Innovates.
In the 2020-2021 academic year, Agility worked with more than 599 students and supported 31 student entrepreneurs.
---
SHINE: The Campaign for the University of Lethbridge launched in 2018 with two main goals: to significantly increase engagement opportunities for alumni and community members and to raise $100 million to propel the entire region forward. Thanks to your support, we have surpassed these goals. More than 20,000 alumni are now actively engaged with the University and, thanks to the incredible generosity of 11,000 donors who made 33,000 gifts, we have raised more than $103 million.
Thank you for joining us to take bold steps toward a brighter future together.