For many ULethbridge students, Co-operative Education provides valuable work experience and a leg up in the post-graduation job hunt. For second-year Management student Dorsa Sadr, a co-op placement in the Faculty of Education has meant finding her place a long way from home.
Sadr hails from Tehran, the capital city of Iran, and first arrived in Lethbridge in August of 2021. An undergraduate student in the Bachelor of Management program, she began taking classes and initially had a hard time finding a place where she felt comfortable in a new city.
"I went and talked to my advisor, and they suggested co-op, which I didn't know existed," she says. "It felt like a great fit, because I worked before I came to the University, and working really matches my skillset more than studying, so I was very excited to take advantage of this."
Sadr interviewed with the Faculty of Education – her first ever job interview – and was the successful candidate for the Research and Practicum Events Coordinator position; a two-term co-op placement which she began in September of 2022.
Visas and work permits can be tricky to juggle for many international students, but Sadr says taking part in co-op has made gaining work experience in another country a smoother experience.
"Doing co-op, you can legally work full-time and have that income," she says.
"As an international person, it can be kind of hard to get into the work environment of another country, but co-op is a great way to find that foothold and become a part of that society. It's also changed my relationship with people here in Lethbridge."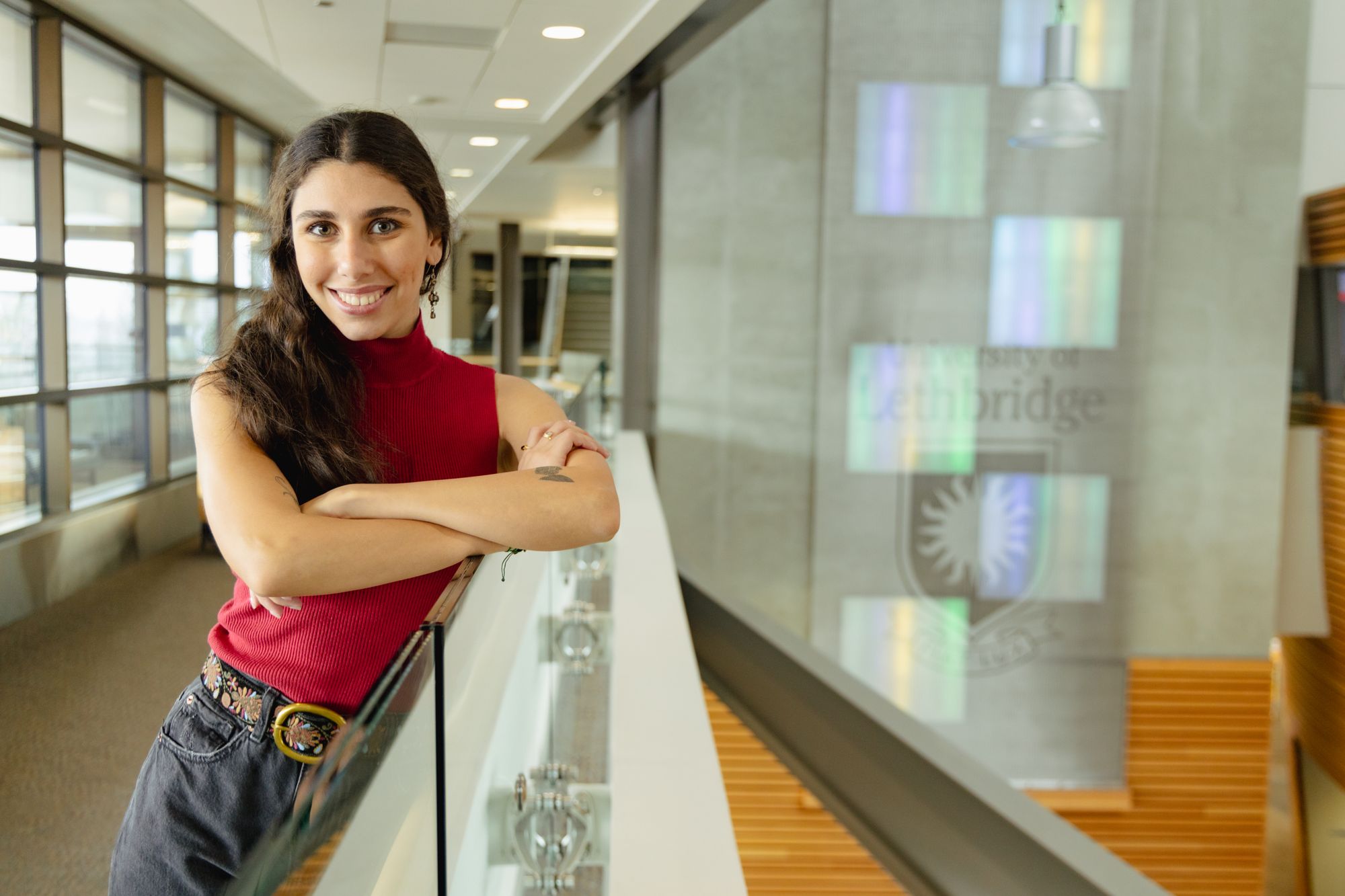 Having previously only completed one in-person semester at ULethbridge, Sadr says meeting people in the campus community hadn't been easy, but her co-op position opened new doors.
"Since coming to the Faculty, I've felt like I belong, and doing co-op has made me feel at home at the U of L and changed my feelings about Lethbridge," she says.
"I would definitely recommend co-op to other students, it's quite a powerful force; it's changed my whole five-year plan and my path for the better."
Sadr's long-term career goals centre on a dream to work in event planning, and in her role with the Faculty of Education she's been key in organizing one of the Faculty's flagship events, the PS III Large-Group Seminar and Symposium. The biannual gathering of soon-to-be teachers features a walkabout with school division partners from across the province; the spring edition of the event will allow students the opportunity to network with 23 different divisions.
"I live for the rush of an event and all the chaos that comes with it, and the school division walkabout is the highlight of my position for me," she says.
---
Throughout the month of March, we will be celebrating international Work-Integrated Learning month by sharing stories, events, best practices and much more. Students can earn a professional development certificate by participating!
WIL occurs at the course or program level and includes the development of learning outcomes related to employability, personal agency and life-long learning.