In 2012, W. James (Jim) and Hazel Penny donated the landmark Capital Furniture Building in downtown Lethbridge to the University.
The building represents an important part of the city's history and thanks to the Pennys, is part of the University's future. For the Pennys, the uLethbridge Dr. Foster James Penny Building has a deeply personal significance - it honours their late son and his love of learning.
Jim, a longtime Lethbridge resident, carries a small black stone in his pocket that he and his wife Hazel found in the River Jordan more than 25 years ago. Today, the stone is smooth and shiny, polished from decades of laughter, tears and the countless steps the couple has taken together.
Partners in life and in business, Jim and Hazel spent their careers developing restaurant franchises in Canada and the United States. Originally from Saskatchewan, the couple lived in Estevan and later Medicine Hat, Alta., for a number of years while raising their two children: daughter, Aarol, and son, Foster.
With a young family and growing business interests, the couple's early years were filled with long hours, a few lucky breaks and a strong work ethic passed down from generation to generation.
"We started off as Dairy Queen franchisees in Estevan, Medicine Hat and Edmonton, and as Dairy Queen franchisors in northern Idaho and north-eastern Washington," recalls Jim. "We built our first store in 1954 with the intention of opening one store, and then just took advantage of new opportunities as they presented themselves over the years."
After living in Medicine Hat, the Pennys moved east to develop A&W franchises in Ottawa. In 1968, they moved to Lethbridge and set roots in their new community.
"We purchased a partnership with Jack Belzberg in Capital Furniture, which we operated for 20 years," says Jim.
In the 1990s, however, a fire destroyed the building, and although it was rebuilt, the Pennys sold the Capital Furniture business in order to concentrate their efforts on founding TacoTime Canada. In 2012, the Penny family generously gifted the landmark Capital Furniture building to the University of Lethbridge. Since then, the building has undergone extensive renovations. Although the walls still hold years of history and memories, new life has been breathed into the building and it has a new face and purpose – it will immerse the University into the community and provide new opportunities for those who pass through its doors for years to come.
The building's true significance, though, rests in its namesake: The University of Lethbridge Dr. Foster James Penny Building, and the young man's life it honours.
Tragically, the Pennys' son, Foster, passed away in 1992 after a five-year illness with Lou Gehrig's Disease. He was only 44 years old.
The building now stands as a testament to Foster and his love of learning.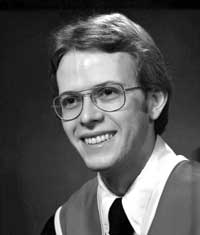 "Foster said to me once," recalls Hazel, "Every time I pick up a book I want to learn everything that's in it."
And with a zest for life and a kind heart, he did. After completing his bachelor's degree in science at Carleton University, Foster went on to the MBA program at Queen's University.
"About halfway through his MBA he phoned us one day and said, 'I've looked at science and I've looked at business, and I prefer science,'" says Hazel. "He finished his MBA and then went on to study medicine, and he really, really loved it. Thank goodness we supported him in his choice. He got to do what he loved, even if it was just for a short time."
After completing his MD, Foster specialized in anesthesiology. With a long list of accreditations to his name – BSc, MBA, MD, FRCPC – Foster practised medicine and taught at the University Hospital in London, Ont., where he was part of an association of anesthesiologists devoted to research and teaching.
"He was a medical doctor, he was a teacher and with a business degree, he was the go-to guy at the association for business and investment matters," says Jim. "He loved life and he was happy," Hazel adds.
And so the downtown uLethbridge building will fittingly display Foster's name for generations to come, creating a lasting legacy for a young life cut far too short.
"It's a wonderful memory for our boy," says Hazel. "He would be so proud to see his name on a building pertaining to education. I can see him smile."
The Dr. Foster James Penny Building has created new and exciting opportunities for the University, its students, faculty and staff, and the community. In addition to providing office space for research projects and gallery space for Fine Arts students, the Penny Building is home to uLethbridge annual giving programs and Call Centre. The Penny Building also provides an ideal space for community-related events, including book launches, concerts and receptions.
For Jim and Hazel, gifting the building to uLethbridge was simply doing what's right.
"We've always believed in education. The building is payback for all the years of education our children and grandchildren received. It's a token of appreciation for all the good things our family got out of university," says Jim. "The world has been kind to us, and every once in a while there needs to be a payback. It's that simple."