Welcome to the very first Faculty Friday interview, with sociology professor Dr. Athena Elafros at the University of Lethbridge! The Office of Research and Innovation Services connected with Dr. Elafros on her project about preserving history and providing context for Alberta's Gay Straight Alliances.
Hi Athena, and Happy Pride! We're excited to hear about your research today. First off, what attracted you to do research at uLethbridge?
The focus on the liberal arts was one of my main attractions to the University of Lethbridge. I appreciate that the uLethbridge focuses on both teaching and research, and that there are opportunities to develop in both of these areas at the university.
What are you working on right now?
I am working on a number of projects at the moment. One of the most important projects that I am working on is entitled "GSAs in Alberta: Past, Present, and Future." Gay Straight Alliances (GSAs) are youth-led groups aimed at providing welcoming, inclusive opportunities for lesbian, gay, bisexual, transgender, queer, and two-spirit (LGBTQ2S+) students and their allies to socialize and support one another.
The first GSAs in Alberta were created in the early 2000s in public high schools; in the following two decades GSAs have been established in public and private high schools and middle schools, and expanded into broader community spaces, where CGSAs (Community Gay Straight Alliances) provide a space for youth whose schools do not have such a program. While there is a growing literature on GSAs in Canada and the United States most of the literature focuses on how GSAs foster positive health outcomes and improved student climate.
To date there is no comprehensive historical record of GSAs in Alberta (or Canada, more broadly). Using queer theory and queer oral history methods, this project aims to lay the foundations for such a record by capturing the oral histories of those involved in Alberta GSAs from the early 2000s to the present. These oral histories hold critical significance in terms of the experiences of LGBTQ2S+ youth in a largely politically conservative landscape. In addition to preserving these experiences for current and future policy analysis, this project will create a public repository of these histories and collaborate with relevant stakeholders to ensure the preservation of the data in Canadian LGBTQ2S+ archives.
Wow – you are filling quite the gap in history with this project. What are you hoping to accomplish with this work?
This project aims to center the voices and experiences of youth and facilitators of GSAs in Alberta, Canada. Towards this end, our objectives include:
To record, preserve, and showcase the oral histories of facilitators and members of GSAs through the creation of an online open-access repository
To inform academic, community-based practitioner, educational, and non-profit organizations as to the lived experiences of LGBTQ2S+ youth across the province
To provide resources for LGBTQ2S+ and allies for advocacy and policy work
To ensure these oral histories are properly archived for future research purposes
Given Alberta's current political climate, the importance of understanding the role and impact of LGBTQ2S+ spaces for marginal communities cannot be underestimated. As already noted, a primary goal of this project is to inform not only academic, but community-based practitioner, educational, and non-profit organizations as to the lived experiences of LGBTQ2S+ youth across the province. This project's significance lies not only in the preservation of Alberta LGBTQ2S+ history, but also in its potential to offer provincial and national stakeholders' policy-relevant insight into the experiences, needs, and long-term outcomes of GSA participation.
There is lots to be excited about with this project, but what excites you the most?
I have two excellent student collaborators: Tif Semach, Cultural, Social and Political Thought Ph.D. student, and Wednesday Culley, general Social Sciences undergraduate student. Both are active members of the LGBTQ2S+ communities in Lethbridge. Working with them is very exciting!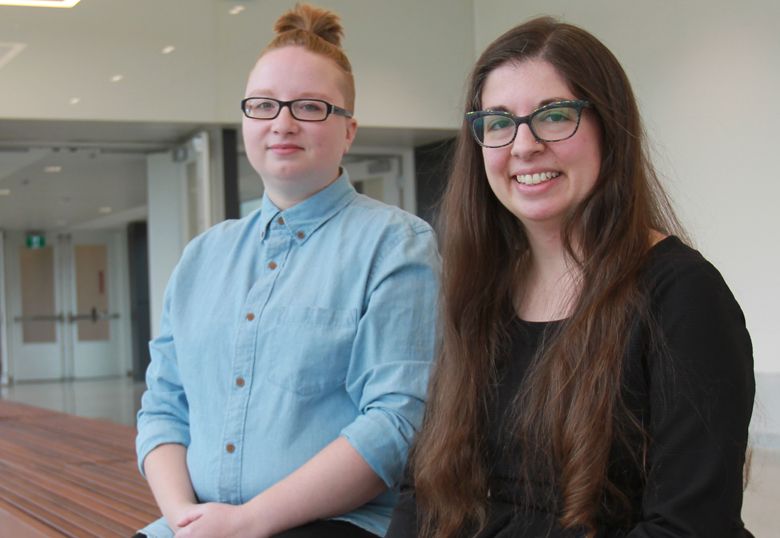 We got in touch with your student collaborators: Wednesday, what is your role in this project?
I am working alongside Athena and Tif as a research assistant. Some of what I have contributed to the project has included collaborating with Athena and Tif on the initial framework, including building an interview guide, conducting interviews, analyzing data, and establishing a social media presence to promote the project.
Working with Athena and Tif has been a highlight of my professional career. Collaborating with people who share your passion and interest on a topic that means so much to you is completely invaluable, and I cannot adequately express my gratitude for the opportunity.
How about you Tif? What has your experience been like working on this project?
Working with Athena has pushed me to the next level, quite literally! We began collaborating on this project when I was working as a sessional in the Sociology Department, and as a direct result of our work Athena encouraged me to apply and begin my doctoral studies. My doctoral research is an offshoot of this project, focusing on GSA participants and how queer identity and community formation are impacted by these spaces.
The projects bring my involvement with GSAs full circle; I started the first GSA in Lethbridge while in high school LCI in 2003, which was only the second group in the province. As a member of the queer community, being able to help ensure the stories of those involved with GSAs is preserved has been a highlight of working with Athena and Wednesday. I'm involved in a bit of everything on the project, from grant applications to data collection and analysis, and dissemination of our work. I am very excited about the public dissemination of our work through the project website, where the public will be able to actually hear clips from our interviews with participants.
Would you take on other collaborators Athena? Who would be your ideal research partner?
We are incredibly thankful and appreciative for the funding and support we have already received from the Faculty of Arts and Science, The Centre for Oral History and Tradition (COHT) at the University of Lethbridge, and the Parkland Institute. Going forward we would welcome the opportunity to collaborate with pro-LGBTQ2S+ community groups and educational organizations.
Last question Athena – tell us one fun fact about you!
I am a first-generation academic from a working-class and immigrant background. My goal is to try and make academia a kinder place for those of us who are outsiders within the academy.
If you want to learn more or contribute to the project, visit the  GSA Oral History Project website. You can also connect with this dynamic trio on Twitter & Facebook.