Pre-service teachers in the Faculty of Education spend 27 weeks out in the field, but during their time as students at the University of Lethbridge they also spend a lot of time in Turcotte Hall.
As classes began for the Fall 2023 term, a pair of busy classrooms in the building had received a significant makeover, aimed at better preparing student teachers for what they will step into in the field.
"We've been talking about doing room renovations in Turcotte Hall since 2017. We want to make sure our teaching spaces are consistent and congruent with what's in schools and that we're leaders in terms of new technologies and new pedagogies," says Dr. Robin Bright (BA '79, BEd '82, MEd '88), who recently concluded her terms as interim dean for the Faculty of Education. "Now this work has taken place thanks to the support of alumni."
The furniture in the classrooms has been a main focus of the renovations, and Bright says mobility was key in the final choices.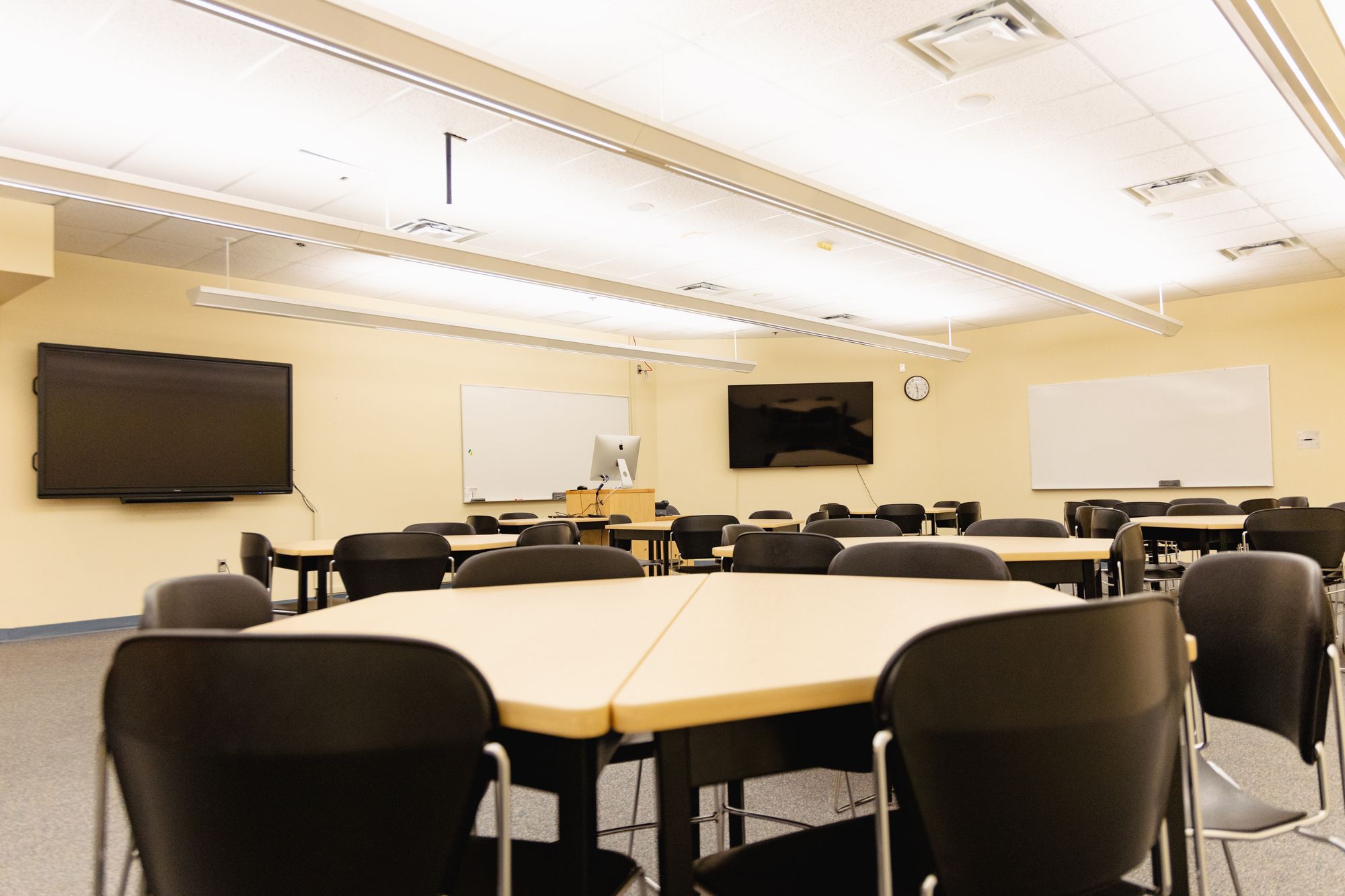 "Learning space design has a direct impact on creative pedagogy to meet the needs of all learners, not only here at the university, but in K-12 classrooms," she says.
"We know that classroom design is paramount to advance student learning in schools. Our student teachers and our instructors will have the opportunity to not only experience, but also practice, effective use of space, furniture and technology to stimulate creative thinking and address the unique needs of learners."
For instructors like Dr. Doug Checkley (BSc/BEd '05, MEd '10, PhD '20), assistant dean of field experiences for the Faculty, the newly renovated rooms will provide the opportunity to see classrooms in a new way.
"I'm excited to have the ability to show students how just changing the makeup of the classroom can really change the feeling of what you're doing," Checkley says. "My hope would be, throughout a course, to have it set up different every time they come in, so they can start to visualize what kind of classroom they would want to have and what kind of setup they would like and appreciate."
Cutting down on the paper used within the Faculty of Education was another a goal of the renovations, with whiteboard space abundant throughout the rooms. Bright says sustainability is a focus of both ULethbridge and the Association of Canadian Deans of Education.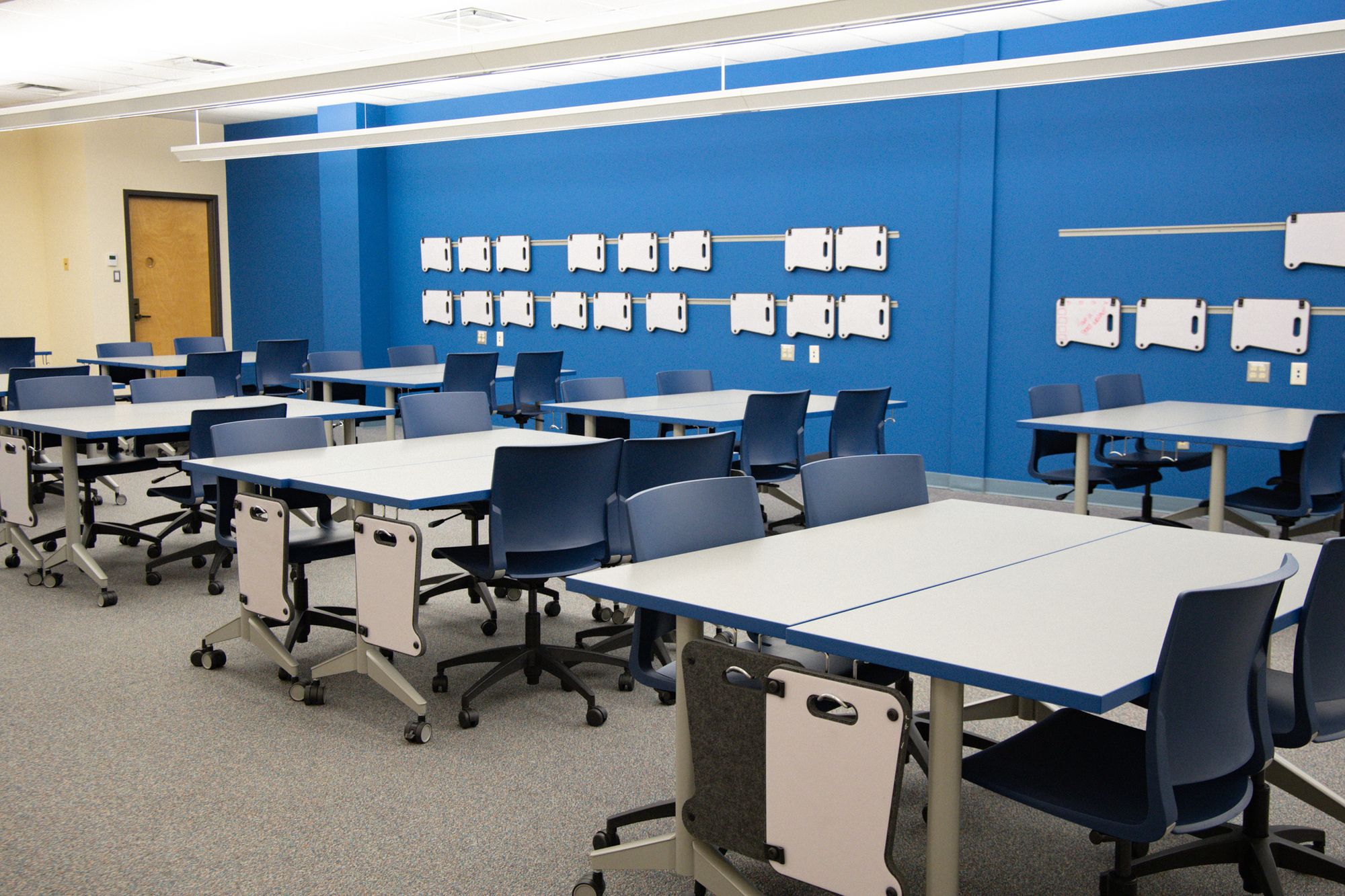 "We think that it will cut down our costs of paper considerably," Bright says. "And from a teaching perspective, having a lot of wall space covered in whiteboards really encourages a lot of participation, too. These classrooms will give instructors that opportunity to get back to a style of teaching that's really interactive and where everyone participates; it's the difference between passive learning and active learning, and that space really does contribute to that."
Bright says the long overdue upgrades were made possible thanks to the generous donations made by alumni, who have contributed regularly over the past several years to the Faculty of Education's Annual Fund for projects like this.
"We are incredibly thankful for all the donor support that has made these room renovations a reality," she says.
"When donors prioritize education, there is a lasting impact for ongoing learning for our student teachers, and also for students in schools and communities."