Completing degrees and entering the world as teachers can be a nerve-wracking time for soon-to-be graduated students, and the Faculty of Education always provides a final opportunity to network and ask questions before jumping into the industry.
A favourite day for the Faculty, the PS III Large-Group Seminar and Symposium returned in its most normal iteration since 2019 to close out the fall semester, with more than 150 students and representatives from 16 school divisions filling the Curriculum Lab. The day featured a school division walkabout, a presentation by the Alberta Teachers' Association (ATA) and an administrators' panel, where students engaged in discussion with a trio of school principals.
"We are so blessed to have such strong relationships with our school divisions, and the work they do with our students is amazing," says Assistant Dean, Field Experiences, Dr. Sharon Pelech. "The testament comes when they're willing to come here and spend their mornings meeting with our students and talking with them, seeing them as potential hires; I think that's a real indicator of our relationships with them."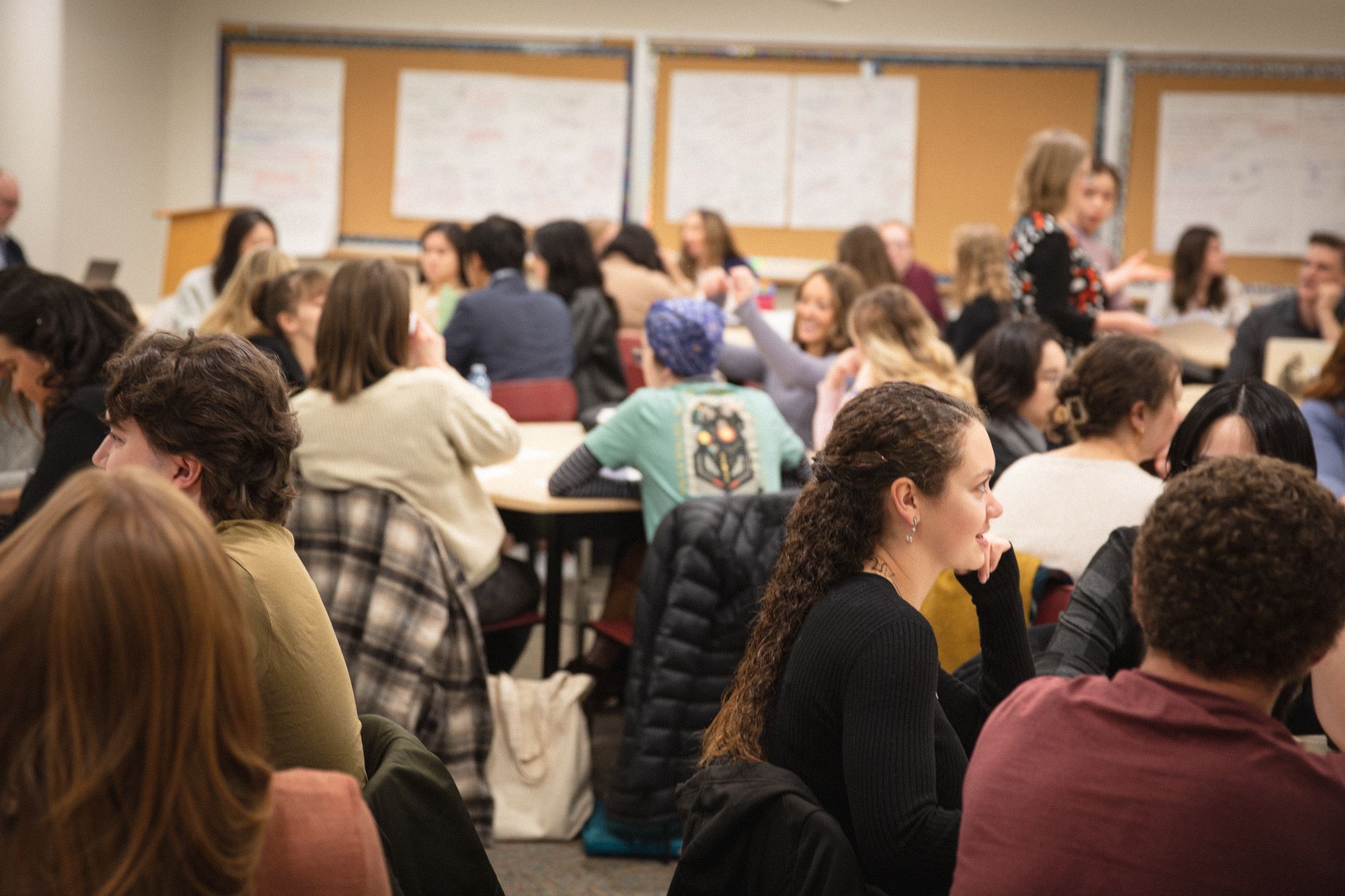 Grasslands Public Schools Assistant Superintendent, Sean Beaton, says it's a mutually beneficial partnership of which his division takes full advantage.
"It's an opportunity to meet with a crop of new teachers and get a sense of what people are looking for, and also share our story about a division I'm very proud of," he says.
The teachers that come out of the University of Lethbridge are very, very ready for the rigors of the lesson planning and preparedness components, classroom management; they understand the systems and they're ready to go. They hit the ground running, and they have a leg up.
Heather Goodman, the coordinator of staffing for the Calgary Board of Education, says ULethbridge grads are always in high demand, and attending the event gives the representatives a chance to pitch the perks of their divisions.
"Students want jobs, and of course everybody is hiring, and so we are looking for feedback from students on what they want," says Goodman. "We find U of L grads just seem to have a really solid understanding of what good teaching and learning looks like – especially with their literacy programs – and a good understanding of what research-based practice looks like."
Coming out of their final 15-week practicum (Professional Semester III), intern teachers in the Faculty of Education are ready to jump into the industry headfirst, and students say the final event made the idea of applying for jobs a little less intimidating.
"I think it's just nice being able to have all these resources given to us, and to be able to actually talk to people in an informal but formal setting and not feel the pressure of an interview," says McKenna Shigemi.
Mahaliah Peddle says the event felt like a culmination point of all the hard work she and her classmates have put in.
"It was just a good way to reconnect and see people we maybe haven't seen since PS I or other semesters and have an opportunity to think about the next steps for our professional growth," she says.
Just learning about the divisions and seeing where you might want to apply, talking to people and getting your name out there, it's a really good opportunity for us, who are going to be applying for jobs pretty soon here.
Morgan Day (BSc '03, MSc '05, BEd '07), vice-principal at Lethbridge's Winston Churchill High School and a ULethbridge alum, was part of the Administrators' Panel that answered students' questions on getting hired. She says the energy from students who participated in the discussions was contagious.
"I think it's so exciting to see new teachers who are excited and passionate about their profession, and just having lots of wonderful questions about this awesome job that is teaching," she says. "As they're entering this world, I know it's scary and you can be really nervous, but it's nice to have a semi-casual conversation about what applying for jobs looks like and what we're looking for on the other side."
Day says her advice to students all goes back to trusting themselves and the training they've received in their education, as well as the experience gained during their practicum placements.
"Be open to opportunities, also be open to take risks, don't sell yourself short, and be honest and true to your 'why,' why you're a teacher and why you got into this profession in the first place," she says.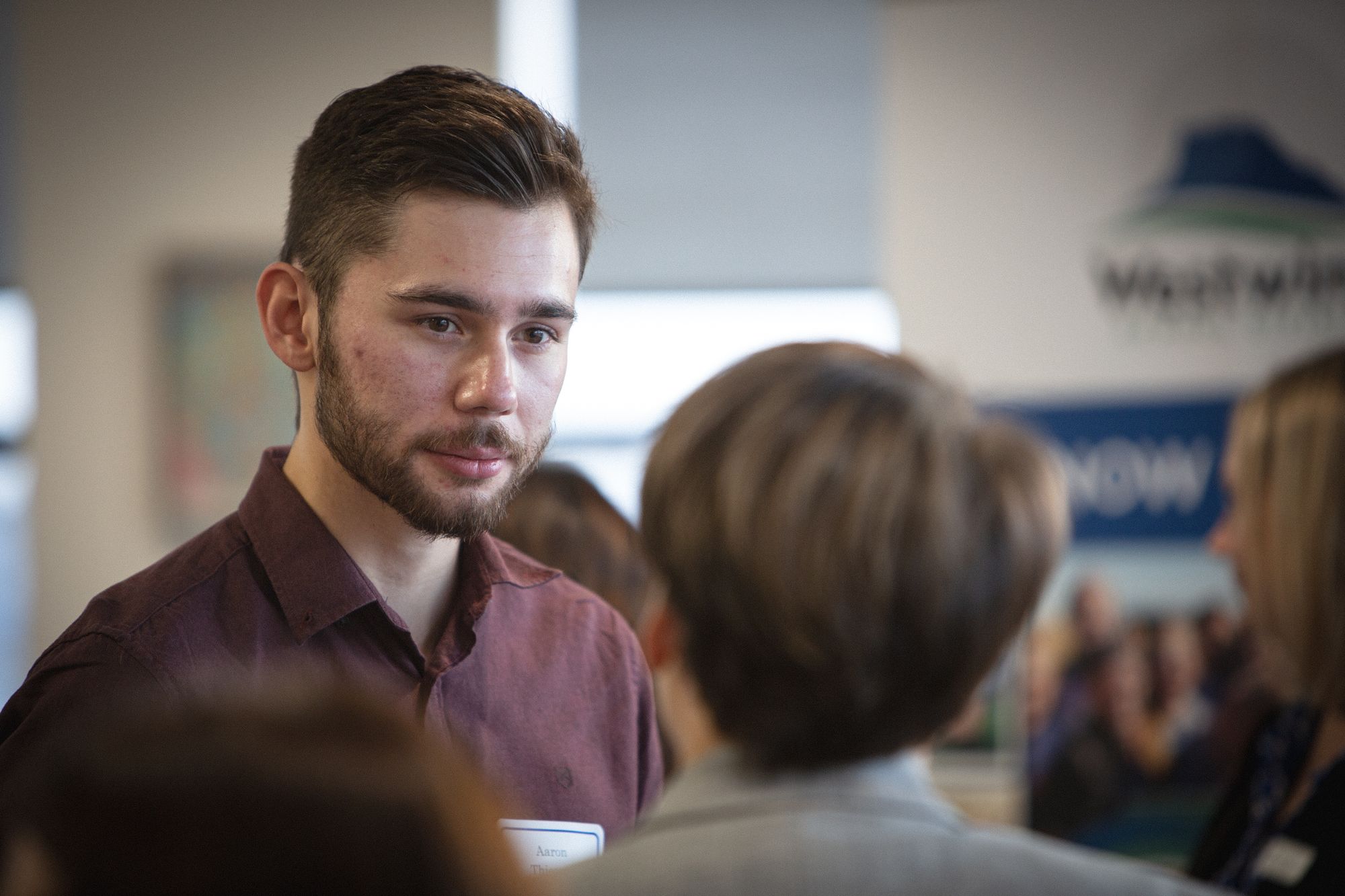 The event wrapped up with the biannual Professional Inquiry Project (PIP) Symposium, where students presented their PIPs – completed during PS III – to colleagues and faculty. Pelech says her favourite part of the symposium is seeing how much students have grown throughout their time in the program.
"The symposium really connects their learning, and shows this confidence of who they are as educators," she says. "Having been in a school for 15 weeks, they're talking like teachers; they're talking and having conversations about all the complexities of teaching, like teachers do every day. So that is really inspiring for me, that we know the future of education is in really good hands with these young folks that are coming through."
The Faculty of Education's Field Experiences office makes more than 1,000 practicum placements each year, with undergraduate students spending 27 weeks total out in the field, more than twice the amount required for teacher certification in Alberta.