When it came time for political science professor, Dr. Yale Belanger (BA '98) to look for a teaching and research post, it didn't take too long to make the decision to come back to the University of Lethbridge. Both Yale and his wife Tammie Belanger (BA '98) loved their time as students at the U of L and looked forward to reconnecting with the tight-knit community they'd discovered in the '90s.
"I know everyone believes that their time at university was the heyday of the institution, but I really think that being students in the mid '90s was an excellent time to be at the U of L. The campus and student population was much smaller and it was more organically interdisciplinary. The Zoo was the epicenter of the social scene. It was the place to be after classes to catch up with your friends and make new ones; to talk with profs. Back then, the parking lots were maybe one-third full because not everyone had a car. You'd carpool with different people, share stories to and from campus and you really got to know everyone very quickly. Our student body was not as defined by age or gender or discipline, it was more of a singular entity.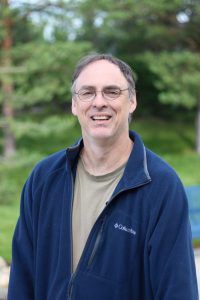 "Prior to my academic pursuits, I'd worked as a journalist in my home province of Ontario. When I'd made the move out west to attend the U of L, I walked into the Lethbridge Herald and asked for job. I'm not sure if they'd ever had someone just walk in off the street looking for a gig like that before but it worked. I did some stringing for them on weekends, shooting photos and writing bits and pieces. Eventually it became a permanent part-time position and it was another way I connected with the Lethbridge community. I also wrote for the Meliorist for a semester as well and played in a country band every other weekend. Anything to help make rent each month.
"Part of what made my student experience so memorable was meeting my wife Tammie. We met in 1994 and were married a year later. We faced the university experience together and made connections in the community as a team. It was those community ties and conversations that got us involved with adopting and fostering dogs. After we moved in together we'd discussed getting a dog for a while and we started that journey by going to the local shelter a couple of times a week as volunteer dog walkers. We then adopted two and they were along on the academic ride while I gained my masters at the University of Manitoba and my doctorate at Trent University and my first teaching job in Saskatchewan. When we returned to Lethbridge we connected with Windy City Rescue and adopted and fostered the first of many dogs. Some come to us with more problems than others, some stay for a week and others stay for a few months, but each one brings their own personality to our home and that's what we love. We're also proud foster fails – we never returned a couple that came through our doors.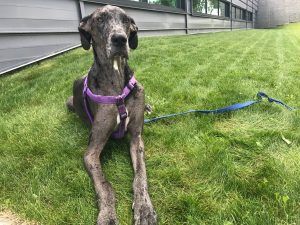 "Getting involved with different groups around campus and the city allowed us to meet so many brilliant people. Getting the opportunity to sit down and have a conversation with someone you'd never meet otherwise and learning something new is fantastic. We may volunteer a lot of time to different groups but it's Tammie and I who receive the most from these experiences.
"Part of the reason I enjoy working at the U of L so much is because of the collaborative culture we have as a faculty. I recently got involved in some work that might be considered outside my wheelhouse and it's because a fellow faculty member knocked on my door looking for some insights. Dr. Geoffrey Hale is involved with one of these large, multi-institutional Social Sciences and Humanities Research Council (SSHRC) grants and was looking for some input on some of the aboriginal research I've done. It's now led to me looking at water issues and how we manage those vital resources with our neighbours. In southern Alberta, we have two rivers that cross the Canada-United States border and so I've been looking at ways of reconciling different political and legal environments. This is all done in the hopes we can talk more coherently and achieve a better outcome for all of the stakeholders involved.
"The University today has changed so much since my time as a student. We've seen so many advances in the way technology is used in the classroom and how students interact with each other and with the professors. While I like to give the, 'back in my day' perspective on life, I do think the students who come through the doors today are learning at an exciting time in the University's history. The sharing of knowledge and information has never been easier and as we start to look forward to the next chapter in the U of L's story, I'm sure there'll be many more stories of connection and community to emerge."