Whoever created the stereotype of academics hunched over a computer or with their noses stuck in a book day and night definitely never met anyone like alumna and Research Technician, Aubrey Demchuk (MSc '15). An entrepreneurial neuroscientist who is no slouch when it comes to genetics, biotechnology, or behavioural neuroscience, Aubrey may have also been the blur that screamed past you while you were on a leisurely hike or bike ride. With a fierce record of competitive downhill and enduro mountain bike racing, this is one academic who certainly shatters stereotypes wherever she goes.
"I enjoy any sport that gets me outdoors, keeps me active, and challenges me. But I am truly defined by my passion for mountain biking and it has utterly consumed my life outside of science and academia. I recently returned from over two weeks of riding and guiding for a commercial tour of BC riding destinations. I was able to finish that trip with a leisurely helicopter drop on the top of Mt. Cartier in Revelstoke. Getting dropped off at the top of a mountain with your bike is definitely not the worst way to spend a weekend with your friends!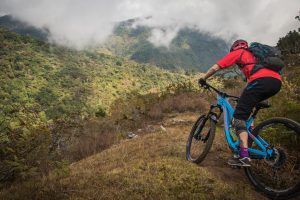 "Besides racing throughout B.C. and Alberta, I also competed in the four-day Trans Costa Rica Enduro in February this year. It's really an amazing experience to travel to these beautiful and remote destinations with a group of like-minded and incredibly talented athletes. Racing has pushed me mentally and physically but the friendships and memories that I've taken away from these events are so rewarding.
"Mountain biking has also become an avenue for me to give back to the community. I am the vice president of the Lethbridge Area Cycling Association and started a Tuesday night ladies-only social ride in the coulees for beginners and advanced riders alike. I'm really proud of the Tuesday night rides. We cater each ride to the most beginner rider in the group to ensure that it is a safe, social, and low-pressure environment for women to learn and progress among friends. Mountain biking is typically a male-dominated sport but it has definitely seen an increase in female participation over the past few years. The 'Lethbridge Ladies Bike Night' Facebook group now has over 150 members and the ride itself offers the kind of female role models and support that I wish I would have had when I was learning.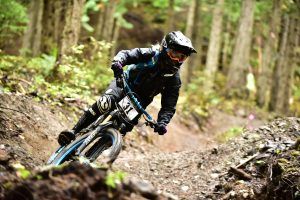 "I've been working as a research technician at the Canadian Centre for Behavioural Neuroscience (CCBN) since 2011 and completed my masters in Neuroscience at the University of Lethbridge in 2015. I was largely influenced to do my masters here in Lethbridge by Dr. Bruce McNaughton. Bruce is a world-renowned neuroscientist and, combined with the fact that the CCBN is one of the finest neuroscience facilities in North America, you can see why I chose to do my MSc here and why I have decided to stay at the U of L to pursue my PhD as well. My research is focused on using molecular tools to study learning and memory as well as functional connectivity in the brain.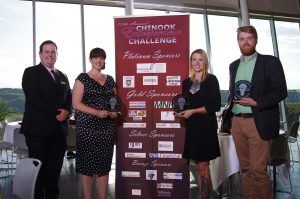 "During my masters studies, I also participated in the International Genetically Engineered Machine (iGEM) competition and have since started a medical biotechnology company with my former teammates. Our iGEM project was a cell therapy designed to functionally reprogram scar tissue in the brain resulting from stroke or traumatic brain injury. When we decided to keep pursuing the project after the competition, we found that it's very difficult to raise capital for research as unsupervised graduate students. So we founded Nomadogen Biotechnologies Inc., entered business competitions, applied for small business grants, and now our therapy has patent pending status in Canada and the USA. Student scientists rarely consider pursuing the business aspect of biotechnology but we hope that we're at the forefront of a new trend and that programs like AGILITY are able to bridge the gap between academics and entrepreneurialism.
"The great community of staff and students here at the U of L, together with the world-class research opportunities at the CCBN, keeps my me firmly planted here for my continued studies. Not many people can say that about their hometown's university."