My co-op work terms in the Career Bridge office were some of my favourite experiences at uLethbridge. I had a unique perspective as a co-op student in a professional role within the office. I was learning, growing and developing, while also encouraging others around me to do the same. As a strong advocate for co-op and WIL, supporting students was very rewarding.
Kyle Cole (BA Co-op '19) sits at his kitchen counter, coffee in hand, ready to start his day. He begins answering student emails and inquiries before preparing for a one-on-one advising session. A nervous student appears on his screen, and Kyle begins with some friendly chat until the student is comfortable enough to practice answering some interview questions. With some guidance and in less than half an hour, the student is prepared and confident for their interview that evening. His next appointment is for a student who needs some help perfecting their resume and cover letter. After the morning flies by, Kyle has his third appointment of the day, assisting a student in deciding which of two co-op job offers to accept. He plans for a workshop he will help host later in the week, a meeting with other co-op offices and the national co-op work-integrated learning (WIL) campaign. "There has been a lot of collaboration across campus, made easier by the online environment," Kyle grins. At 5 p.m., he closes his computer after saying a few digital goodbyes. While working from home was an adjustment, Kyle continues to focus on the positives and enjoy every minute by setting boundaries and finding a work-life balance.
Kyle graduated from uLethbridge with a Bachelor of Arts in economics, with an applied study and six semesters of co-op experience, the maximum number of semesters available to co-op students. His first work term was a perfect blend of science and economics working at Agriculture and Agri-Food Canada. "We were looking at optimizing the amount of nitrogen fertilizer added to different crops across different geographical locations in Canada, using economics models to find the quantity of fertilizer to put on different crops," he says. While Kyle enjoyed the science side, he quickly fell in love with the human element of his following two work terms, working as an Orbis Project Specialist in the Career Bridge office. Throughout these terms, he helped develop the software currently used in the co-op program. He spent his last three work terms back in the Career Bridge office as an administrative assistant, where he did many of the tasks he continues now.
"My co-op work terms in the Career Bridge office were some of my favourite experiences at uLethbridge. I had a unique perspective as a co-op student in a professional role within the office. I was learning, growing and developing, while also encouraging others around me to do the same. As a strong advocate for co-op and WIL, supporting students was very rewarding." Through co-op and at university, Kyle discovered the power of networking, of building relationships and connections with fellow students, professors and employers. "Those are the things that led me into my current position in Calgary now. Those connections and networks come around full circle. The professors I considered my mentors and my colleagues and peers who I developed good relationships with throughout my time at university are still close contacts of mine and a big part of my life."
As a promoter of WIL programs, it is no surprise that Kyle pursued a position in the University of Calgary's co-op department after graduation. As a Program Co-op Advisor for the Faculty of Arts & Science, he helps others receive their co-op designation. "The networks and connections I made on my co-op work terms were what got me into this position. I browsed the website and thought back to my co-op work terms and realized I had a connection at uCalgary from an event. I reached out to that person and expressed my interest. I submitted my application, got an interview, and thankfully got the position!"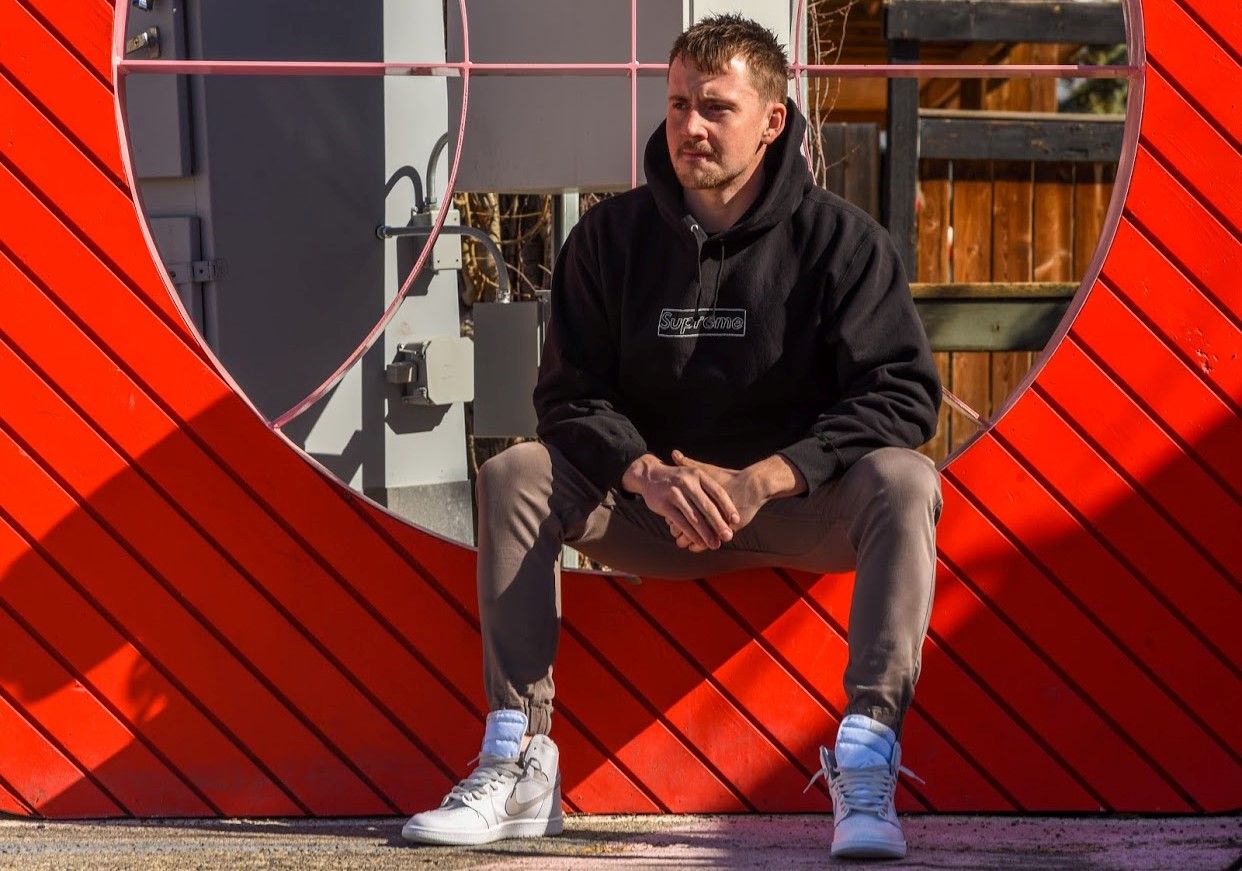 As one of the first cohorts of students to graduate online, Kyle had to adjust to online learning and work, but he finds meaning each day despite the distance. "What makes my job meaningful is being a part of the success of students. Watching students come into the program who lack confidence or don't know what skills they have, and working with them to flush out their skills, build applications to positions, secure positions and earn their co-op designation, is so meaningful to me. I'm super grateful for the support I received in the co-op program at uLethbridge, so being able to reciprocate that support and provide that guidance and mentorship to other students is the most rewarding part of my position so far."
As a graduate from an arts program, bridging the gap for arts students to meaningful experiences is one of his passions. This work includes guiding employers to understand the value of arts students. "As much as it's important on the student side to make those realizations, it's important for employers to understand how much arts students have to offer as well. That's something in my day-to-day job we try to stress, bridging the gap between arts degrees and 'real' employment. Arts students sometimes mistakenly believe that they lack the skills that a business or engineering student might have. But there is a lot of value in an arts degree, and they realize these skills once they get into their co-op terms and see what they can really do."
Especially for students with a less sure career path, Kyle encourages WIL program involvement. Having the opportunity to try many different positions is an opportunity that comes less easily after graduation, and gaining contacts and experience while you are a student is of utmost importance. "Join WIL programs like co-op and applied studies. Get your name out there, break free of your comfort zone and build meaningful relationships," he says. It's what helped him succeed, after all.
The single thing Kyle misses most working from home is shaking a student's hand when they land a co-op work term. He hasn't had the chance yet, despite seeing many students succeed. Kyle also misses the sense of community. "Seeing students in-person creates connections that are a bit more meaningful for myself and the students," he admits. At the same time, Kyle appreciates the flexibility of online work, for example, being able to throw in a load of laundry between meetings or grab a snack from the fridge.
As the amount of time spent online continues to grow for many work-from-home professionals, so has the importance of seemingly trivial things. "I've taken a strong liking to walking. I never realized how relaxing and calming it can be. Initially, those things seemed a bit trivial to me when we started working from home. But things like getting up for a stretch or a walk, and taking computer breaks, have come back full force and proved their importance. I've started trying to get outside at lunchtime and away from my computer and making time to see or call family. I think those things are critical to maintaining your schedule and your sanity working from home," Kyle explains. A good reminder for us all.
Kyle's contract at uCalgary ends in June. He contemplates returning to graduate school afterward or fully pursuing his side-job and long-time passion, selling sneakers. "I'm a big fan of limited-edition Jordan, Nike and Adidas sneakers. It's been one of my favourite hobbies since I was sixteen. When I moved to Calgary, I realized this hobby could be a little bit profitable with some time and effort! During the pandemic, I spent a lot of my time building a small business buying and selling sneakers. I take a lot of joy in helping people get the sneakers they want. And as co-op advisors, we teach our students to take risks and get out of their comfort zone, so I think I should walk the talk." Wherever he ends up, the uLethbridge community and every co-op student he's helped will miss him. Kyle, the world is your oyster.