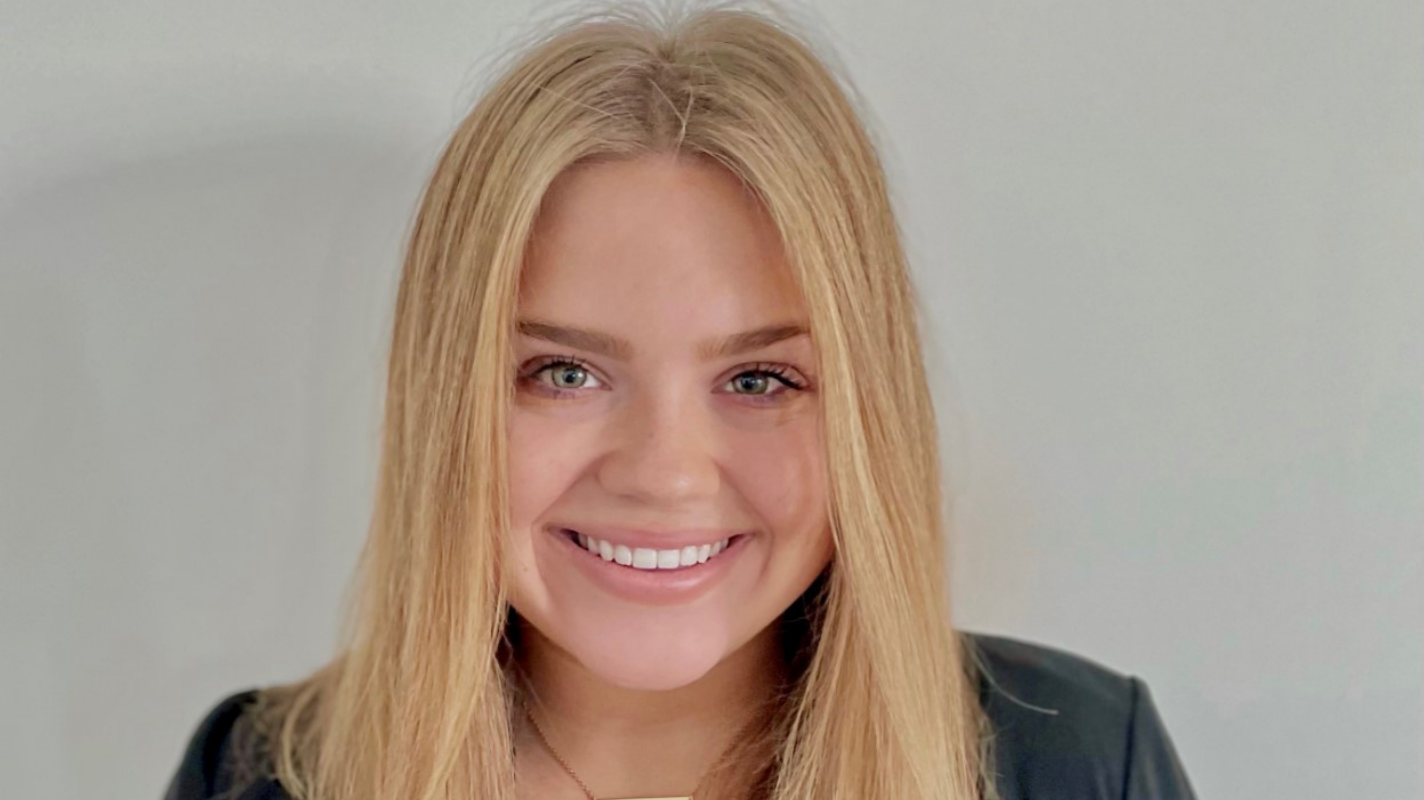 Yes, the pandemic has changed things, working from home and communicating, but we have to keep moving grain and feeding the world.
Chloe has never shied away from a challenge. She is a hard worker and embraces change with positivity, choosing gratitude at every turn. "For as long as I can remember, I've been interested in development and planning, going to show homes, learning about new communities and all things design. In my first year, I was a general major until I discovered urban and regional studies, which connected all of my interests," she explains.
Chloe Fraser is a recent alum and graduated last spring with a BA in urban and regional studies. She is excited when describing the program, "The program is diverse and is not just about planning. There are so many different avenues you can explore when you graduate. I never thought I'd be working in agriculture, but it does connect!" Chloe landed her position with GrainsConnect Canada, an international company with joint ventures from Australia to Japan.
"At GrainsConnect, we connect Canadian farmers to international markets. Farmers come to our terminals and their product gets shipped to Vancouver and then around the world." This is Chloe's first position in the industry and "it's been great so far, an excellent opportunity." Chloe started with the company as a summer student in the health and safety department. After her drive and determination shone through, she was promoted to full-time work directly afterward as a project assistant. "GrainsConnect has been an amazing company. The opportunities they've given me in such a short amount of time have been insane. Every day I learn something new and I'm given a new project or task to complete. That's something I didn't expect and love about my position. I'm constantly learning," she adds.
At the beginning of her position, Chloe learned the importance of safety. "Health and safety are extremely important. You might have seen our grain terminals while driving. They are very large facilities. We need to ensure our employees are trained properly, understand all the procedures and remain safe while working. We are actually building an online system called DATS, a Digital Action Tracking System, to monitor and record training, investigations, hazards, positive observations and more. I was initially hired to design DATS." Building a program like this is complicated and there are many moving pieces, "In planning and design, the safety and construction side of things are essential. While designing, you need to take into account how individuals are going to operate within the space."
After her work in the safety department, Chloe built documents and templates for the human resources department. "Learning to build a software system was something I've never done before, but the knowledge I have gained is amazing. When an incident occurs, you need to fill in a report. We use DATS to build and input all of our forms. Learning about regulations provincially and federally was something I wasn't expecting, but it was a unique and exciting experience."
Recently, Chloe has begun working in construction for GrainsConnect, learning how to plan, build terminals and ports. "Learning about rural aspects and understanding how individuals are going to use these spaces really ties into my degree," she explained. "When you hear urban and regional studies, you might think 'oh, city planning and such,' but it's so much more." Due to confidentiality reasons, Chloe could not say much when asked about her most interesting project since. What she did say is, "I was given the opportunity to manage an application for an international business certification which will be announced in May 2021. It was a really cool opportunity to work with the president and vice president, learning about the industry and how GrainsConnect came to be. It's only six years old, so it's neat to see how far GrainsConnect has come."
When asked how her position has been affected by the pandemic, Chloe explains that GrainsConnect Canada cannot halt operations. "Yes, the pandemic has changed things, working from home and communicating, but we have to keep moving grain and feeding the world. As an essential service, it has been interesting to see firsthand how they've navigated a pandemic." On the other hand, Chloe has a wide variety of projects she is working on and city planning is a different story. "With construction plans and city planning, a lot of projects are long-term. Many projects will take a few years to complete." With the pandemic "a lot of things have been put on pause or slowed down but will soon begin to resume as the pandemic slows down."
While at the U of L, Chloe participated in an applied study working with the town of Coaldale, helping to re-design their main street. "I assisted in brainstorming different design ideas and events they could hold along their main street after it was redeveloped," she explained, "It was really neat to get real-world experience." She advises new and continuing students to take advantage of the opportunity alongside their classes, adding, "With urban and regional studies, there are so many unique courses to take. I would suggest that you really dive in and learn as much as you can. Architecture and design courses are so interesting because you learn from architects and planners. The knowledge that I learned from those courses I still use today in my career. Everything connects."
Despite graduating during the pandemic, Chloe remains optimistic. After finding career success, she advises students interested in urban and regional studies to remember to think outside the box. "It is so broad and connects to so many different industries. If you're interested in city planning, for instance, pursue that, but remember there are many different avenues and you can go in various directions. For example, with agriculture, there's planning, design, construction and more. It's a requirement to do one applied study in urban and regional studies, but it is a great idea to complete more and receive real-life work experience."
While many students are afraid of the next step into the professional world, Chloe found this transition natural. "I treated university like a job. When you're a student, university is your job. The projects, assignments and essays you do at school become the projects, research and tasks you do day-to-day at work. I found it very similar. As a student, when you're looking into it, you think, 'it's a completely different world how am I going to adapt?' But you continue to learn similar to university. For example, you adapt the same way you would when you start a new class." For Chloe, seeing university as a job helped her to make a smooth transition to work "because I was already there."
As someone passionate about architecture, it's unsurprising that Chloe's favourite part of university was the campus itself. "Sadly, it's not open now, but the campus was honestly so great and I enjoyed that it was smaller in size. I found studying in the library enjoyable and all the connections made with professors and fellow students. I hope it opens soon and everyone can return to their routine."
Aside from work, Chloe enjoys cooking, working out and skiing in the mountains. She misses the chance to socialize with friends, travel and go to spin classes, but "I like to try and look on the bright side and see the positive in every situation." She attributes her drive to the years she spent dancing, "Growing up I danced competitively, for fifteen years. Looking back, that gave me a really good work ethic now." When asked to describe herself, Chloe doesn't hesitate to say, "I am very grateful, with the world we live in today, for what I have and for my job." At the U of L, Chloe gained diverse skills and real-life experience, which helped her land a meaningful career. "While I look into my future, something I've really enjoyed is the learning opportunities I have received. Something I didn't understand until I experienced it in my current position. The opportunity to keep learning and progressing is something I would love to continue doing. I want to be somewhere where I can constantly be learning." Chloe plans to work with GrainsConnect for the foreseeable future.