On September 30, 2021, Canada solemnly paused in recognition of the National Day for Truth and Reconciliation. Throughout the week, the University of Lethbridge reflected upon a painful and unjust part of Canadian history on the broadest of scales, committing to continue to take actions to build a better tomorrow.
The Truth and Reconciliation Commission (TRC) Summary and Final Reports call on all Canadians to contribute to reconciliation. Post-secondary institutions have a crucial role to play in recognizing and implementing Indigenous culture, history and language.
"The TRC report has emphasized our culture, our ways of doing things, and our knowledge is much more appreciated than it used to be," says Dr. Leroy Little Bear (BA '72, DASc '04), an internationally renowned scholar.
Implementation of TRC recommendations require collaboration with a range of university and community representatives and partners.
One of the most important aspects of the work was to ensure that the institution supported Indigenous students during their academic journeys. This required a collaborative approach and partnerships in the spirit of reconciliation needed to be established.
Historic commitment to Indigenization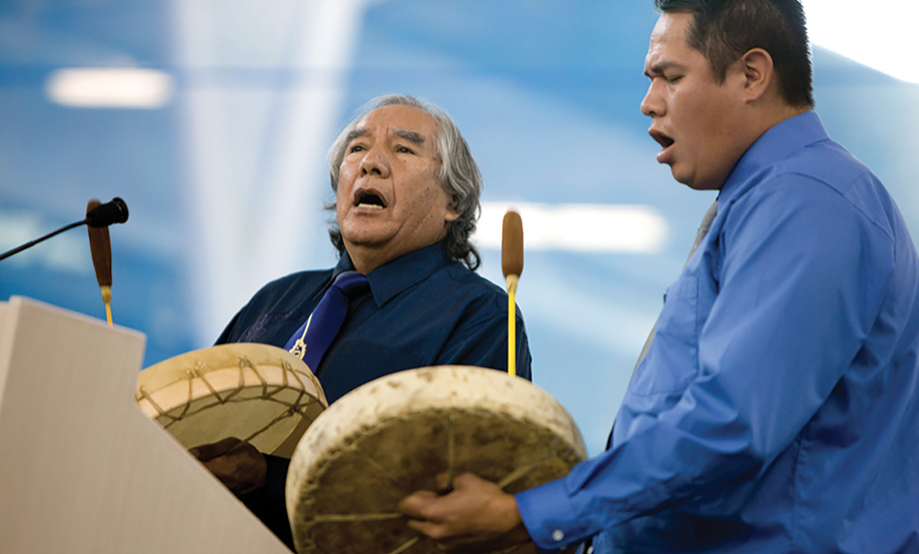 In 1968, just one year after the University of Lethbridge's establishment, Little Bear was just one of a handful of students at the U of L who were Indigenous.
"There were three or four of us Indigenous students. My main concern was just passing and working on my courses," recalls Little Bear, who is now the Distinguished Niitsitapi Scholar, advisor to President Mike Mahon and an adjunct professor in the Dhillon School of Business.
"At the time there was nothing at the University that was Indigenous, however, this is not to say it was not on the minds of people."
Little Bear explains the late Dr. Sam Smith (LL.D. '90), the U of L's president at the time, invited Little Bear to his home for dinner. Surrounded by University executives and faculty members Little Bear was asked what the University should do to promote the institution to the large surrounding population of Indigenous people in the Blackfoot Confederacy.
"I was not prepared for that type of question. I said, 'I'm not sure if my view is going to be very representative of the people out there. Why don't you go out there and ask them.'"
Since those very early conversations, Indigenous culture has been woven into the fabric of the University, enriching programming, teaching and research. The U of L is home to one of Canada's first Native American Studies departments and other faculties have incorporated Indigenous focused programming. There is a variety of support services, including the Indigenous Student Success Cohort , more than 20 Smudge Rooms on campus, Elders, enrolment advising, and Indigenous mentors.  Indigenous culture is visible across the campus. Ceremonial actions include the permanent raising of the Blackfoot Confederacy flag on campus and the development of a territorial acknowledgment statement.
"Who would have thought that 20 years ago [the University] would have its own Indigenous name —Iniskim, meaning Sacred Buffalo Stone — its own Indigenous song and its own pipe for ceremonies. Indigenization has also brought about our first Indigenous chancellor, Charles Weasel Head," says Little Bear.
Although there have been significant steps made toward Indigenization and reconciliation, the University's work is just beginning.
Partnerships in Action
EleV is an innovative partnership between the Blackfoot Confederacy, the University of Lethbridge and the Mastercard Foundation that was established in 2019 to create educational opportunities for Indigenous youth and bolster supports to ensure their success.
"It is our mandate to implement system changes throughout the Blackfoot Confederacy by exploring the conditions and barriers to a successful education experience," says Mike Frank (BA'09), director of Indigenous education and communications.
EleV has hired a strategic Indigenous learning initiatives manager, and employment and education navigators who will work on campus and within the Blackfoot Confederacy including the Blood Tribe, Siksika Nation and Piikani Nation communities to promote education and employment for prospective and current students
"Our goal is to accelerate real efforts to change Indigenous students' educational journeys for the better by shifting the conditions that hold a successful education journey in place," says Frank.
New Iikaisskini Centre
A little over a year since its announcement, the new Iikaisskini Gathering Place will re-open in the University Hall Atrium.
Funded by the TD Bank Financial Group and the Investing in Canada Infrastructure Program (ICIP) grant, this new space will be a home away from home, where Indigenous students can access support.
"The new location will be more accessible for our Indigenous students to come into the space to study, participate in cultural programming and workshops, and meet with other indigenous students," says Lindi Shade (BA '06), manager of Iikaisskini Indigenous Services.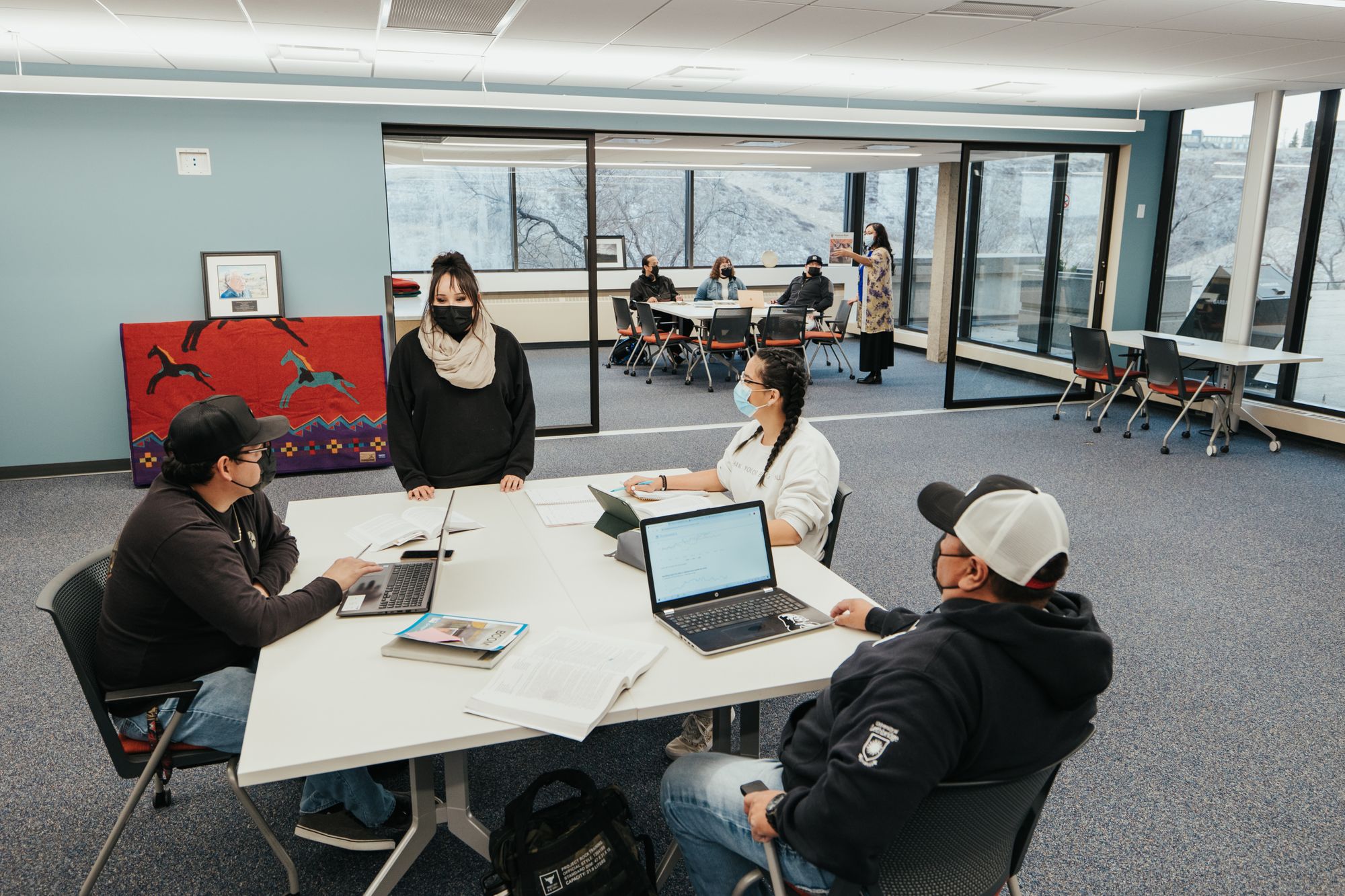 "An exciting feature of the Iikaisskini Low Horn Gathering Centre is our Elders in Residence will be available in the new space to offer cultural and emotional support for all our Indigenous students. We are looking forward to reuniting and developing new connections with all students at the university," says Shade.
In 2021, the University also established the Iikaisskini Student Initiatives Fund, which supports programming for Indigenous uLethbridge students.
Moving Forward
The work towards Indigenization will continue to be a top priority for the institution, and it will take meaningful collaboration with Indigenous people to ensure it is done in a good way.
Roots of Growth, a student-lead project, aims to memorialize the victims and survivors of the residential schooling system by planting four native trees across campus.
Two students, Cierra Ross and Aysha Partington, have a goal to inspire growth and to potentially bring closure and awareness about residential schools.
"The traumatic history of the Aboriginal people has made our culture resilient, and we want to promote the importance of education, having that voice, and becoming the movement," they say.
Institutionally, enrolment of Indigenous students at the U of L has grown 14 per cent in the last five years.
For Little Bear, he says that numbers are only one part of the story. He anticipates traditional knowledge of Indigenous people will continue to be incorporated within the institution.
"Just like the Buffalo, Indigenous people are making comeback. The TRC report is giving us an opportunity to stop and reflect how we are doing things," says Little Bear. "I know our knowledge is becoming part of the overall fabric of higher education — that's what I see coming."
SHINE: The Campaign for the University of Lethbridge launched in 2018 with two main goals: to significantly increase engagement opportunities for alumni and community members and to raise $100 million to propel the entire region forward. Thanks to your support, we have surpassed these goals. More than 20,000 alumni are now actively engaged with the University and, thanks to the incredible generosity of 11,000 donors who made 33,000 gifts, we have raised more than $103 million.
Thank you for joining us to take bold steps toward a brighter future together.