Rita Lal is the recipient of the School of Graduate Studies Medal of Merit – Master of Education. She recently graduated from the Educational Leadership program.
AMID THE CURRENT STATE of PHYSICAL (SOCIAL) DISTANCING measures introduced to mitigate the spread of COVID-19, graduating students worldwide experienced a different kind of convocation in 2020. This year, graduation events were marked with drive-by celebrations, videos and photos on social media, and many in contemplative isolation—educational milestones were recognized in myriad ways. As Dr. Craig Loewen, Dean, Faculty of Education expresses in his letter to the Graduating Class of 2020, "Perhaps we should begin by stating a simple truth: when you started your academic journey all those years ago, this is likely not what you expected. Or, even more to the point, this is not what any of us expected!"
We would like to tell you the story of one of these unexpected stories of academic celebration.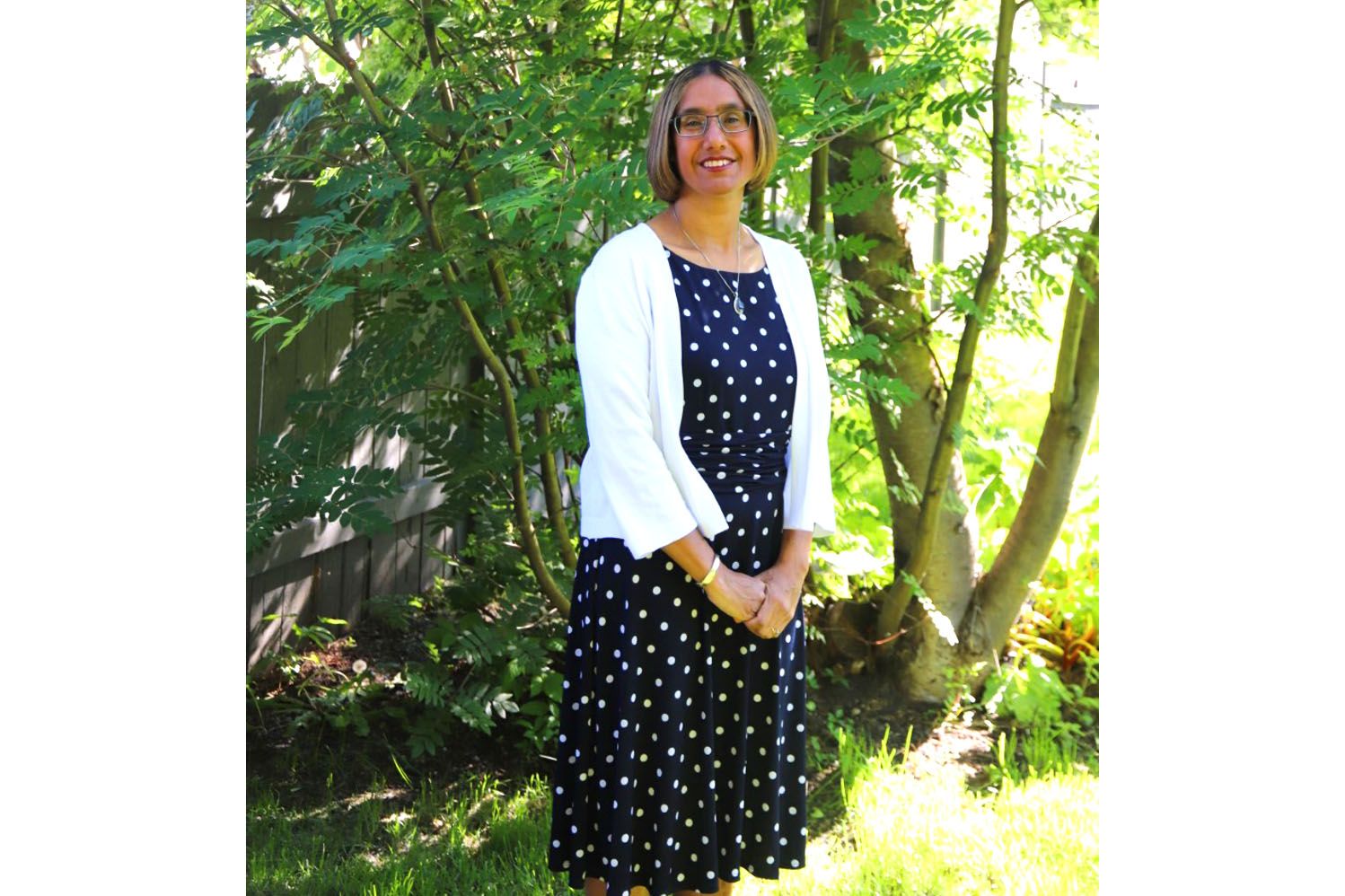 When Rita Lal received the Graduate Student Medal of Merit she decided to keep it in the FedEx box until she could create an appropriate moment to open it.
Rita wanted to ensure that her supervisors, Drs. Pamela Adams and Carmen Mombourquette, were included in the celebration as they had played an integral role in Rita's academic journey. Both were supervisors in the Educational Leadership MEd program, and in her undergraduate practicum experience many years prior—Pam as University Consultant, and Carmen as principal of Catholic Central High School (at this particular moment in time).
In planning this special celebration, Rita went to work with exceptional attention to detail that Dr. Mombourquette recognizes as "part of the reason she had a 4.0 GPA in the MEd program, as well as having completed a highly successful thesis".
Rita first made sure that her professors were available for a ZOOM "emergency call" through extensive distance collaboration with respective family members—Dave Adams, and Sharon and Kathryn Mombourquette. On Wednesday June 24th, a celebratory "bottle of bubbly" arrived at Rita's supervisors' homes at precisely 4:35 p.m. for Pam in Lethbridge, and for Carmen who was in Cape Breton at the time—7:30 p.m.
Between them all somehow a bottle of good old Cape Breton rum was sitting on my doorstep when the ZOOM session began.
Drs. Adams and Mombourquette had no idea what the emergency meeting was about. They suspected the online gathering was related to news about a couple of articles they had encouraged Rita to write based upon her thesis. However, once Pam and Carmen logged onto ZOOM, they discovered that Rita's entire family – husband Scott, daughters Neesa and Nayah, and son Navin – were part of the online gathering. In mid-toast, Scott and Rita held up wine glasses, and the children had glasses of fruit juice in hand.
[On screen], Pam and I looked at one other and wondered quizzically what was up. What was up was that Rita was about to open the FedEx package that held her Medal of Merit. She wanted to share the moment with family and her professors.
Navigating through this unusual moment in time—with some creative thinking, and alongside online technology—Rita Lal, and her extended collaborative community, orchestrated a meaningful way of sharing an academic milestone.
_________________________________________________________
Rita Lal wrote and successfully defended an exceptional thesis entitled "The Nature of Parent Participation at the High School Level: An Investigation". In addition, she presented her thesis findings at an international peer reviewed conference and recently submitted an article for publication. Throughout her master's program Rita maintained a 4.0 GPA and is now about to embark on doctoral studies; we wish her every success in her PhD endeavours.
AN INTERVIEW with RITA LAL:
What is your most memorable uLethbridge experience?
My most memorable uLethbridge experience was attending the Capstone presentations of all members from my cohort and many of them, in return, supporting me at my thesis colloquium.
Is there someone specific who had an important influence on your uLethbridge experience?
Each course provided the opportunity to foster relationships with amazing staff at the University of Lethbridge. Due to the thesis route, the capacity to strengthen relationships heightened. I was blessed to have not one, but two incredible mentors supervising my thesis: Dr. Pamela Adams and Dr. Carmen Mombourquette. Both professors provided encouragement, enthusiasm, and support. They believed I would succeed; they remained beside me until I did.
What is the most important lesson you learned?
The most important lesson I learned is to embrace change. There will be some things in your control, and many things that are not. Every interaction is purposeful in a journey and you will change and adapt based on the relationships around you. When you embrace the change process, you will continue to grow and embed the vision of a lifelong learner.
What are your hopes/plans for the future?
Recently, I was admitted to the doctoral program, Educational Administration and Leadership, specialization in Educational Policy Studies for September 2020, at the University of Alberta. I have the desire to learn and engage in research that identifies solutions to challenges and changes impacting leadership.
What advice would you give to students who are about to begin graduate studies journey?
Based on advice from someone influential in my life, I continue to live by her mantra and wish the same for others: When you have the choice, choose the path less travelled; the journey remains more important than the finishing moment. Celebration reflects a passion for the process and the ability to embrace challenges.
Photographs courtesy of Rita Lal and Carmen Mombourquette
____________
Learn about Rita's MEd Educational Leadership program visit:
https://www.uleth.ca/future-student/graduate-studies/master-education/educational-leadership

For more information contact:
Darcy Tamayose
Communications Officer
Dean's Office • Faculty of Education
University of Lethbridge
darcy.tamayose@uleth.ca
Learn more about the Faculty of Education: Legacy Magazine (2008-2019)
Twitter: @ULethbridgeEdu Website: uleth.ca/education
BecomeaTeacher.ca | BecomeaTeacherAssociate.ca | EdGradStudies.ca