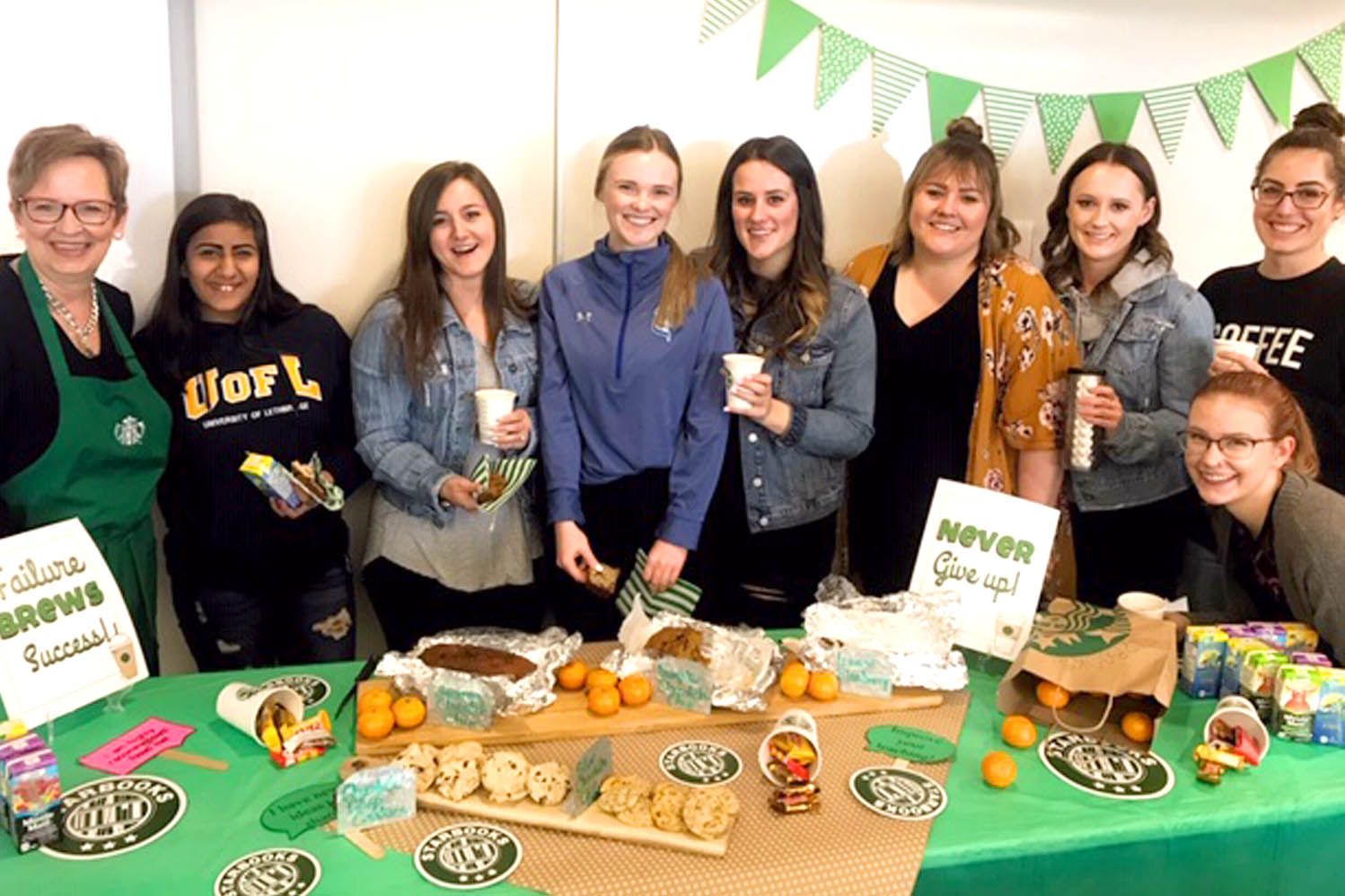 Faculty of Education master teacher, Rhona Harkness explains that the book tasting experience is one of a kind for many  reasons.
You first create the ambiance that engages your students. You set the stage to engage. You bring in people who are passionate about reading and can spread that joy.  The students immediately immerse themselves in various genres, topics, themes, authors, that they may have never heard of before. Around the room you hear conversations about memories, favourites, new ideas to try, excitement in students' voices and guests helping to pair that "just right" book with an eager or not so eager reader. What better recipe could one ask for to expand our reading palates and to ignite that passion in our new teachers.
Last semester I held my first professional book tasting with my ED4738 class. We called it Starbooks Café. It was a great success.
The goal was to expose my students to current, rich, professional resources. They "tasted" many books, selected one that intrigued them, read it, and shared the impact it would have on their own teaching through a book talk.
Digital Learning and Book Tasting
This year in ED 4738, due to online learning, I am planning on book talking a current resource book each week via our private Instagram page. I will continue with our private Twitter page as well. During this class students will also be using Flipgrid to book talk favourite picture books and how they could use these books in the classroom.
Rhona's Top Five Book Recommendations — April 2020
1.  You Are Your Strong by Danielle Dufayet
2. The Map of Good Memories by Fran Nuno
3.  The List of Things Will Not Change by Rebecca Stead
4.  The Boy, the Mole, the Fox, and the Horse by Charlie Mackesy
5.   Straw by Amy Krouse Rosenthal

______________
Writer: Rhona Harkness  | Photo courtesy of Rhona Harkness
Learn more about the Faculty of Education: Legacy Magazine (2008-2019)
Twitter: @ULethbridgeEdu Website: ulethbridge.ca/education
BecomeaTeacher.ca | BecomeaTeacherAssociate.ca | EdGradStudies.ca