"When I was a kid, a lot of my best friends growing up were hockey players, so I would help the U of L coaches at summer camps. I remember pushing pucks for them for years. Then one day the coaches asked if I wanted to help out with the Pronghorns. I said, 'You want ME to help out with a high-level hockey team?' I was thrilled. They've been good to me since, and we've gotten pretty close. I really appreciate those guys.
"I'm obsessed with hockey and golf, and I've followed hockey like crazy since I was four or five. My brain switches back and forth between the two; I'm a competitive golfer so I'm in a lot of golf tournaments in the summer and I watch as much hockey as I can in the winter. Last year I qualified for the Canadian Amateur and played in Toronto. That was a highlight, for sure.
"I think having an Asperger Syndrome diagnosis means that my memory for
stuff I'm really interested in is crazy. If I really set my mind to it, I zone in and I do it. If there's a kid out there who wants to be involved in sports and has been given a similar diagnosis, I would tell them, 'Just keep pushing through. Push through the good and bad days. Just because you have it doesn't mean you can't do the things you dream of.'
"A lot of people say they like my funny goal lines like, 'Happy learned how to putt, uh oh!' and a few others I've picked up from shows I like. Next season will be my sixth year here with the Pronghorns, assuming they want me back. I really want to be here for nationals because I think they'll make the playoffs. I want the guys to do really well. Seeing them win is the best thing.
"When I'm having a rough day, I just come to the rink and it helps. Hockey is my relief if I'm having a bad time somewhere else. Just coming here turns things around. I go to almost every practice and just help out in the dressing room at home and on the road. I'm not a trainer, but I help them with whatever they need. Before every home game, I prepare my notes and work on matching names to numbers, even though I already know most of the names in the junior league.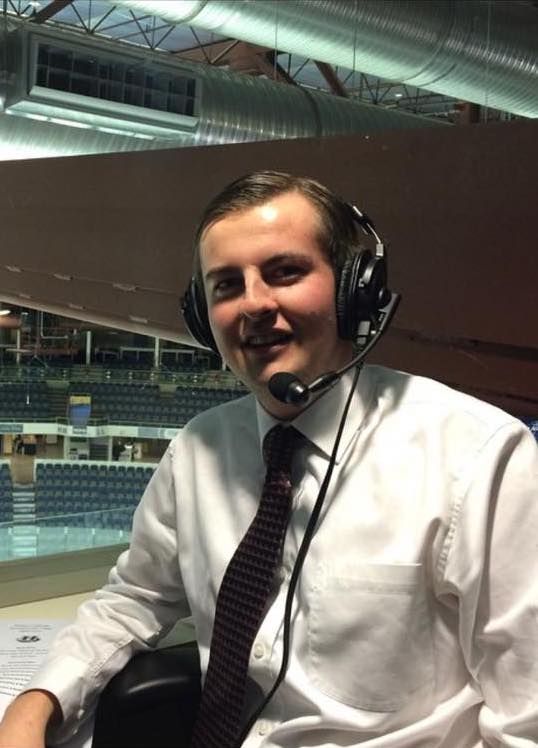 "I met Brock Hirsche when I was 10 or 11 at the Lethbridge Country Club, golfing in a junior league. He joined the Pronghorns in 2013-14, and that was my first year doing play-by-play. He was someone I could always count on for a spontaneous round of golf, but not only that, he would always pump me up, even though I felt like I didn't deserve it. He was someone that would always go out of his way to make you feel good. Since he's gone, I find I'm going around asking people what they need and what I can help with, just to let some of his legacy live on."