At spring convocation, the University of Lethbridge awards medals to recognize graduate and undergraduate academic achievement and performance. The recipients of these medals are the most distinguished graduates in their faculty or program.
Acknowledged five times on the Dean's Honour List, Samantha Newton (BFA '22) was dedicated to scholarly study, creative excellence, community building, volunteerism, and professional development. She volunteered for the SAAG, the Niche Gallery, was President of the Student Art Society and led her colleagues in organizing art exhibitions, publications and supporting artist-run culture in Lethbridge. Newton also had two solo exhibitions at CASA. She continued her studies in a master's program at York University, Toronto in Fall 2022.
What does this academic recognition mean to you?
Well, this academic recognition means a lot to me. I first found out about the gold convocation medals in my first year at the University of Lethbridge, and I thought that achieving something like that must be the highest honour. I kept it in my mind all through the five years of my program, always doing my best, working as hard as I could, in the hopes that I might be nominated for such an award. Not only realizing, but exceeding, a dream that you held for five years is something quite special, and I feel extremely honoured to receive this academic recognition.
What is your most memorable ULethbridge experience?
I made so many great friends and memories during my time at the University of Lethbridge, but one which I return to regularly is my first campus tour. I remember making the road trip to Lethbridge with my mom and my sister, and we had the best day. The campus was stunning, covered with green space, trees and deer, and everyone that we met was so friendly and ready to help. I knew then that I desperately wanted to be a part of the ULethbridge community.
What is the most important lesson you learned during your time at ULethbridge?
I can say definitively that the most important lesson I learned at ULethbridge was to always be open to new ideas and new experiences. The fine arts department at ULethbridge entirely changed the narrow and lacking view of art and art history that I arrived with. I feel that I have a new appreciation for everything.
Who had an important influence on your ULethbridge experience?
My professors, David Miller and Katie Bruce both had an important influence on my ULethbridge experience and my artistic practice. Without them, I think my school experience would have been completely different. David Miller really inspired me to pursue art beyond a bachelor's degree, and Katie Bruce encouraged my interest in printmaking. Both have been very supportive resources for me, especially in the last few years of my time at ULethbridge.
What are your hopes and plans for the future?
I am heading off to a graduate program in fine arts at York University. I can't wait to continue my academic journey.
What advice would you give to those who are about to begin their journey at ULethbridge?
I would say, be open to meeting new people and putting yourself out there as much as possible. Participating in the social experience at ULethbridge makes your time at University a much more memorable and pleasant experience.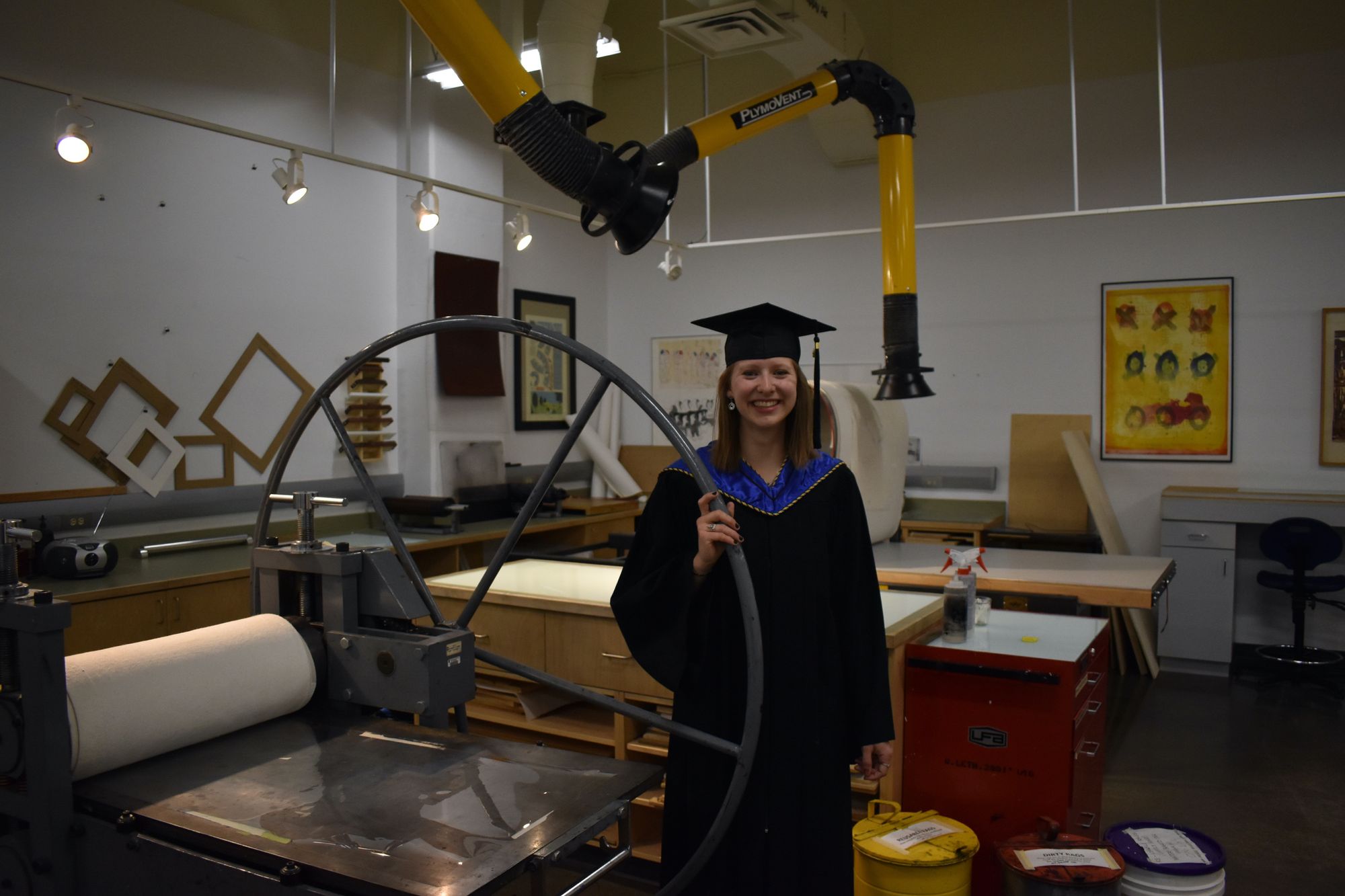 Congratulations, Samantha!
☎️
Welcome to the ULethbridge Alumni Family... Don't forget to call!
Stay connected with classmates, share your successes, mentor future ULethbridge students and enjoy Alumni perks and benefits!
Update your contact information with
Alumni Relations
.
Find us on
Facebook
,
Instagram
or
LinkedIn
Read more
about your fellow alumni