Located in the heart of downtown Lethbridge in Casa, the University of Lethbridge Music Conservatory plays an important role in both the community, and for the Faculty of Fine Arts.
The City of Lethbridge built Casa in 2013, which is when the Music Conservatory became a downtown resident. As the arts centre commemorates its tenth anniversary with a slate of events, the Conservatory is also celebrating the significant milestone.
"It was such an exciting time for the Conservatory to relocate off campus," says Conservatory Director Breeanne Fuller. "Moving downtown made us more accessible for families and being in the heart of the city allows us to reach more patrons and connect with our community."
The move to the downtown core was integral in expanding the Conservatory's community-based programming, in growing its collaborations with other arts organizations and building its capacity to support even more professional musicians in Lethbridge and southern Alberta. Now thriving in Casa, the Conservatory has seen its enrolments grow by over 300%, fuelling Breeanne's desire to reach new levels of excellence.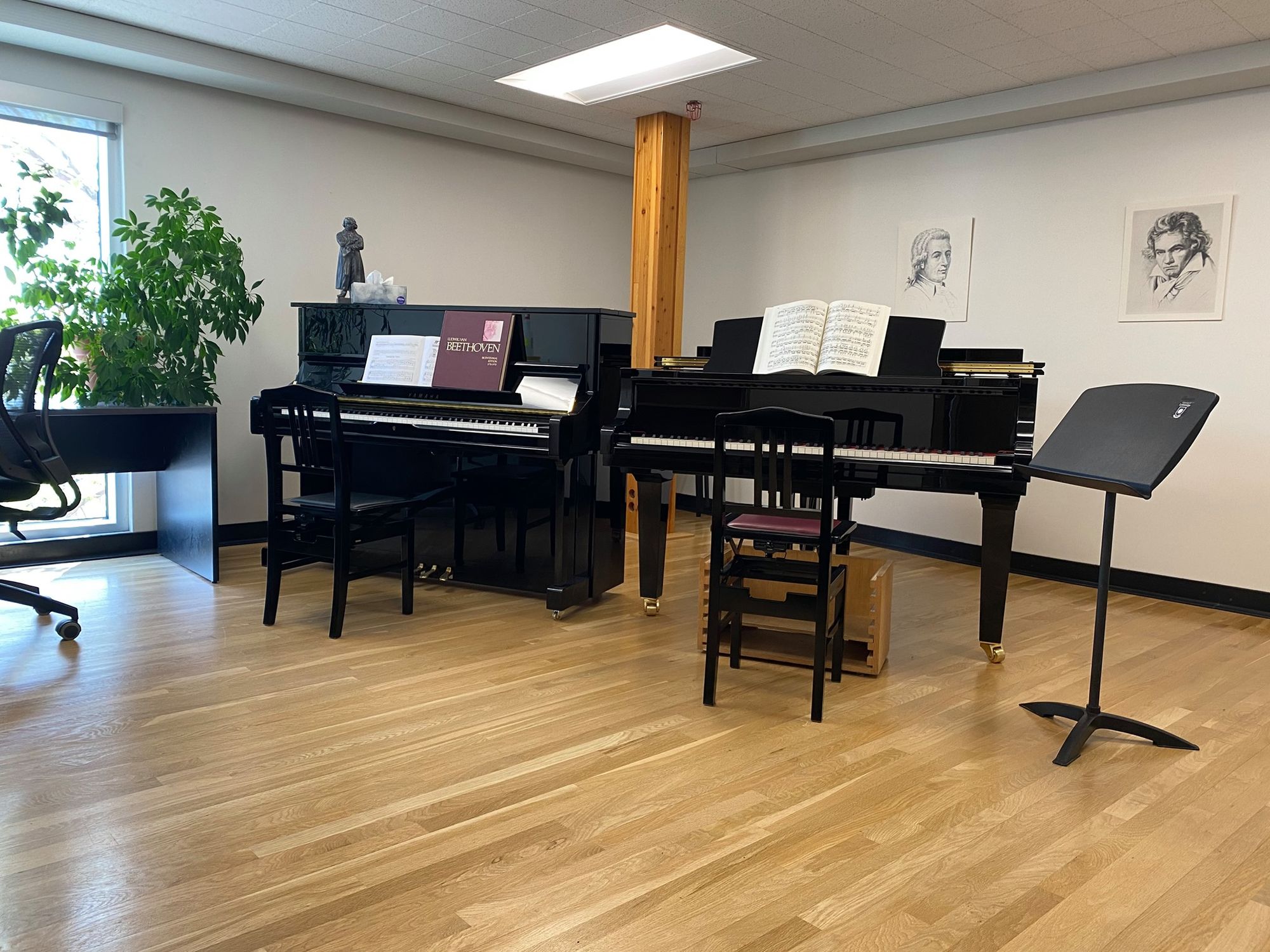 "We are here to support the community. That's what we do. When schools reach out to us, we respond. When local organizations want to partner, we do what we can. We offer specialized musical training and our instructors are excellent, but at our core, we are in the downtown area to engage with the community."
The Conservatory offers customized private music lessons to hundreds of students each week, as well as dozens of group classes and ensembles.
"We ensure we offer programming for all ages. For example, new moms can bring their babies to our Mini U Music classes, or adult students can dabble in our beginner ukulele classes," adds Breeanne.
The Conservatory even boasts a specialized music academy which provides highly specialized study and music opportunities to students who want to pursue music at a higher level. The success of this program is evident when in one year alone, almost all of the graduating music academy students registered and successfully passed their music audition for the University's Bachelor of Music program.
"Notably, we aren't just feeding students to the University's Music program. On a larger scale, statistics show that over 500 students studying at the Conservatory between 2018-2020 went on to enrol in classes across all faculties at the University of Lethbridge."
"Our academy program not only prepares students for success in university, but also removes barriers to accessing the university by providing students early access to performance facilities and introducing them to music faculty," Breeanne says, adding that the music department and the Conservatory often work hand-in-hand, from academy recruiting to joint performances for the community, a win-win-win for all groups.
Breeanne says the Conservatory has many exciting celebrations planned to recognize their tenth anniversary, such as their student showcase concert.
"We will also have a special faculty concert to thank our donors. In 2013, we were able to raise more than half a million dollars to purchase the instruments needed to continue our operations in Casa. Without our donors, we would not be here and it's been a while since we said thank you."
Since the Conservatory moved downtown, they have presented 120 free First Friday concerts, taught an estimated 192,000 private music lessons and partnered with more than 20 organizations in the community.
"This is just the beginning," Breeanne remarks. "We have so many more ideas and so many more students and audiences we can reach."
For all of the Conservatory's programming, financial assistance and concert and events, visit their website below.