Hailed by critics as "the guitar guru", world-renowned guitarist and studio teacher in the Faculty of Fine Arts Iliana Matos Vega adds another feather in her cap as she celebrates a significant milestone at the University of Lethbridge.
Iliana has been with ULethbridge as a guitar instructor since 2017, and for the first time in the five years she has been at the institution, she has a full studio of ten students eager to learn and refine their craft in guitar. Prior to her joining ULethbridge, there had been two students in the program.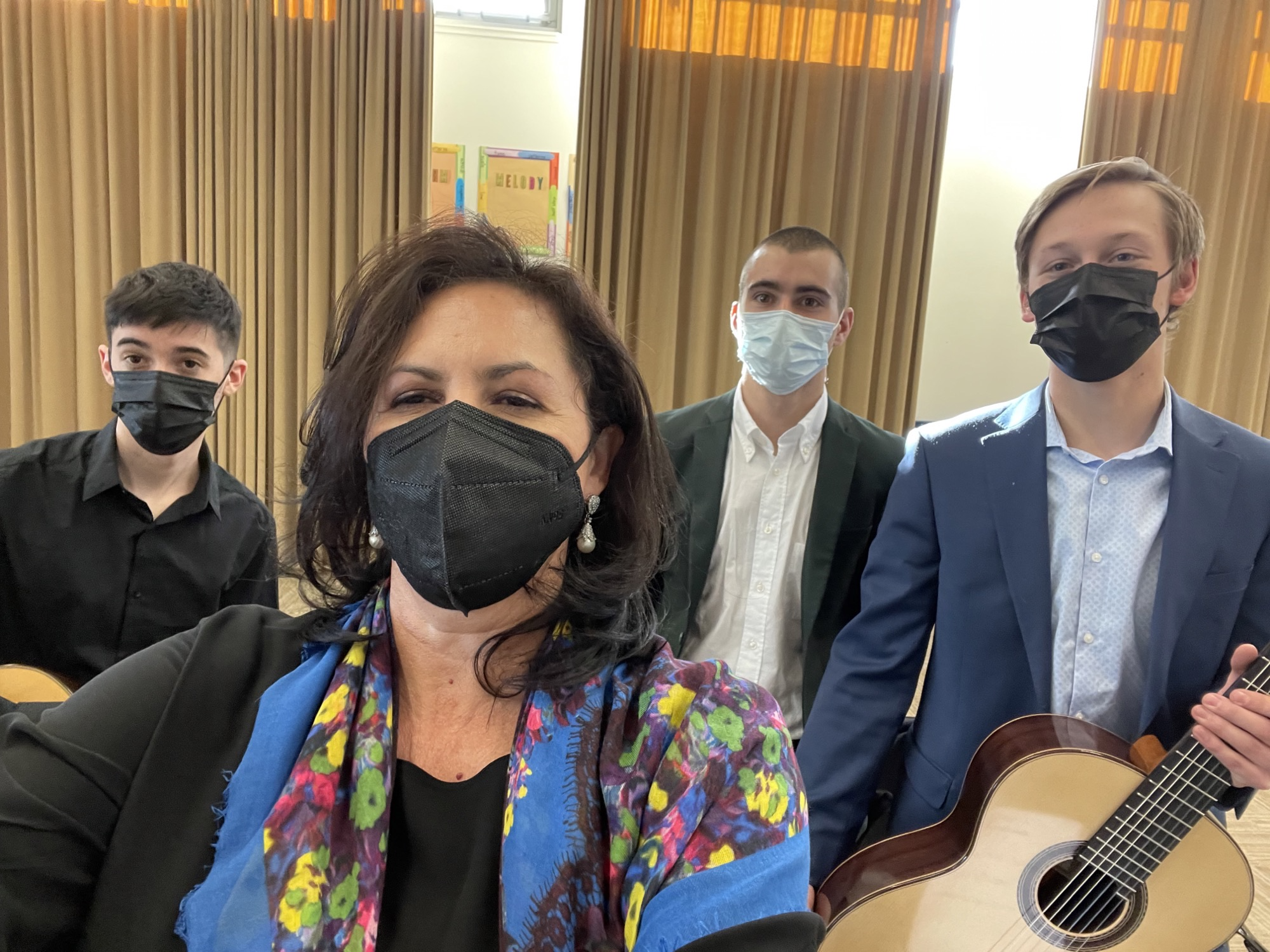 This accomplishment reaffirms the importance of the guitar program for Iliana, particularly since she had two international students join her studio this term, and will be celebrating the graduation of her first master's student in guitar in the Fall 2022 semester.
"Basically I'm building a program almost from scratch. The program we have here is focused on the combined music and education degree, so most of the curriculum is based on this degree," says Iliana.
"I don't think that we can compete with any other university in Canada with our bachelor's program, so I tried to build that and I'm pretty happy that I'm bringing in students to study with me. I hope that this is the beginning, and that we can build up a very strong program at the same level as programs in Toronto, Ottawa or Montreal."
Student support
Her students agree. Music student Carson Froehlich first met Iliana in 2017 at Guitar Fest West in Calgary, and was able to take a lesson from her.
"As a young Metis musical artist in rural Saskatchewan, I was afforded the opportunity to develop a passion for classical guitar. Iliana's teaching style and technical command of the guitar inspired me to apply to ULethbridge. I'm incredibly grateful and honoured to receive world class instruction under her tutelage."
Music and education student Hannah Isinghood says Iliana's style of teaching guitar centres on her students and holistically ensure their success in and out of the studio.
"I ultimately chose to come to ULethbridge and to the guitar studio because of Iliana. The first time I met her was through the Student for a Day program, where I was able to have a guitar lesson before being accepted and it was something about her teaching style that really drew me in from the beginning. Iliana has a fantastic teaching philosophy that includes not only the guitar, but life as well."
Iliana's career in Spain
Iliana is currently the only guitar instructor in the Music Department and she brings a wealth of experience with her in the role. Hailing from Cuba, Iliana spent most of her career in Spain, where she completed her master's degree, toured the world as a classical guitarist and taught at the Royal Conservatory of Madrid, Spain's most prolific conservatory. She is the prize winner of eleven major international guitar competitions, and made history by becoming the first woman to win the prestigious S.A.R. La Infanta Doña Cristina International Guitar Competition.
In 2015, Iliana moved to Canada. Slowly, she worked to learn English and obtain permanent residency, which led to her touring the country for the first time.
"I took the time to learn English by myself online. Six months later, I started touring, my first opportunity in Canada. I organized a worldwide tour in 2016 to celebrate my 30 years as a performer. As part of the world tour I toured western Canada, performing in Calgary, Edmonton and Vancouver."
Shortly after this tour, Iliana says she was made aware of a job posting at the University of Lethbridge, which led her to move to southern Alberta to teach guitar. "As a newcomer starting from scratch in Canada, where nobody knew me, it was a great opportunity for me to be able to teach at the university level again," adds Iliana.
Guitar instruction
To help grow the guitar program, Iliana recruits high school students from across the west, providing them with private lessons and helping prepare them for university-level auditions. This is in addition to her recruitment of international students to ULethbridge's music program; this past semester she had two international students in her studio, including one student from Spain that Iliana taught during her time there.
Iliana is celebrating a few more significant milestones—her first masters student in the guitar program will be graduating in the upcoming fall convocation—and her first bachelors student in music graduated this past fall.
Austin Culler is Iliana's masters student and he says he was struck by her attention to detail in lessons and has been significantly inspired under her tutelage.
"Iliana is one of, if not, the top tier teacher in Canada. Under her instruction, students have the ability to receive instruction in equivalence to almost any school in Canada and the United States. I would highly recommend any guitar student to study with her at ULethbridge."
She says her goal while at ULethbridge is to develop awareness around education on the classical guitar and to continue showcasing classical guitar performances to others.
"My dream is to make the University of Lethbridge the Canadian guitar destination for students."