In this week's Faculty Friday, we chatted with Mia van Leeuwen. She is a Fine Arts professor in the Drama department at the University of Lethbridge, who is currently collaborating with other colleagues around campus to explore death as a research topic. Intrigued? So were we!
Hi Mia, thank you for participating in this week's Faculty Friday. You have a very unique research topic - can you tell us what you're working on now?
My current research-creation falls under the playful title – How to Raise a Ghost. The project explores the artist's role in death, dying and memorial rites, and looks to the ancient principles of memento mori as a contemporary art praxis. The work engages in death studies, philosophical contemplation, a sense of humour, movement, collaborative practice, and the forms of ritual, performance, photography, and video art.
Death is something that touches every single one of us yet is a topic that is not openly talked about, especially in such a playful manner. What are you wanting to communicate to others with this work?
Confronting death is confronting ones life. For those operating within a secular context, many are seeking meaningful engagement with the inevitability of our lives ending (as we know it). There is a growing movement to create compassionate and dynamic areas for critical and artistic discourse on death, dying, and grief. Death Studies is a burgeoning area of scholarly and artistic inquiry. Moreover, the timing of gathering insights and perspectives on death is all the more urgent and prescient in this era of COVID-19. I look to the artists for guidance. I look to the imagination, to explore other ways to raise our ghosts.
Collaborative practice has been central to this project. I have worked with uLethbridge based colleagues in various iterations. Performance, costume play and dialogue with Annie Martin (Art), D. Andrew Stewart (Music), and Julia Wasilewski (Drama). The hosting of a death salon in the queer space of Theatre Outré with Jay Whitehead (Drama). The organizing of a death themed approach to the 2021-22 Women Scholars' Speaker Series with Suzanne Lenon (Women & Gender Studies). The compiling and transcribing of hours of interviews with artists about their relationship to death with Jaime Johnson, current MFA student (Drama). Outside of Lethbridge I have been collaborating on this project with various artists based in Los Angeles, Winnipeg and Montreal.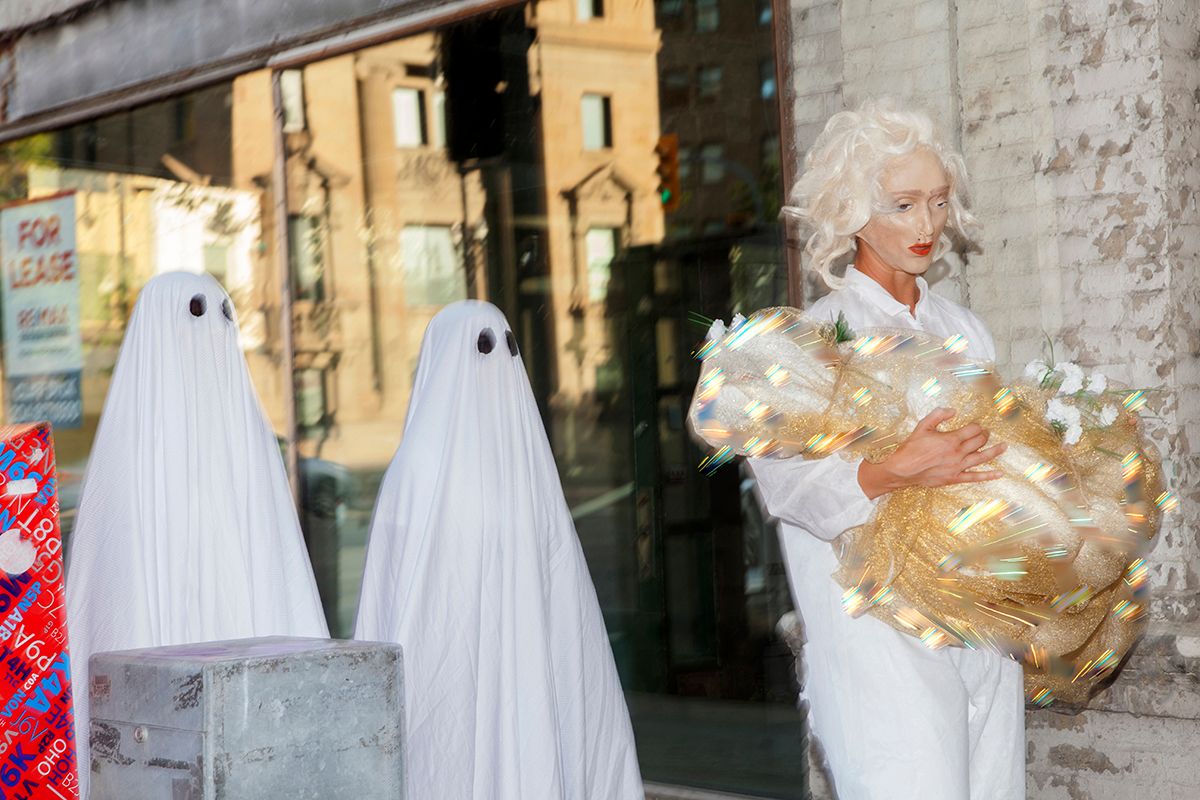 What an interdisciplinary dream team! Is this type of cross-departmental collaboration what attracted you to uLethbridge?
I am among one of the recent hires in the Drama Department that is currently going through a lot of change with all the new energies coming in. It's exciting to be a part of that energy and potential. I was really impressed by how open the department was to my background in contemporary/experimental approaches to movement and performance; further impressed by the Main Stage Season that reflects various approaches to and styles of theatre. Also, as my work engages with artists from other disciplines, I was thrilled to arrive at a faculty that is home to a dynamic roster of practitioners and researchers, some of which I have already begun working with, and I look forward to future collaborations.
Who do you want to collaborate with next?
There are a growing number of art residencies, various symposia and online events dedicated to death awareness and death positivity that I have become involved with. Next, I would love to work with Morbid Anatomy as well as the Queer Death Studies Network (QDSN).
Morbid Anatomy (founded in Brooklyn, New York by historian Joanna Ebenstein) surveys "the interstices of art and medicine, death and culture since 2007, Morbid Anatomy produces lectures, exhibitions, classes, spectacles, symposia, field trips" and more."
The QDSN "constitutes a space for researchers, students, artists, activists, and other practitioners who critically and (self) reflexively investigate and challenge conventional normativities, assumptions, expectations, and regimes of truths that are brought to life and made evident by death, dying, and mourning."
Last question: tell us one fun fact about you!
I acquired an inflatable coffin in the summer of 2020 (a summer of griefs & ghosts) that has journeyed (with me in it) through the muddy waters of Lake Winnipeg (as part of my research, of course!) … and in my sister's pool, as seen in the self-portrait entitled without you (2020).