Thanks to a fabric donation received 11 years ago, and the enthusiasm and motivation of Department of Drama staff, nurses at Good Samaritan Park Meadows Village supportive living facility are receiving new scrubs and scrub bags in a time of need, while creating a connection that will continue to support front line workers and patients for years to come.
Inspired by a film company in Calgary, James McDowell, University Theatre Technical Director asked Costume Shop Head, Teresa Heyburn what she thought of the idea of building scrubs for front line workers – and there was no stopping her! Receiving immediate encouragement from department chair Jay Whitehead and McDowell to utilize University resources of fabric and time, Heyburn reached out to see if there was a need in Lethbridge, connecting with Leslie Jastrau, Recreation and Volunteer Coordinator at Good Samaritan.
"Any kind of thank you is important," says Jastrau. "When we can help others, it just becomes a circle. At this time, we're seeing a lot of acts of kindness and this one was a very special one. Receiving a little perk during a difficult time shows that others are thinking about us."
In order to prevent transmission of COVID, nurses remove their scrubs on site, place them in a bag and wash immediately, increasing the wear and tear on these items. Providing new scrubs at no cost is just one way of thanking them for their commitment during this difficult time.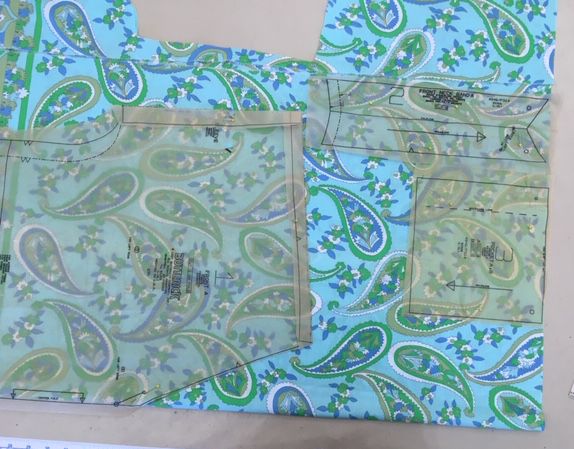 "I'm so impressed that the University and the drama department got behind this idea, because it takes resources. Fabric, and time," says Heyburn. "When I told them that Good Samaritan has 150 employees, I asked how much time we could spend on this, and James just said, do it! He didn't hesitate or ask to crunch the numbers; he was so supportive of our department reaching out to that community and doing whatever we can to help."
The fabric used to make the scrubs was donated to the University about 11 years ago from Susan Perley, owner of a fabric store that had closed down in Vulcan, Alberta.
"I remember driving multiple vehicles to Vulcan and filling them with fabric, and thinking, will we ever use it?" laughs Heyburn. "Here we are, 11 years later and it's perfect and it does my heart good to see everything come full circle. The community gives to us, and we give back to the community. The only reason we could even make this offer to Good Samaritan is because of a donation 11 years ago."
While supporting front line nurses during a pandemic was the original goal, Heyburn is thrilled to have made a long-term connection with Jastrau, learning about the many needs for handmade items in assisted living facilities – items like wheelchair bags that don't get caught in the wheels, recliner chair covers, water bottle bags, catheter bags, aprons and more.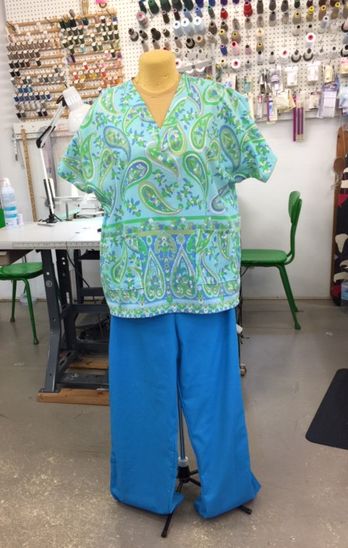 Heyburn reached out to costume construction instructor Julia Wasilewski who enthusiastically agreed to incorporate these projects into class assignments. "These are great project for introductory sewing classes," says Heyburn. "And small things like catheter bags use the leftover scraps of fabric so it prevents it from going to the landfill."
As Jastrau pointed out, people often want ideas of how they can help, and Heyburn admits she was naïve at knowing the needs of these types of facilities. Jastrau encourages anyone wanting to lend a hand to just reach out and ask, communicate directly with any of the supportive living or long term care facilities in our community and find out what the need is for that facility.
"While we're very grateful at Good Samaritan Park Meadows Village, we aren't the only facility in Lethbridge," continues Jastrau. "Approach any nursing centre, because at any of them there will be underprivileged residents, so whether it's sewing, or a small cash donation to pay for a lunch or an outing for the residents, it all helps improve the lives of the residents and staff.
If we can help others and they can help us, then together we make a better community."
---
Continued: Donation that spurred healthcare scrub project comes full circle