Known for her bright smile and kind heart, Cathy Newman (BA '16) Transfer Credit Coordinator, has devoted her career to helping students achieve a post-secondary education. After taking classes on a part-time basis for more than a decade, this spring Cathy earned a degree of her own, with honours. Over the years, she's experienced the U of L as an employee, student, parent and now a proud alumna. She shares her story here.
"I came to the U of L in September of 1998 after working at Lethbridge College for 13 years. So you could say my entire career has been based in post-secondary education!
"Starting in Fall 2000 I enrolled in classes just for fun and to learn new things, but you also get to meet so many wonderful and different students. People that you would never have had the opportunity to cross paths with otherwise. I'd often be the older person in class, kind of the class mom, and I said to some of the professors, 'I kind of get intimidated by these younger classmates.' Then my professors would say to me, 'Don't fool yourself because they're kind of intimidated by you too. You view the world differently with all of the experiences you've had.' That's the wonderful part about learning, getting to understand the same information through someone else's eyes.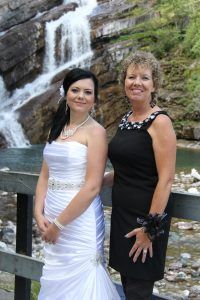 "It was hard to balance the study-load sometimes with work and family life. I love spending time with my children and grandchildren, and my fiancé and I enjoying getting out for rides on our Harley Davidson motorcycles and go camping when the weather allows it. I also had to take some time away from studies after an unexpected colon cancer diagnosis in 2014.
"Along the way, people would suggest that perhaps I could've completed my degree sooner at other institutions. While that's certainly a wonderful option for some, for me, I knew that if I was determined and completed a few more courses that I would achieve my university degree from the U of L. It's like family here and you want to work hard for your family.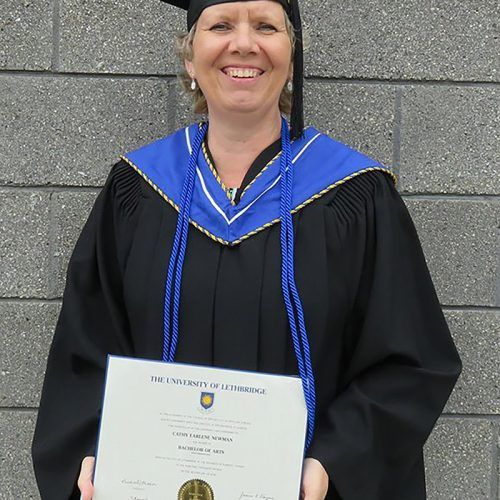 "When I walked across the stage this past June, it was kind of a reflection of the people who helped me get to where I was at that exact moment. From coworkers who supported me when I was feeling overwhelmed, to the professors who took a few minutes to support and encourage me when I wanted to drop out. It was my goal to achieve, but they all helped me get there so it's like it's their degree too.
Cathy Newman (BA '16) at Convocation.
"It's the people that make this a great place to work and learn. This is family."