After working from home and learning virtually for nearly a year and a half, University of Lethbridge staff, faculty and students are transitioning back to campus in August to prepare for an in-person experience come September. While returning to campus is exciting, it may also cause some anxieties for both employees and students.
"It's wonderful to see our uLethbrige community begin to return to campus and to see friends and colleagues we haven't seen in person for many months. Each day as I reconnect with colleagues, I am encouraged to learn about how many people are enjoying to be back on campus," says Ariane Tennant, associate vice-president of Human Resources. "It's important to recognize it's OK to be happy to come back to campus and it's also OK to not be sure."
With the first day of classes only a few days away, Jennifer Ellis-Toddington (BSc '99, MEd '05), manager of Counselling and Career Services at uLethbridge, says counselling services anticipates social and general anxiety will be among the concerns some students will face.
"Transitioning back to being in person and navigating the sensory overload of having to connect, get information and make plans may be tough on some students," says Ellis-Toddington.
Wilma Spear Chief (BASc (BA) '77), registered psychologist and the Indigenous counsellor at uLethbridge, says some anxiety can be expected; however, it becomes a concern when it gets in the way of what people would normally do.
"Finding services, classes and parking can be stressful, but students get through most of those hurdles within the first couple of weeks on campus," Spear Chief says. "Anxiety becomes an issue when it's stopping you, and you can't move forward."
So how can you keep moving forward if you're feeling anxious about the start of the fall term and returning to campus? Here are a few things to keep in mind.
Kindness matters, always
It seems simple, yet the impact of kindness is profound. Knowing that others are experiencing various levels of uncertainty, showing kindness – to others and yourself – is essential to establishing a healthy campus community.
"It is important to remember that everyone has been through many challenges during the past year and a half and we all should be compassionate to each other and accommodating," says Ellis-Toddington.
Whether you smile at someone with your eyes, say hello to a new face on campus, or show patience and gratitude, the impact of the kindness you give will grow exponentially.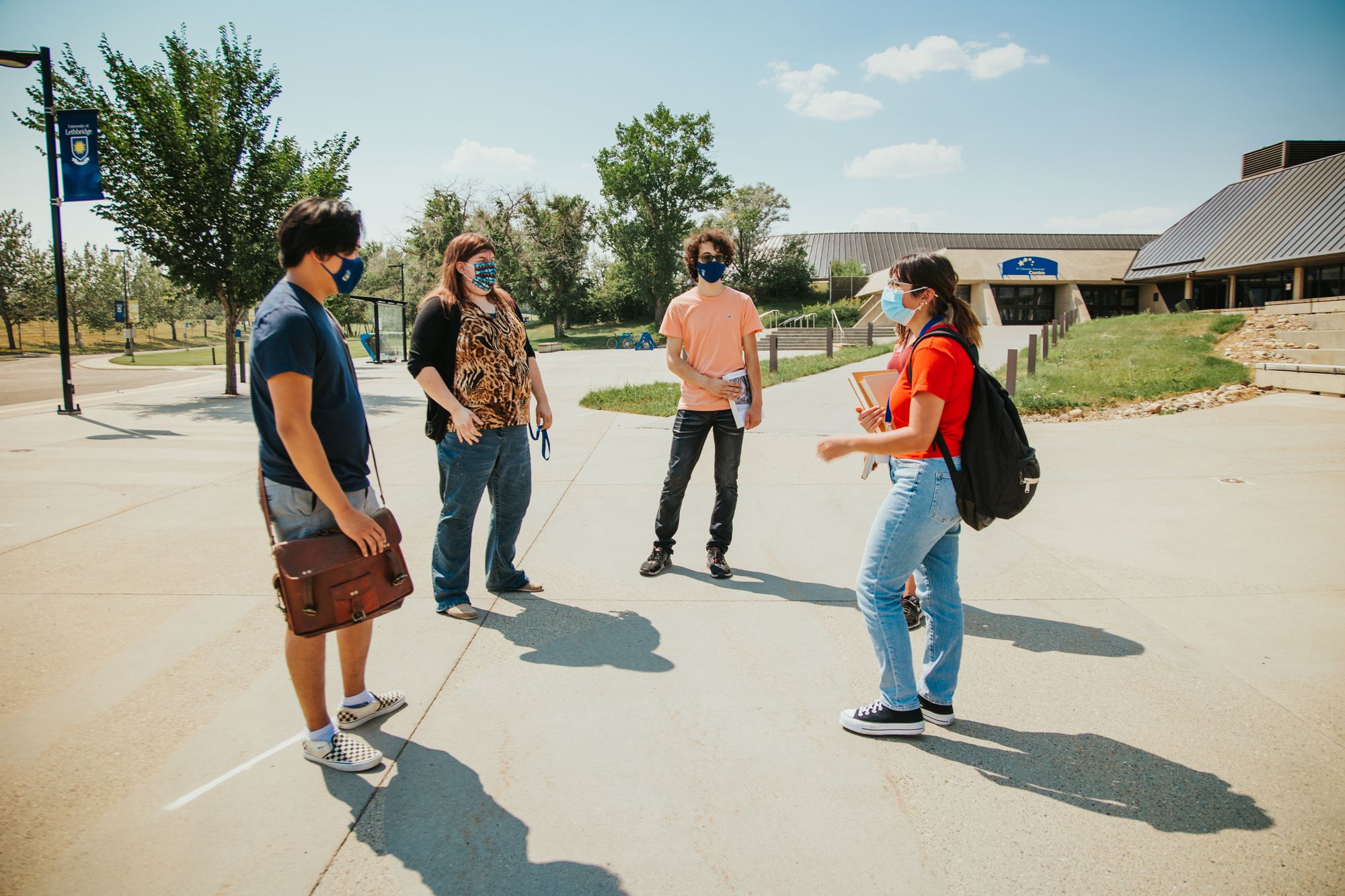 Reach out for information
"When you have information, it can alleviate the anxiety and we have so many departments across campus eager to help and welcome students back," says Ellis-Toddington.
For starters, New Student Orientation, which takes place on Tuesday, September 7, will be an especially important source of information for students this year to learn about the programs and services available.
"There are going to be two groups of students who have never really been on campus," says Ellis-Toddington. "Second years are going to be like first years because it's going to be all new and different to them as well."
Information on the Fall 2021 term and COVID-19 protocols are communicated to students, faculty and staff on a regular basis. Be sure to check your uLethbridge email and visit online resources for the most up-to-date information.
There is also an FAQ for students who have additional questions, including information about accessing campus, student supports and course delivery. Employees can access the employee FAQ on returning to campus through the faculty and staff intranet, The Hub.
Employees are also encouraged to talk to their managers and deans for more information on what the return to campus looks like for their department.
"One-on-one discussions are important to provide information to help everyone feel comfortable about returning to campus," says Tennant. "Managers and senior administrators are having conversations about returning to campus with employees. When things come up or questions arise, please contact HR and we can help explore options with you."
Reach out to supports
Counselling and Career Services provides a variety of services to students including brief personal counselling, group counselling and wellness workshops. In the coming months, students will also be able to access the Student Wellness Ambassador Program (SWAP), a student-led wellness initiative aimed at developing peer connections through outreach events.
"Not all students need professional counselling and mental health support, they just need to know others are going through the same thing," says Ellis-Toddington.
Through Iikaisskini, the Elders in Residence program offers spiritual support to any student or employee who wants to connect with an Indigenous Elder.
"We are making sure students have access to elders in residence if any student would like guidance, cultural support and encouragement," says Spear Chief.
Eligible U of L employees can also access the Employee Family Assistance Program through Homewood Health, which offers free counselling service and resources, 24/7.
Everyday habits that can relieve anxiety
Making yourself and your health a priority is always important, and even more so as we head into the new term and transition back to campus. Many everyday habits can keep your health in balance.
Take time for yourself. Eating well-balanced meals, getting enough sleep, limiting screen time and spending time outdoors all help you feel good and maintain your health. The uLethbridge Heath Centre is available for students.
Exercise to relieve stress. The 1st Choice Savings Centre for Sport & Wellness is open and includes drop-in climbing, lane swimming, fitness centre and open gym & track.
Stay connected with others. Maintaining healthy connections with others – friends, family member, colleagues – is very important.
"Human beings need other human beings to thrive in this world," says Spear Chief. "It's important to reach out and connect with others in safe ways."
Get vaccinated. There's a tremendous comfort knowing that you, your family, friends and co-workers are safe. Vaccination is the best way to keep our campus community healthy. Please make sure you take a shot* and get vaccinated before returning to campus.
*Vaccinated students can enter the It's Worth a Shot contest until September 8 for the chance to win many great prizes, including free tuition. The winners of the staff/faculty It's Worth a Shot contest will be announced next week.
See you in September!
The start of the fall 2021 semester is only a few short weeks away. Until then, enjoy summer and all the fun and sunshine it has to offer!