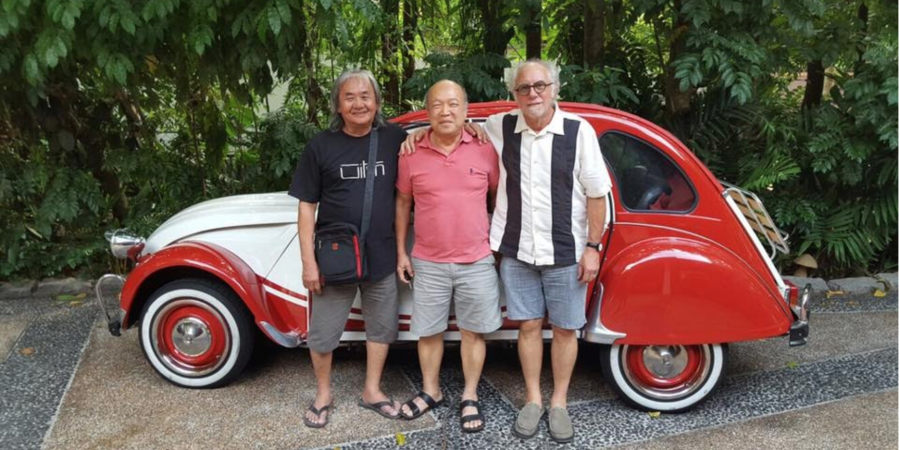 University of Lethbridge anthropology professor Dr. Steve Ferzacca has travelled a global road of discovery that has taken his life and career in many directions and helped him find his way back to music. This journey culminated in his second book, Sonic City: Making Rock Music and Urban Life in Singapore (2020). This fascinating book is based on ethnographic research in a community of amateur and semi-pro musicians in Singapore who congregate around several Singaporean 1960s rock music "legends." Years of international scholarship with a deep local connection took him from observer to participant as he became a band member in the legendary Singaporean band The Straydogs. The Straydogs was formed in 1966 and continue to perform together a half-century later. His new book is getting significant buzz and has sold out, but more books are being printed.
This is Dr. Ferzacca's last teaching semester at the University of Lethbridge, and as such, we wanted to catch up with him to discuss his fascinating life, new book and how music has shaped his journey.
---
Learn more about the making of this book in this article published by academia.sg. Written by Steve Ferzacca. Edited by You Yenn.
Academic Views / Friday, November 27th, 2020
Steve Ferzacca, Associate Professor in the Department of Anthropology at the University of Lethbridge, discusses the emergence of community through music-making in Singapore.
I arrived in Singapore in 2011 to take up an appointment as a Senior Research Fellow at the Asia Research Institute for a year. My plan was to complete a manuscript of essays based on my decades of work in Indonesia. I had not planned to become involved in the local music scene, but that is what happened; an involvement that spans that last seven years or so, leading to my 2020 book, Sonic City: Making Rock Music and Urban Life in Singapore (NUS Press).
Such serendipity can be productive, and it was clear to me shortly after meeting the main characters in this story of music and urban life that what I was seeing and what I was hearing echoed a sonic existence out of tune with my presumptions as a visiting ang mo of Singapore, its musical life and history. I was expecting a place of imitation and regulated conduct; and certainly I was not disappointed. But, and especially, it was the jingle-jangle of creativity and camaraderie I encountered in the basement of a shopping mall in Singapore's central business district that led me to find otherwise. It was luck really that led me to discover some everyday spaces of creative worlding—spaces in which globally circulating things (in this case guitar gear and musical genres) and people (in this case Singaporeans) make sonic lives.
And so, I ended up writing a book about making music as a sonic element in a dynamic network of social relations that emerges as a small community of noisy people who like noisy things—including amateur and semi-professional musicians, their family, friends, fans—and the urban spaces where they meet to play. The main characters, Kiang and James, bassist and drummer, founding members of the 1960s Singaporean beats and blues band The Straydogs, invited me to tune into a sonic way of knowing the world. In rehearsals and planning sessions for performances, a past of coming-of-age in Singapore among neighborhood friends haunted these sessions. For a generation of Singaporeans who were young in the early days of independence and nation-building, this national coming of age has recently been re-discovered as national heritage. In the contexts of rehearsals, planning sessions and performances, this past is embodied, and represents local forms of vernacular heritage that remain hidden in Singapore's national story.
‌In an ethnography of jazz musicians in Ghana, Steven Feld refers to their way of life as an acoustemology (Feld 2014)—a way of knowing the world through and with sound. In my book, derived from dozens and dozens of jam sessions, performances, and rehearsals, the acoustemology I encountered reflected a pioneering embrace of Singapore as a global city that, as a crossroads, experienced difference, and so afforded a rather generous leaning into difference, a cosmopolitanism that celebrates itself for "being" cosmopolitan. For Kiang, James and others from this generation, listening to the world—first over the radio and later on television and in live music venues—was a cosmopolitan experience, represented materially by the globally circulating music gear and musical genres. This cosmopolitanism was also reflected in the diverse crowds, present either in the imagination of Singaporeans listening to global pop music on the radio, or at the Tea Dances held for both foreign military personnel and local Singaporeans. This is what is sonically expressed in the music making I encountered.
The methods used are typical to cultural anthropology and ethnography: long-term fieldwork, participating, observing and interviewing members in a community, in an effort to explore local knowledge and points of view. Here, I consider sound and sonics as local actors in the community, and so I refer to the work as sonic ethnography. People tell stories, but so do things. The guitar gear and the musical genres act in social ways among people, and people respond to these things socially. Thus, the musical sounds, as well as the processes making the sounds, are providing opportunities to make meaning, just like people do. A fender stratocaster guitar tells a story among local Singaporeans: a global history of a circulating global popular music (among other stories), obtaining a locally established cultural biography in the hands of the player.
But there are some additional "methods": Kiang, James and I formed a performing band (Blues 77), and I became the youngest member of The Straydogs at age 62. This kind of participation augmented the conventional nature of observer and observed, introducing not only novel sites for ethnographic research—the stage, the practice space, the road—but also complicating the ethical obligations associated with social research simply by being a member of a band. Social science is required to expose study participants to "minimal risk", which usually leads to anonymity, use of pseudonyms and so forth to remove identifying them in any way. As a member of a band that performs publicly, this notion of risk is transformed in interesting ways. First, anonymity is impossible, so this brings additional concern in the process of 'representing' the work and its results. Secondly, for any band member there are obligations—showing up, learning the songs, staying sober enough to perform, and so on. The risk in this kind of participant experience is in violating these obligations.
In addition to performing, we also composed original music that was ethnographic in nature, such as "Shiok-Lah". Videos of our performances circulate on social media. We performed not only in Singapore, but in Melaka and Ho Chi Minh City as well. Further confounding the typical human subjects research relationship is the fact that after seven years as participants in a project, as band members, and so as members of a music community, we also have experienced the delights and travails of friendship. My hope is that the book conveys some of this.
‌In my analysis, two things stand out: first, the creativity I encountered produced by local Singaporeans faces many obstacles that were present at Independence and continue today. One of the ironies I have found is the concern from government officials regarding the creative industries. The government of Singapore continues to measure itself in comparison to other "global" cities using a variety of indexes, and one is the health of the creative industries. As far as I can tell, the perspective of the Ministry of Trade and Industry towards the nurturing of a "creative class" does not include the kinds of sonic citizens who appear in this book, seeking noisy local playgrounds to have fun in this city-state. This kind and quality of creativity that appears in my book remains invisible to such measures, or as Lily Kong (1999) once characterised as a "palpable sense of heritage… comprising the raw material of common identity and belonging" that remains "largely unsung". In fact, many obstacles continue to limit Singaporeans in local artistic pursuits, professional, amateur or otherwise.
Secondly, I encountered and learned about a locally anchored "cosmopolitan commitment… yielding generously toward diversity" (Mignolo 2000: 269). This book documents this capacity to lean into difference and to localise "global designs" (ibid.). Localising global designs involves a reshaping within forms of exchange that emphasise principles of mutuality, that afford experiences of belonging, and, in this case, foster a sonic ethic that informs the lives and life of this community. In and around the guitar shops in the basement of an aging shopping mall, making noise in jam studios, performing music on stage, hanging out in bars, pubs and hawker stalls, experiencing the road in Southeast Asia as aging blues musicians, and so much more, my involvement with this community afforded me the opportunity to understand Singapore in part as a sonic city, where making rock music and urban life resonate as a way of knowing the world and participating in it. But the greater lesson Kiang, James and the others taught me was to be generous when in the presence of others. This lesson continues to resonate for me.
---
‌Get the Book:
https://nuspress.nus.edu.sg/products/sonic-city
https://press.uchicago.edu/ucp/books/book/distributed/S/bo50459346.html
First public performance of shiok-lah:
https://youtu.be/BxMsUHmeJyE
Esplanade performance:
https://youtu.be/_s2f10YE-iI
Singapore botanical garden heritage walk performance:
https://youtu.be/088L919b4JE
---
Biography
Steve Ferzacca received a PhD from the University of Wisconsin-Madison, Department of Anthropology in 1996. He is an associate professor of Anthropology at the University of Lethbridge in Alberta, Canada. Steve conducts ethnographic research in the field of medical anthropology, focusing attentions on the management of type 2 diabetes in the US and in Indonesia as well as community-based research on the character of urban medicine related to the care of chronic disease in Yogyakarta, Indonesia. Steve's work appears in Medical Anthropology Quarterly, Medical Anthropology: Cross-Cultural Studies of Illness and Medicine, Ethos, Annual Review of Anthropology, Senses and Society, to list a few. His first book, Healing the Modern in a Central Javanese City (2001), is an ethnographic account of urban life and health in Yogyakarta, Indonesia that explores local assemblages of medical practice and perception that provide therapy to cope with the ill effects of modern life. Steve's second book, Sonic City: Making Rock Music and Urban Life in Singapore (2020) is based on ethnographic research in a community of amateur and semi-pro musicians in Singapore who congregate around several Singaporean 1960s rock music "legends." Steve served as editor of Medical Anthropology: Cross-Cultural Studies in Health and Illness (2007-09). Steve has been a Senior Research Fellow at the Kahin Center for Advanced Research on Southeast Asia, Cornell University (2004), and the Asia Research Institute (ARI) at the National University of Singapore (2011-12; 2016). In 2016-17 Steve was appointed as Visiting Associate Professor and Acting Head of Study for the Anthropology Program at Yale-NUS College in Singapore.