With an office of around 20 people, the Calgary campus is small, but mighty with U of L spirit. Key to that collective of blue and gold pride is project support assistant, Lisa MacTavish. While Lisa's days are filled with student engagement strategies and studying for her Bachelor of Management, Lisa's nights are packed to the rafters under the bright lights of the Saddledome.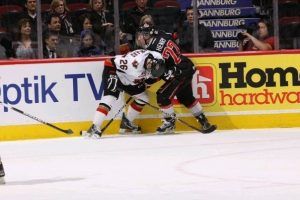 "I studied media and broadcasting at Mt. Royal straight out of high school, wanting to be the next big voice in sports radio. Radio had always been my focus until I discovered being behind the camera. One of my instructors worked for the Calgary Flames and I basically begged and pleaded with him every day until I landed a camera operator position at the Dome. This year is my eighth season with the Flames and I absolutely love it.
"Sports have been a constant in my life, as a participant and a spectator. I played basketball for years and even became an official for a while there. I love swimming and the Flames are obviously my hockey team. When I was completing a study abroad program at the University of Calgary, I was studying in Spain and we went to a Real Madrid game. It was like another world. The way soccer fans support their teams is completely next level. They're cheering, up on their feet throughout the entire game and everyone is dressed in team colours in this huge stadium. It's just incredible.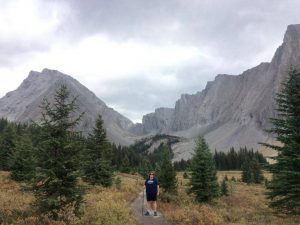 "I guess you could say I'm a life-long learner, I always want to know more. After I graduated from Mt. Royal, I went on to complete my communications degree from the University of Calgary and now I'm studying a Bachelor of Management with a major in marketing and a minor in new media at the U of L. I love learning new things and that's my favourite part about working for the University. We're surrounded by all of this amazing research and resources and these brilliant people who have so much knowledge.
"When I started with the U of L in October 2014, I was immediately blown away by the team environment. The Calgary campus is such a tight-knit group that I honestly feel we're more like a family than work colleagues. We all know each other, we have monthly potluck meals and being a student as well as a staff member, I love knowing my professors on a first name basis and popping down the hall to discuss an assignment or question I have.
"Part of my role is coordinating our student satisfaction survey, so that allows me to see the services we need to communicate more to our students'. The U of L has so many fantastic supports in place for students, from counselling to tutors to financial aid and when I see that a piece of communication I've crafted and pushed out via our social channels is getting real engagement and pick up, it just makes me shine.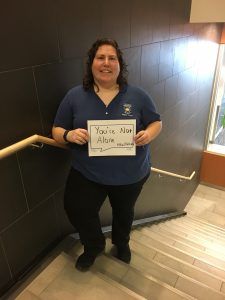 "I'm constantly pushing to find new ways of getting our students to know more about what we can do for them and how we can support them. I love how creative I get to be in my role and being able to see how each new idea has the potential to make a real difference in the lives and experiences of our students.