Hockey is Canada's game, and anyone who has been  involved with the sport knows that hockey has a way of creating lasting  bonds between team members.
Seamus Daley, who was born and raised in Lethbridge, created a lot of  enduring relationships in his lifetime, many of which developed on the  ice. Seamus began playing hockey at a young age, and was well known in  southern Alberta for his on-ice skills. Even after a sustaining an  injury that prevented him from taking his career any further than minor  hockey, Seamus continued to play recreationally out of sheer love of the  game.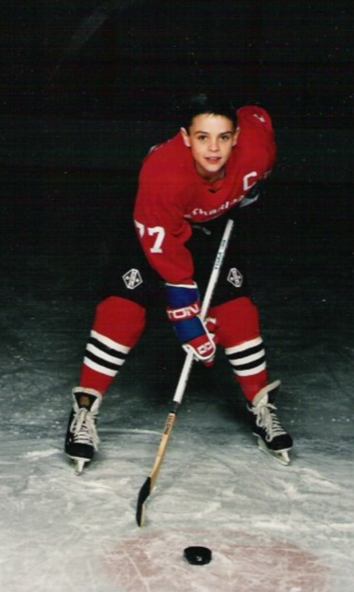 "He was a very talented athlete, but more than that, he was a great  person. Everybody liked him," says Neil Heaton (BA '97), a former  teammate and one of Seamus's many friends. "Seamus had a way of making  everyone feel important. Ask any of the guys who laced up with him;  everyone will tell you he was one of their best friends — on and off the  ice."
To the shock and heartbreak of those who knew him, Seamus's life was  cut tragically short in April 2006 when he passed away in a drowning  accident. He was just 26 years old when he died, but his impact on those  who knew him was profound, and thanks to a scholarship his friends and  family recently created in his name at the University of Lethbridge,  countless others who never had the chance to meet Seamus will benefit  from his passion for life and the sport.
The Seamus Daley Memorial Hockey Award was established in 2018 in  tribute to Seamus's zest for life and the game he loved. The $1,000  annual scholarship will be paid to a Pronghorn men's hockey player who  resides in the Lethbridge area. Born out of a trust fund created the  year of Seamus's passing, Neil says the award is the perfect way to  carry his friend's legacy forward. The trust fund is supported by the  Seamus Daley Memorial Golf and Hockey tournaments, which are held each  year.
"Seamus loved life and where he lived it as much as he loved hockey,  so it was important to everyone that we create a local award that  encourages others to participate in the sport," explains Neil. "We  established the trust fund the year Seamus passed and it was finally  substantial enough to do something lasting with it. Through the U of L,  the award will go on in perpetuity, so Seamus's name will live on."
Neil says that Seamus was never someone who craved the spotlight, but  thinks his friend would be very happy to know that through the award  other hockey players will have a chance to get an education and play the  game.
"It's just a great way to keep his legacy alive. When you give back everyone benefits."
Horns Photo Credit: MPP Photography